The Irish vote will echo through Britain
How the revolt against the Eighth raises questions for the UK.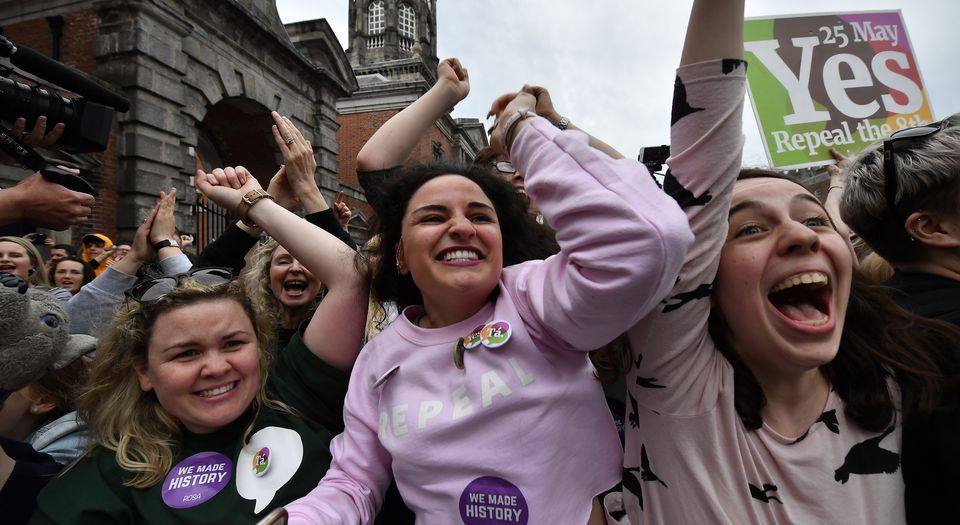 Throughout my 15 years of running bpas – the British Pregnancy Advisory Service – every meeting I've had with British ministers or civil servants to discuss the dysfunctional nature of UK abortion laws has ended in the same way.
Whether we are discussing the problems caused by the complete lack of legal abortion in Northern Ireland; abortion pills being restricted to use in clinics; shortages of doctors, and nurses being forbidden to do procedures they are qualified and trained to perform; or the burdensome regulations that do nothing to improve care – the response is always the same. No matter if the minister is Labour or Tory, the song they sing is: 'We see your point, but the time isn't right' or 'the government is concerned that anything seen to make abortion easier will be too controversial'.
Well, here's a new thought for them to consider as they face the proposal that stands in front of them now to allow changes to where abortion pills are used: the time is right and it is not making changes that will prove too controversial. The result of the Irish referendum on abortion shows us this.
It was not just the young and the radical who voted to overthrow the Irish Constitution's ban on abortion. The only social group that did not mobilise a majority for Yes was the over-65s – and as many as 40 per cent of them did stand up for legalised abortion.
Majority support for legal abortion surpassed even the most ardent campaigners' expectations, even when people were told (repeatedly) that a Yes vote would lead to laws more liberal than those that exist in Britain. Even when people were told that a fifth of pregnancies in Britain end in abortion, and that many British people regard abortion as a backup to contraception, still they voted Yes.
And why wouldn't they? The idea that decisions about pregnancy should be made by pregnant women, and that legal abortion should be available without stigma or disgrace, is not radical. It makes perfect sense.
Now, the British government has its own choice to make. Does it really think that people here are less progressive than those in rural Irish areas? Are Britons less forward-thinking, less concerned with the evidence about abortion safety, than TDs in the Republic of Ireland? Will British ministers really stand by and watch the tide of women who travel for abortion change course, now that it will flow from Northern Ireland to the Republic of Ireland, when it used to flow from the Republic of Ireland to England?
But most of all, perhaps, will the British government really risk being scorched by the fire of outrage lit by Irish women? Will it choose to stand for paternalism and insist that its outdated restrictions on abortion must stay? Or will it accept that the British people are no less rational or compassionate than the Irish people?
Today we celebrate the victory in the Republic, but 'Tiocfaidh ár lá' – 'our day will come'.
Ann Furedi is chief executive of the British Pregnancy Advisory Service (bpas) and the author of The Moral Case for Abortion, published by Palgrave Macmillan. Follow her on Twitter: @AnnFuredi
Picture by: Getty Images.
To enquire about republishing spiked's content, a right to reply or to request a correction, please contact the managing editor, Viv Regan.