Tommy Robinson is no free-speech martyr
Prejudicing a court case is not a free-speech issue.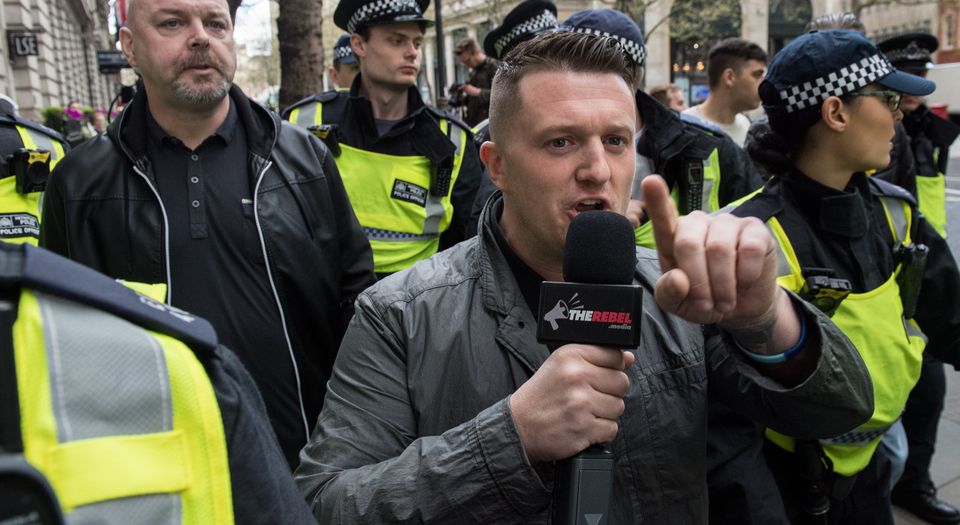 A lot of people are getting very excited about the arrest of Tommy Robinson. Last week, Robinson, former leader of the anti-Islam English Defence League and now a YouTuber, was bundled into the back of a police van outside Leeds Crown Court after he allegedly filmed defendants arriving and leaving the building. The men he filmed are all on trial in a suspected grooming-gang case. Robinson has since been jailed for 13 months for contempt of court and for breaching the conditions of his suspended sentence. He received the suspended sentence in 2017 for doing largely the same thing.
Depending on who you talk to, Robinson is either a fascist nutjob who belongs in jail (preferably forever) or a free-speech martyr. Commentators on the left have dismissed him as a racist 'former football hooligan' who purposely flouted the rules of the court in the name of stoking up anti-Islamic hatred. They have also called his supporters all kinds of names, implying they are too stupid to see through Robinson's arguments. One prominent blog called his supporters 'knuckle-draggers' and described their march on Downing Street after his arrest as 'Nazi-themed'.
There is clearly something in the argument that Robinson has been demonised for what he says. Robinson is a lot of things. He is certainly a bit of a muppet for going out and breaching his suspended sentence for precisely the same thing he was arrested for last year. But I do not think he is racist. He simply takes advantage of a climate in which large sections of the population believe they cannot talk about their concerns regarding Islam and integration. He is effective precisely because there is an atmosphere of 'You Can't Say That' around Islam. The oversensitive and censorious attitude of the left is the reason he has a career.
But Robinson is no free-speech martyr, either. Some say he has been 'targeted' by the British state for his work 'exposing' the 'Islamification' of Britain. Some have talked about a media 'blackout' after his arrest. But the complete details of why he was arrested were published today, and this was only delayed because of further conditions imposed by the court. The idea that Robinson was arrested for his ideas is contrary to what we know about the case. Anyone else doing what Robinson did, in these circumstances, would also have been arrested and jailed.
The reaction to Robinson's arrest shows us how confused the free-speech debate has become. On the left, free speech is dismissed as a tool for the spread of fascist ideas. On the right, it is invoked in situations that have little or nothing to do with the free exchange of ideas. Arguing for free speech does not mean arguing for the right of anyone to do or say anything they want at any time. Contempt-of-court laws, which Robinson seems determined to violate, are not in and of themselves an attack on free speech. They represent a narrow curb on what can be said and when, so as to make sure trials aren't prejudiced. There may well be occasions in which such laws are used by the police to limit free speech. But Robinson's arrest was not an example of this. The men he targeted are entitled to a fair trial and the presumption of innocence. Robinson was not arrested because of what he said. He was arrested because of when and how he chose to say it.
Free speech is too important for us to allow it to be consistently warped and slandered by both left and right. Free speech is about allowing a free and unhindered exchange of ideas. But, at the same time, we must recognise that the reason Robinson has a career is that we have become overly sensitive as a society to the kind of arguments he makes. He is a product not of too much free speech, but of too little. His arrest is not symbolic of a state conspiracy to shut him up. But it is at least connected to our continuing discomfort with discussing certain ideas.
Luke Gittos is law editor at spiked and author of Why Rape Culture is a Dangerous Myth: From Steubenville to Ched Evans. (Buy this book from Amazon(UK).)
To enquire about republishing spiked's content, a right to reply or to request a correction, please contact the managing editor, Viv Regan.