Anthony Bourdain: a lust for life
The celebrity chef was a breath of fresh air in our killjoy era.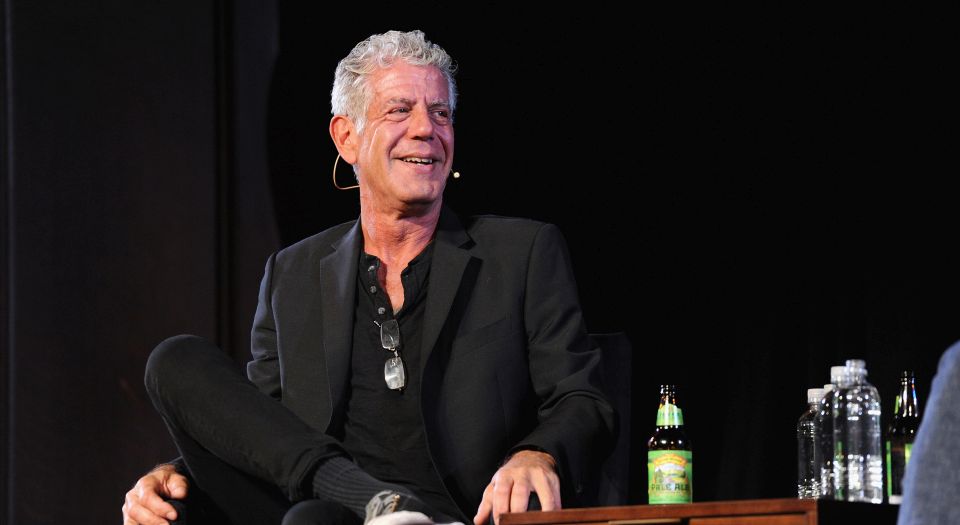 Back in 1992, I moved to Edinburgh and found myself without a job. A friend soon got me work washing dishes during the Edinburgh Festival. Working 70 hours per week for a pittance, constantly smelling of slightly rotten cabbage and cleaning out the bin cupboard on a Monday morning after the rubbish had spent the weekend gently cooking in August temperatures, I quickly lost any illusions about the 'glamour' of working in restaurants.
The death last week of celebrity chef, author and documentarian Anthony Bourdain, who took his own life in a hotel room in France, has robbed us of one of the great chroniclers of the best and the worst aspects of culinary life.
My experiences in that Edinburgh kitchen made Bourdain's 2000 breakthrough hit, Kitchen Confidential, all the more enjoyable for me. Anyone who works in restaurants for any length of time has to take a certain amount of grim pleasure in long hours, hard work, burned hands and cut fingers – and a variety of chemical coping mechanisms. (In my case, merely beer; in Bourdain's case, a variety of stronger substances.) There are definitely easier ways to make a living. There are, however, few easier ways to lose a small fortune. For all the grumblings about the price of your next meal, remember that it's all made possible thanks to a ruthless focus on costs and a lot of hard work. Anyone who treats running a restauraunt as an ego trip is likely to run out of cash very fast.
Kitchen Confidential was born out of a widely read article Bourdain wrote for the New Yorker in 1999, 'Don't eat before reading this', which revealed that every restaurant stuffed their food with butter (whatever they claimed), and used the poor-quality cuts for the suckers that ordered their steak 'well done'. He also offered sage advice about ordering seafood (Monday's fish has been sitting there since Friday, so it won't be fresh, and never order the mussels, because they're quite possibly a serious health hazard). Kitchen Confidential expanded this with biography, referencing Apocalypse Now but sometimes sounding more like The Deer Hunter in its stories of the macho, aggressive, work-hard-play-hard world of New York kitchens.
He followed that book with A Cook's Tour, also a TV series on the Food Network, in which he travelled the globe embracing authentic food experiences – including a Glasgow chippie, where he waxed lyrical on the joys of a deep-fried 'king rib' (no relation to any actual ribs), a deep-fried Mars bar and deep-fried pizza. (Can you see a theme developing?) While many would turn their noses up at these foods, Bourdain loved them, not remotely concerned about what the hell they were made of. Wherever he was in the world, Bourdain could find the joy in any food as long as it tasted good, whether it was haute cuisine or peasant food made from the 'nasty bits', often described in pornographic terms.
His later book, Medium Raw, reflected on his experiences as a food celebrity, although the book is much more than the musings of someone living a gilded life. He still found plenty of time for potshots at the likes of Alice Waters, the American queen of food bullshit, for her moralism and moral certainty, even if he admitted that once calling her 'Pol Pot in a muumuu' at an event was a step too far. But in the new circles he moved in, he still got caught in some contradictions, uncertain about how to deal with Big Food and far too kind to Jamie Oliver.
Bourdain had his flaws, no doubt, but he was often a damn fine writer. He lived life to the full, whether on 'the line' in a New York restaurant or slurping pho in Vietnam. He inspired us to take a few risks in the cause of pleasure. As much as any modern personality, he embodied that old line from the Roman writer Terence: Homo sum, humani nihil a me alienum puto – I am human, and I think nothing human is alien to me. It is tragic that someone who embraced life so much should choose to end his own. But he packed more into his 61 years than any low-fat, low-salt, booze-dodging longevity obsessive ever could.
Rob Lyons is science and technology director at the Academy of Ideas and a spiked columnist.
Picture by: Getty
To enquire about republishing spiked's content, a right to reply or to request a correction, please contact the managing editor, Viv Regan.