No, Arron Banks didn't 'buy' Brexit
Remainers are giving the Leave.EU chief far too much credit.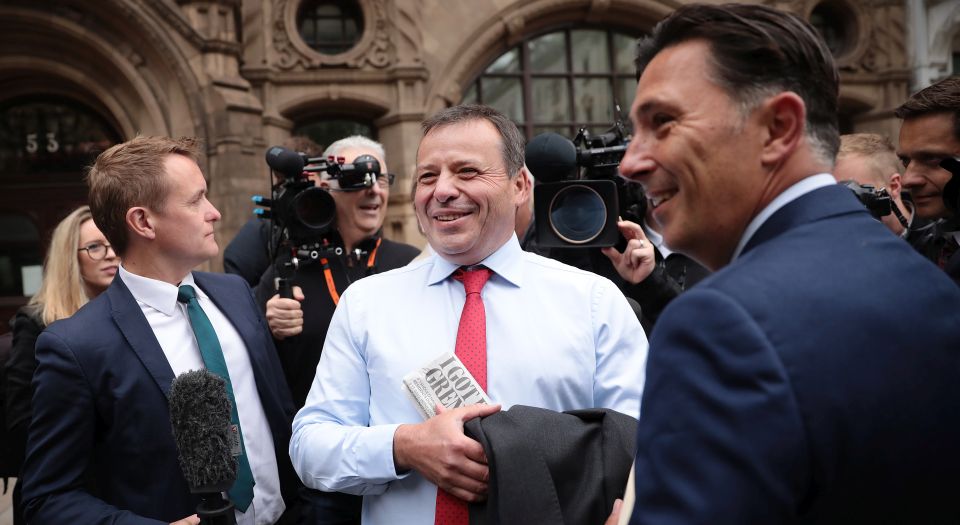 Attempts to derail Brexit come in many different forms. There are the calls for a second referendum, so we can be sure to vote the right way next time. There is the demand that the UK should leave the EU but remain in the Single Market and the Customs Union, also known as Brexit in name only. There's the argument that the House of Commons – with its majority of EU-backing MPs – should have a final say on the Brexit deal. On top of this there's the ongoing drive to discredit Brexit voters, to label the 17.4million citizens who voted Leave as racist, ignorant or duped.
These arguments were on full display this week as the Withdrawal Bill made its way through parliament. Meanwhile, elsewhere in Westminster, MPs were busy quizzing Arron Banks, wealthy backer of Leave.EU and one of the self-styled 'bad boys of Brexit'. Banks appeared before the Digital, Media, Culture and Sport Select Committee, as part of its inquiry into fake news. Since allegations were made about Vote Leave's spending, and its alleged involvement with data firm Cambridge Analytica, the inquiry has morphed into an ongoing trial of Leave campaigners and their supposedly dodgy affiliates. And Banks, former leader of an unofficial Leave campaign group, was asked to answer questions about his lunches with the Russian ambassador, details of which were splashed across the papers last weekend.
Banks has become the figure Remainers love to hate. He's rich, brash, pro-Brexit and unapologetic about his wealth. He's unashamedly partisan and defiantly in opposition to the cultural elite. Back in 2014, Banks shifted his political allegiance – and his financial support – from the Conservative Party to UKIP. The story goes that Banks had planned to donate £100,000 to UKIP but upped it to £1million after then foreign secretary William Hague claimed he'd never heard of him. Banks developed a close relationship with UKIP leader Nigel Farage and together they visited Donald Trump shortly after his presidential victory. In the run-up to the EU referendum, Banks reportedly donated £12million to pro-Brexit campaigns in cash, loans and services.
If, two years ago, Britain had voted to remain in the EU, he would no doubt be enjoying his boozy business lunches away from the public spotlight. But in the desperate search for a Brexit fall guy, Banks is in the frame. The Electoral Commission is investigating whether he and one of his companies broke campaign-finance rules. Meanwhile, the Information Commissioner's Office is also investigating Banks and Leave.EU over possible breaches of the Data Protection Act. He stands accused of doing deals with the Russians, spreading fake news, and orchestrating the use of dodgy data to swing the Brexit vote. He's every Remain-backing conspiracy theorist's wet dream.
Banks appears to love this bad boy image. At the committee meeting, he didn't apologise for meeting with the Russian ambassador. He said that any businessman would have done the same, and that he enjoyed their alleged six-hour lunch, thank you very much. Banks also made clear that he considered his summons part of an anti-Brexit witch-hunt: he asked committee members for a show of hands of who voted Remain (all of them did). In response to the allegation that he peddled fake news, he told Labour's Chris Matheson that 'parliament itself is the biggest source of fake news in the country… straight after this hearing you'll be at lunch with some Guardian journalist quaffing a glass of Chablis and spinning this how you want'. Banks and his sidekick, Andy Wigmore, got up and left shortly after their allotted time was up, pointing out that they had overrun and that they had a lunch to get to, all to the disbelief of chairman Damian Collins.
To those looking for someone to blame for the Brexit result, Banks fits the bill. And Banks, it seems, loves being cast in the role of mastermind. He laps it up. 'Our skill was creating bushfires and then putting a fan on that would just blow it over everything', he told the committee. 'Our skill was picking subjects and topics that would just make the campaign fly. Immigration was the message we were sticking to, and we ruthlessly stuck to our message.'
But the idea that Banks and his 'bad boys' brought about Brexit is a convenient fiction for him and his critics alike. It rides roughshod over the millions of people who voted Leave for their own reasons, many of whom had probably never heard of Banks until this week. It wasn't fake news, or dark money or Russian interference that won it for Leave – it was the 17.4million. But for some elite Remainers, it seems conspiracy theories are more comforting than the truth.
To enquire about republishing spiked's content, a right to reply or to request a correction, please contact the managing editor, Viv Regan.