Martin McDonagh has the last laugh, again
The Lieutenant of Inishmore is as rebellious as it was 20 years ago.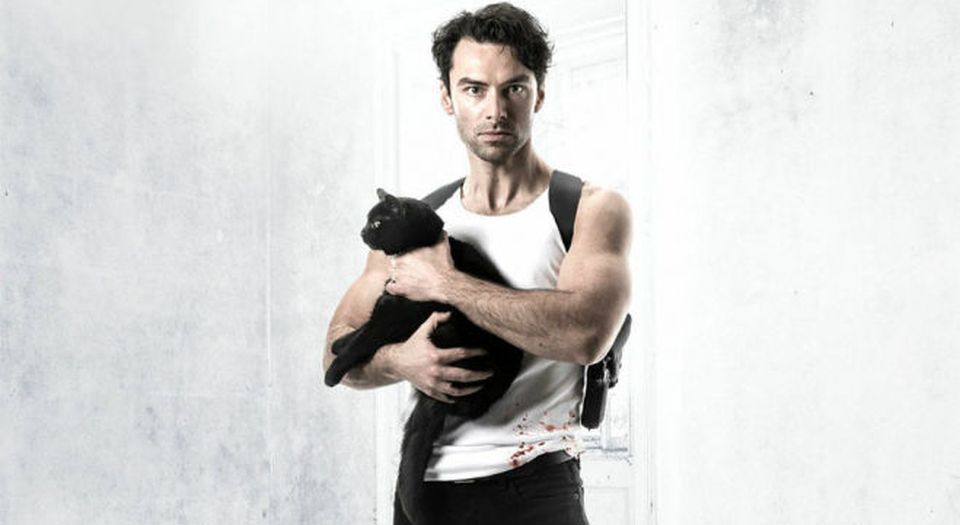 If you like plays about battered cats, blinded cows and Irish republicanism, then you must see Martin McDonagh's The Lieutenant of Inishmore at the Noel Coward Theatre in London.
Set in Inishmore, one of the Aran Islands off the west coast of Ireland, the play begins and ends with a mauled cat. Davey, a simpleton with 'girly hair', has found Thomas, a cat, dead in the road. He brings it to the cat's owner, Donny, who tells him the cat actually belongs to Mad Padraic, his son.
Padraic is an Irish nationalist so severe in his tactics and forceful in his republicanism that the IRA has kicked him out and he is about to form a splinter group within the INLA (which doesn't like him much, either). The only thing that melts Mad Padraic's heart is his love for Thomas, his cat. Donny tells Padraic that Thomas is sick – they can't face telling him the cat's dead and so they paint a ginger cat with shoe polish to masquerade as Thomas – and Padraic comes home to seek revenge. That's when all hell breaks loose. What he doesn't know is that he too is being pursued, by his comrades in the INLA, who have heard of his plans to form a splinter group and have been sent to Inishmore to put a stop to it.
As with most of McDonagh's plays, violence is central to the plot. And this latest production, under Michael Grandage's direction, indulges wholeheartedly in blood and guts. Dead cats have 'lumps of brain pure dribbling', toenails are ripped off, nipples are threatened with slicing. And yet such is the brilliance of McDonagh's writing that the gorier the story gets, the funnier it becomes.
Aidan Turner, best known for playing a bare-chested Poldark on the BBC, is brilliant as Padraic. I was worried he wouldn't manage to capture the mad brilliance of a character who when we first meet him is laughing as he rips the toenails off a drug dealer and then is reduced to tears by the idea of his cat having ringworm. But Turner is hilarious – so much so that at the first preview of the play, he failed to hold back his own laughter during an execution scene.
Unlike McDonagh's recent films, Three Billboards Outside Ebbing, Missouri, Calvary and In Bruges, which deliver equal-parts humour and seriousness, his early plays from the 1990s, which include The Lieutenant of Inishmore, are pure black comedy from start to finish. McDonagh wrote two trilogies: The Leenane Trilogy and The Aran Islands Trilogy. All six plays are set in the west of Ireland, in seemingly quiet towns that are in fact full of deviants, murderers and dark secrets waiting to be outed.
The Beauty Queen of Leenane is about a woman so thwarted by her overbearing and decrepit mother that she commits the most heinous acts of domestic violence. A Skull in Connemara is about a man hired to dig up skeletons and bash in skulls to make room in the local graveyard who is called upon to dig up the bones of his ex-wife, whom everyone suspects he murdered.
When it first appeared in the late 1990s, The Lieutenant of Inishmore was seen by many as a step too far. McDonagh rips into Irish republicanism mercilessly. Skin-headed girls blind cows with pop guns while singing rebel songs, and eye-patch-wearing heavies from the north argue about what Marx did or didn't say as they kill cats. Some thought the late Nineties was far too soon after the end of the Troubles to stage a play ridiculing the violence of Irish republicanism.
McDonagh was defiant, and he refused to send any new plays to theatres until someone staged The Lieutenant of Inishmore. It was a successful protest – the play was first produced by the Royal Shakespeare Company in Stratford-Upon-Avon in 2001. McDonagh was known for causing a stir – he was already infamous among British journalists for telling Sean Connery to 'fuck off' at an awards ceremony after Connery chastised him for refusing to toast the queen.
But what makes The Lieutenant of Inishmore and all of McDonagh's work so brilliant – whether it's plays about people from Galway or films about communities in Missouri – is how warm his depiction of smalltown life can be. Perhaps this is to do with the fact that McDonagh is himself second-generation Irish, growing up in London and spending his summer holidays in and around Connemara and Sligo, where his parents are from. No matter how dark, insulting and stereotypical his characters are – drunks, simpletons and 'mam-tramplers' litter his plays – his work never feels exploitative or prejudiced.
In a time where offence-taking has become a national sport, McDonagh's plays feel like a rebellion. And, with the growing panic among the British chattering classes about Brexit awakening violence in Ireland through the possible imposition of a hard border there, this new production of The Lieutenant of Inishmore is a welcome intervention. For what McDonagh is really doing in these outrageous plays, often shown to British audiences, is shining a light on lingering anti-Irish prejudices by revelling in ridiculous stereotypes like poteen-swigging small-towners killing each other over cats. That's the brilliance of McDonagh – he always has the last laugh.
To enquire about republishing spiked's content, a right to reply or to request a correction, please contact the managing editor, Viv Regan.