Can England win the World Cup?
Is football really becoming as unpredictable as politics?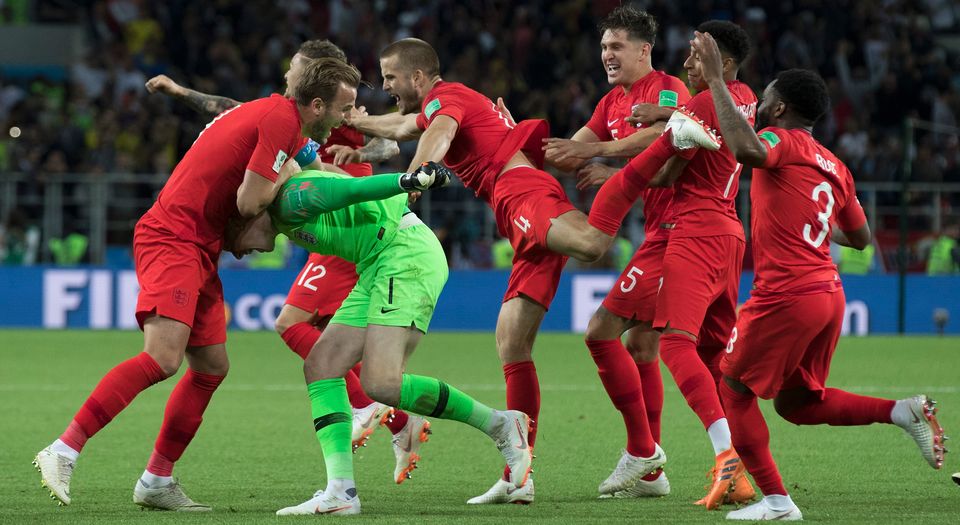 Russia 2018, all agree, has so far been a World Cup of surprises, excitement and extraordinary results. The established Great Powers of the game have almost all been humbled by upstart nations. As the quarter-finals kick off, few seem certain of the winner.
Has international football now become as unpredictable as politics, as far beyond the ken of the experts and pundits as, say, the Brexit referendum result? Could an outsider such as Croatia, Uruguay or, whisper it, England 'do a Trump' and upset all the odds?
Of course, football is not really like democratic politics. All teams are not created equal, and no amount of public support can ultimately compensate for a shortfall of skill on the pitch.
Unlike the election of President Trump, the fact that millions of people dislike and distrust your opponent is not enough to win you a World Cup. If it was a popularity contest, after all, the Germans would never have won the thing four times.
But change is in the footballing air, too, and, one way or another, history is being made at this World Cup. Let's put on our unseasonal anoraks and glance at the record books.
The embarrassment of football's leading nations appears unprecedented. None of the previous three World Cup winners has made it to the quarter-finals this time: Italy (2006 champions) failed even to qualify for Russia, reigning champions Germany (2014) exited at the group stage and Spain (2010) lost to Russia on penalties in the last-16 knockout round.
It might seem a remarkable sign of international football's stability that, in the previous 12 World Cups, every final has been contested by two of the following seven countries: Brazil, Germany (West Germany until the 1990s), Argentina, Italy, France, Spain and the Netherlands. The first four alone filled 18 of the 24 places in those final matches.
Yet only two of those seven – Brazil and France – remain in this World Cup as the quarter-finals start on Friday. And the draw ensures that, at best, only one of them can make the final.
At the very least, then, this could be the most unusual World Cup Final line-up for more than 50 years. We are now guaranteed to have at least one World Cup finalist from outside those elite seven for the first time since 1966.
What's going on? These turn-ups might look, to paraphrase an old England anthem, like signs of a 'world in motion', of dramatic changes in the international pecking order. But it is surely unwise to try to rationalise some unexpected football results too far, as if we were talking about shifts in political support or international power.
The rise of Belgium, for example, could be partly attributed to the way that the sea of money now washing around European football has allowed the best players to move to the top leagues and compete in the Champions League, so that none of their international teams now play in the backwater of Belgian club football. Or it might just be that they have got lucky with a 'golden generation'. Sometimes, in the immortal words of a wise old Scotsman, surprises are simply a case of 'Football. Bloody hell.'
Whichever two countries make it to the final in Moscow on Sunday 15 July, they will be from either Europe or Latin America – the only two football federations ever to win the World Cup. The exciting changes in the world order have not gone so far as to make an African or Asian team real contenders. Indeed this World Cup has been widely seen as a backward step for African football.
Nevertheless, we are potentially looking forward to the freshest final line-up since 1966. The team that broke the mould that year, of course, was England, the only time they won the World Cup. So, do the history and stats suggest this is England's chance to break through again?
Hold on to your World Cup Willies a minute.
There might seem more chance of an entirely new country breaking up the old boys' club and winning the World Cup. From a different perspective, that idea of a longstanding club of seven perennial finalists looks somewhat misleading. After all, France played and won their first final only in 1998, Spain as recently as 2010.
Which means two of the past five world champions were first-timers in the final. Might another new World Cup winner, like the super-talented if temperamental Belgians, seem more likely than an England revival?
If we're talking about comebacks from former champions, many might think Uruguay, with their Italian-style solid defence and counter attack, appear a more persuasive-looking candidate than England. Apart from Brazil, little Uruguay are the only team still standing to have won the World Cup more than once – the first-ever final in 1930 and the first postwar revival in 1950.
And despite all the upsets, the two established football powers that remain – France and five-time winners Brazil – still look formidable. The Brazil of 'Marmite' Neymar may have won fewer friends than their illustrious predecessors, but then, as mentioned, football is not a popularity contest. Against them (and Uruguay) is the fact that only one non-European team has ever won a World Cup in Europe – that of course was Brazil, in Sweden back in 1958, when the 17-year-old Pele shook up the world. Whatever anybody thinks about Neymar or Uruguay's Luis Suárez, they are no teenage Pele.
France meanwhile are looking like favourites, as maybe they should with a squad that boasts three of the five most expensive footballers in history (or will, once Kylian Mbappé's transfer from Monaco to Paris Saint-Germain goes through this summer). In the 19-year-old Mbappé they have the nearest thing to a young Pele or Maradona seen in this tournament.
Yet the draw ensures that only one of France, Brazil or Belgium can get to the final. England, meanwhile, are the highest-ranked team and only previous winners left in the other half of the draw. Little wonder perhaps that the pubs are alive with the sound of the dreadful 'Three Lions'.
As ever, the one thing we seem guaranteed to lose when it comes to our national game is a sense of perspective. England must always be either potential world champions or the scum of the earth – never just 'all right'. Let us recall that England won two group stage matches against weak opposition (Tunisia – whose star player just helped Sunderland get relegated to our third division – and Panama), before being beaten by Belgium in a battle of the b-teams after both had already qualified, then scraping through on penalties against a Colombian team whose one real star was out injured.
Yet the vagaries of the draw really do mean England have their best chance to reach a World Cup final since 1966. On paper, England even have a better chance this time. Back then Alf Ramsey's team had to knock out the best two teams in the competition, Argentina and Eusébio's Portugal, to get through to play West Germany in the final. This time Gareth Southgate's side must get past Sweden to reach a semi-final against Croatia or Russia. No contest, relatively speaking.
Say it fast and it seems easy enough. But if I was a betting man – and I am – I still wouldn't back them to win it. The 1966 England team had three world-class players – Gordon Banks, Bobby Moore and Bobby Charlton – and a fourth, striker Jimmy Greaves, who wasn't even picked for the final. This time they have Harry Kane, who could yet win the Golden Boot but is not, in the old saying, fit to lace Greavsie's drinks.
If the miracle does happen and England get to the final, it can only be because of the failings of their opponents. Then again, isn't that how Donald Trump managed to 'do a Trump' and win?
All together now: 'It's coming home.' Or more likely, not. Either way, let's enjoy it while we can. England. Bloody hell.
Mick Hume is spiked's editor-at-large. His latest book, Revolting! How the Establishment is Undermining Democracy – and What They're Afraid of, is published by William Collins. Buy it here.
Picture by: Getty.
To enquire about republishing spiked's content, a right to reply or to request a correction, please contact the managing editor, Viv Regan.