The dimming of democracy
Theresa May's sell-out on Brexit is a grave insult to the democratic ideal.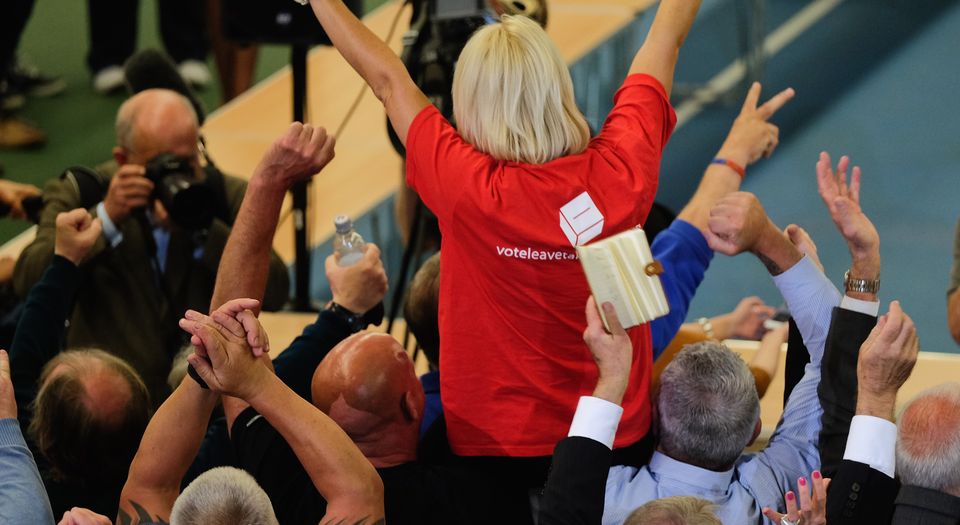 It is time to put Theresa May's betrayal of Brexit into its proper historical context. Her plan for Remain by another name, to keep Britain entangled in the rules and laws of an institution that 17.4million of us instructed our politicians to leave, represents a blow not only to Brexit, but to democracy itself. This is what is at stake now: not only our physical, political leaving of the EU – which is incredibly important – but also the very principle of democracy. The principle that the everyday person, regardless of his or her background, wealth or educational achievements, has the same clout as the richest, cleverest people in the land when it comes to steering the nation. This ideal now lies in tatters, as May and virtually the entire establishment make it clear that they value some voices more than others.
May has capitulated, cravenly, to the Remoaners who surround her and to Brussels negotiators who have continually made clear their desire to punish us uppity Brits with a bad deal. Her Chequers plan ties Britain into a legally binding 'common rule book' on goods. It would subject Britain to a treaty commitment to mirroring EU rules. It would have us adhere to the rulings of the European Court of Justice in certain areas. And at the same time Britain will lose its vote and treaty vetoes within the EU – because it will no longer be an EU member – which means we will be abiding by all these rules with no capacity for any rule-making of our own. It is, in the words of Martin Howe QC, an expert in EU law, a political 'black hole' in which our ability to devise independent trade policies and rules on goods will be seriously impaired and we will never be able to wriggle free given that a non-EU member can no longer trigger Article 50 and say, 'I'm out'. It is the worst of all worlds: we effectively stay in, we remain beholden to EU diktats, and in such a way that our ability to push back or rebel is almost completely diminished.
It is not what people voted for. It is the opposite. People voted to 'take back control'. Every major survey of our vote has found that millions voted Leave because they 'didn't want the EU to have any role in UK law-making'. And now May gives us the opposite of that. We voted to repair British sovereignty; she acts to undermine British sovereignty. We voted to strengthen Britain's democratic independence; she acts to reduce Britain to a rule-taking vassal state of the increasingly imperial EU. We voted to stir up politics and insist that our voices be accorded more weight than the utterings of narrow bands of technocrats and other inhabitants of aloof global bodies; she decides that Britain's political future is actually better decided by them than by us. As the headline to Tory Remoaner Nicky Morgan's article this morning puts it, 'With this Soft Brexit, the cabinet has chosen to listen to business'. Indeed. And to self-styled experts and unelected bureaucrats. It has listened to all of them and not to us, the 17.4million, the largest democratic body in British history.
Let's get real about this: this represents a reneging not only on the referendum vote, but on the very principles that underpin a democratic society. May is sending a clear signal with her Chequers capitulation: that she pays more heed to the Remain-leaning political elite, the business class and the Brussels bureaucracy than she does to ordinary voters. They matter more than us; their wisdom outweighs ours. And therefore they win, despite their numbers being infinitesimally smaller than ours, and despite Britain supposedly being a democracy. It is too narrow now to say, 'May is selling out on Brexit', because the far greater problem is that in the process she is selling out the ideals of The Vote itself and the centuries-long struggle to achieve democratic parity of influence between the wealthy and the poor, the well-connected and the disconnected, the educated and the uneducated.
If 17.4million people vote for something and it doesn't happen, can Britain make any serious claim to be a democracy? One leading Remain campaigner says of the Chequers plan: '[T]his is the biggest win for Remainers since the referendum.' The losing side is victorious. This is not how democracy works. We are witnessing the dimming of democracy. That it should happen in the centenary year of the extension of the franchise to working-class men and some women, through the Representation of the People Act 1918, only makes it feel more depressing. Indeed, Theresa May, alongside London mayor Sadiq Khan and various members of the predominantly Remain-leaning great and good, celebrated the 1918 democratic breakthrough at the unveiling of a statue of Millicent Fawcett in April, and then almost immediately they all went back to trying to dilute or break the largest democratic vote in British history. What grotesque, decadent behaviour. Future satirists will have a field day with these leaders who cheer democracy in public and kill it in private.
'Really I think that the poorest he that is in England hath a life to lead as the greatest he.' Those words are emblazoned on the wall of St Mary's Church in Putney in London. They were uttered by a member of the radical group known as the Levellers who, alongside other members of the New Model Army who fought on the side of parliamentary democracy in the English Civil War, met in St Mary's for a series of debates in 1647. This idea has always underpinned democracy: that the poorest he should have as much say as the greatest he. No longer. One hundred years after 1918, that ideal is all but dead. Experts rule, bureaucrats abound, the people are scoffed at for being too 'low-information' for political decision-making, and the mainstream parties bow before faraway technocrats and ignore their own public. It is clear now that the Brexit vote was only the first step in what will prove to be a long, hard struggle to recover the democratic spirit and return political authority to the public. Step number two: replace our political class with a new one. These lot aren't fit for purpose.
Brendan O'Neill is editor of spiked. Find him on Instagram: @burntoakboy
To enquire about republishing spiked's content, a right to reply or to request a correction, please contact the managing editor, Viv Regan.