Labour's problem with Jews is getting worse
The message is clear now: we trust you less than other minorities.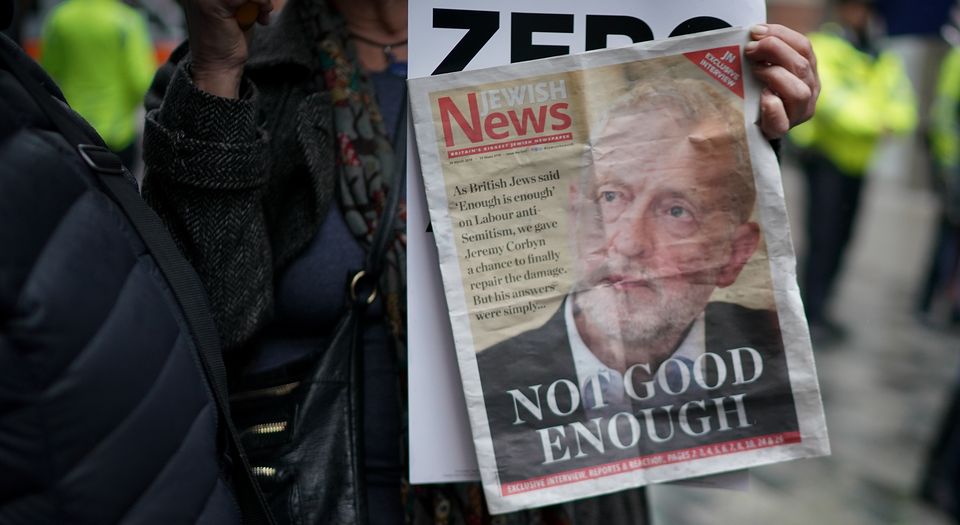 The left treats Jews by a double standard. And this week we've seen that made crystal clear. Compare and contrast what happens to people who criticise Islam and people who criticise the Jewish State. A couple of days ago, grouchy New Atheist Richard Dawkins expressed dislike of the Islamic call to prayer. It sounds 'aggressive', he said. He said that, despite being godless, he prefers the sound of church bells. He was instantly denounced as bigoted. Even racist. Prominent Corbyn supporters branded him far right. He was a fascist simply for criticising an aspect of Islam.
At the same time, precisely as these denunciations of Dawkins were taking place, Labourites were arguing that public life must find a way to accommodate stinging, even ugly criticism of the Jewish State. As part of the debate about Labour's new code against anti-Semitism, some insisted that ridicule of the Jewish State must be tolerated because it is illiberal to 'curb' legitimate discussion in relation to political and ideological matters.
Why is open and free discussion important on Jewish matters but not Islamic ones? Why is it always Islamophobic to criticise the call to prayer or ridicule the Koran or question the wisdom of women wearing the veil, but it is not anti-Semitic to obsess over the Jewish State and write it off as evil, racist and nasty? Or consider how leading Labourites, including Emily Thornberry, responded last week to Donald Trump's mild criticisms of London mayor Sadiq Khan for his handling of terrorism. Trump's comments were 'racist and Islamophobic', they said. The accusation of Islamophobia made instantly when a Muslim public figure or an Islamic belief is criticised, yet when the Jewish State is demonised, as it so often is by the new left, Labour says we have to stop and think before we say it is prejudiced speech — why?
It should be clear to everyone by now that the left treats so-called Islamophobia more seriously than anti-Semitism. Or to put it another way, modern leftists and liberals are incredibly sensitive when it comes to public discussion of Islam, overly sensitive, to the extent that they convince themselves that any questioning of Islam or its adherents is borderline fascistic. Yet they suddenly become more measured – an unusual trait for them – when it comes to discussion of the Jewish State. One ideological outlook is off-limits, the other is fair game.
This pertains to the controversy over Labour's newly adopted code on anti-Semitism. Following the exposure of numerous instances in which Labour figures, including Jeremy Corbyn himself, were found to have expressed or shared or commented favourably on explicitly anti-Semitic imagery and ideas, Labour has been promising to stamp out anti-Semitic thinking in its ranks. From shrill memes accusing Israel of joyously spilling the blood of Palestinians to a mural showing hook-nosed old men overseeing the world's economic affairs (the one Corbyn commented on favourably), the socialism of fools has been evident a great deal lately in what passes for radical circles today. And so Labour promised it would boost its rules against anti-Semitism. Yet in the process it has found itself coming in for even more flak.
Labour has adopted the International Holocaust Remembrance Alliance's (IHRA's) definition of anti-Semitism. This is the definition of anti-Semitism that is used by various governments, including the UK government. It describes anti-Semitism as 'a certain perception of Jews, which may be expressed as hatred towards Jews'. It gives various examples of speech that can be considered anti-Semitic, including when Israel is referred to as a Nazi entity or when Jews are said to be more loyal to Israel than to the nation they live in.
And Labour has landed itself in hot water because while it has adopted the IHRA's definition of anti-Semitism, it has changed or left out some of the IHRA's 11 examples of what constitutes anti-Semitism. For example, Labour's code says it is 'wrong' but not necessarily anti-Semitic to say Jews are more loyal to Israel. And it says comparing Israel to the Nazis is only racist if 'anti-Semitic intent' can be proven on the part of the person making the comparison.
Jon Lansman, a member of Labour's national executive committee and key supporter of Corbyn, says Labour made these tweaks – others call them 'fudges' – in order to 'protect freedom of speech' on Israel. And here's the thing: Lansman has a point. It is important that we maintain a distinction between hatred for Jews and criticism of Israel. That can be difficult these days, as anti-Zionism is very often a sly cover for old hatreds. Witness the way Israel is treated as a uniquely destabilising force in the world, as the puppeteer of the Western foreign-policy establishment, as a peculiarly bloodlusting state: anti-Semitic tropes refashioned as anti-imperialist critique. And yet we must defend the right of people to slam Israel without their automatically being written off as racist.
But there remains a question for Lansman and for others in the Corbyn camp: why is it suddenly important to know the true 'intent' of the speaker and to defend his or her freedom of speech when it comes to Jews or the Jewish State, where that isn't important when it comes to Islamophobia, transphobia, misogyny?
We should be sceptical when Labour talks about freedom of speech, because this is a party that does not believe in freedom of speech. At all. This can be seen in everything from Corbyn's threats against the tabloid press, to the threatened expulsion of female members who criticise transgender ideology, to, indeed, the instantaneous mauling of Dawkins by Corbynista Twitter. Yet on the Jewish State, and Zionism, and the question of whether Israel is evil, freedom of speech suddenly becomes important.
What Labourites are really talking about here is not freedom of speech, which, by its very definition, must apply to everyone, including people who want to 'blaspheme' against Islam or question trans thinking. No, they are talking about the freedom to hate Israel. The quite specific, seemingly specially protected freedom to say certain things about the Jewish State. And again that huge question, that question they cannot convincingly answer, looms into view: why the double standard? Why do you utter the words 'freedom of speech' almost exclusively in relation to hating Israel?
Many criticisms can be made of the IHRA code. It doesn't account for the fact that anti-Semitism is increasingly expressed in an underhand way. And to those of us concerned about freedom of speech – all of the time, Mr Lansman, not only when someone wants to rage against Israel – there is indeed a concern that the IHRA code could be used to delegitimise normal criticism of Israel. And yet Labour's bristling at the IHRA code doesn't make sense from the perspective of Labour's own views on prejudice and identity.
For example, Labour accepts the Macpherson definition of racism as any act perceived by the victim to be racist – except on anti-Semitism, where sometimes the intent of the speaker must override the perception of the victim. Labourites and other leftists continually blur the lines between legitimate criticism and prejudiced thinking, on everything from Islam to transgender – except on anti-Semitism, where suddenly rigid lines distinguishing illegitimate views (hatred of Jews) from legitimate views (hatred of Israel) are necessary. On anti-Semitism, it's clear now: Labour applies a tougher burden of proof than it does to any other form of prejudice.
spiked is a longstanding critic of the Macpherson approach to prejudice, on the basis that it makes hatred such a subjective experience that almost any interaction can be branded 'racist', if the victim, or anyone else for that matter, feels it was racist. And spiked defends free speech for all, including Israel-haters. And including even anti-Semites (in that we don't believe there should be state punishment of anti-Semitic thought – it is of course fine for parties and organisations to refuse to associate with anti-Semites). But Labour isn't a critic of Macpherson. And it isn't a defender of free speech. Except on Jewish prejudice.
Why? It is hard to avoid the conclusion that much of the left views accusations of anti-Semitism sceptically, and thus feels the need to devote more resources to questioning them than it would to any other form of prejudicial speech. The message seems clear: we are cynical about anti-Semitism; we don't always believe it; we think it is sometimes weaponised to shut down our radical ideas; we believe Jews less than we believe Muslims, trans people, black people. This is the double standard in action. Jews are treated differently to everyone else. Jews are trusted less. If only there were a name for such behaviour.
Brendan O'Neill is editor of spiked. Find him on Instagram: @burntoakboy
Picture by: Getty
To enquire about republishing spiked's content, a right to reply or to request a correction, please contact the managing editor, Viv Regan.