It's wrong to vote for women just because they're women
Female candidates, like male ones, should be judged by their ideas.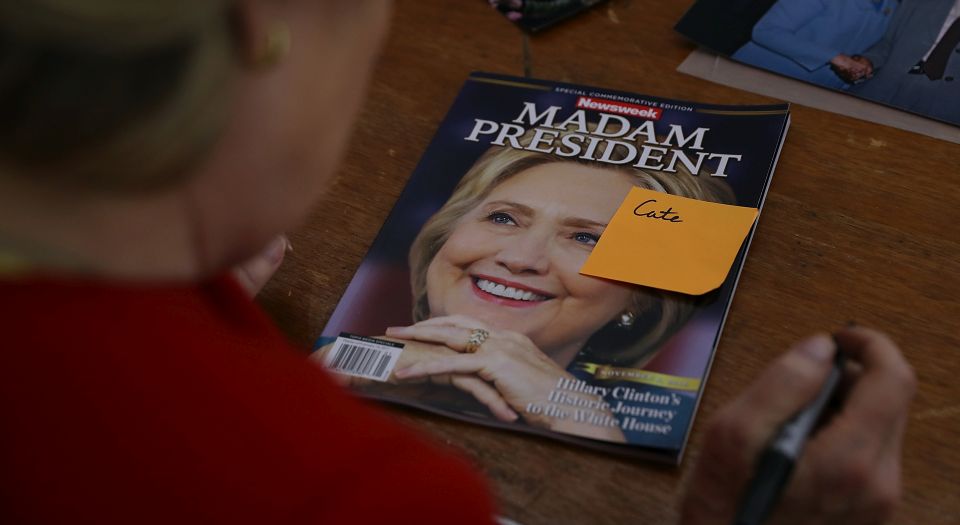 On 9 July, President Trump nominated Brett Kavanaugh to the Supreme Court. While many rejoiced in the nomination of a staunchly conservative judge, others – particularly Democrats – see this nomination as a threat to Roe v Wade and plan to 'oppose Kavanaugh with everything [they] have'. But amid the left-right clash over Trump's Supreme Court pick, there was also a debate brewing about whether Trump should have instead chosen shortlist candidate Amy Coney Barrett.
Along with the typical accolades around her legal career and education, conservative supporters of Barrett highlighted that she is a woman and mother. They argued that 'the Supreme Court needs more mothers', and that the Senate would be more likely to confirm her, because 'opposing a woman would be more awkward than opposing a man'.
These Barrett supporters embody an insidious idea that has been taking root in both parties over the past few decades: the idea that female candidates or nominees should be supported just because they are women. Today, when a woman is placed in a potential position of power, there will inevitably be supporters willing to make compromises on experience, integrity or skills in favour of supporting female empowerment. In reality, doing so results in elected officials who are not the most qualified people for the job, a twisted feminist version of affirmative action. When it comes to elections, this way of thinking can have lasting effects – it has the potential to rob us of representatives who might be better suited to enact positive change.
The idea of supporting women based on their gender alone has been gaining support in mainstream political culture for years, and has become bipartisan. The Women's Campaign Fund, started in 1974, aims to help elect women from both parties. Otherwise polarising figures such as vice-presidential candidate Sarah Palin, former secretary of state Condoleezza Rice and Senator Elizabeth Warren have been celebrated by supporters who are thrilled to see women rising to positions of power. Their actual platforms or accomplishments became secondary.
The most notorious recent example of this trend is Hillary Clinton's 2016 presidential run. Her campaign evoked a mini-movement of feminist frenzy, including voters wearing white to the polls as a nod to the Suffragettes. When asked on the street why they were voting for Clinton, supporters would often say, 'It's time to have a woman president'. In the midst of Clinton's 2016 campaign, Cosmopolitan ran an article featuring 16 quotes from celebrity Hillary supporters, including 'it's time for a woman', 'we've never had a woman leading this country', and 'it's time for America to shake it up'. Of the 16 celebrities quoted, none of them referenced Clinton's policies, political history, voting record, or stance on the issues. While someone's gender can mean they are more familiar with certain issues over others (a woman might be more passionate about laws concerning abortion, for example), gender alone does not and cannot make someone a better or more qualified candidate for office – so why should it win them endorsements?
In 2013, EMILY's List, the political action committee that aims to help elect pro-choice Democratic female candidates to office, launched the 'Madame President' campaign, aimed at putting a woman – any woman – in the White House by 2020. Noting an increased number of female-won elections in 2012, it stated that the country was 'ready' for a female president. Similarly, the group She Should Run hopes to help 250,000 women run for elected office by 2050.
When considering the push to elect women, the question that arises is simple: why? Being a woman does not automatically make someone more educated, more experienced, more skilled, or more qualified. It does not automatically imply a certain policy stance or empathy, and it does not imply any specific mindset or special skills. Despite this, there has been a particular pressure put on women recently to vote for female candidates. At a Clinton rally in 2016, former secretary of state Madeleine Albright said that 'there's a special place in hell for women who don't help each other'. After the election, Michelle Obama spread a similar message, saying 'any woman who voted against Hillary Clinton voted against their own voice'. These attitudes are not only condescending – they also rob women of their agency.
These messages, although meant to promote female unity, are incredibly insulting to both female candidates and female voters. The idea of voting for a woman just because she is a woman belittles the platform that each candidate brings to the table, and is brazenly unfair to those women who are genuinely more qualified than their opponents. The assumption that women automatically share the views of female candidates is an insult to the diverse backgrounds, needs and stances of women across the country.
During the 2016 election, I was told by many friends that by not voting for Hillary, I was voting against myself. Questions like 'Don't you want to see a woman president?' or 'Aren't you worried about your reproductive rights?' came my way frequently. My answer to both of those questions was and is: no. I don't want to see a woman president, I want to see a good president. I'm not worried about reproductive rights, because I have the ability to vote for those who will best advocate for my healthcare needs. I don't support women, I support qualified women.
Rachel Tripp is a writer based in Washington DC.
Picture by: Getty
To enquire about republishing spiked's content, a right to reply or to request a correction, please contact the managing editor, Viv Regan.