Let them be executed
The 'ISIS Beatles' must face the consequences for their barbarism.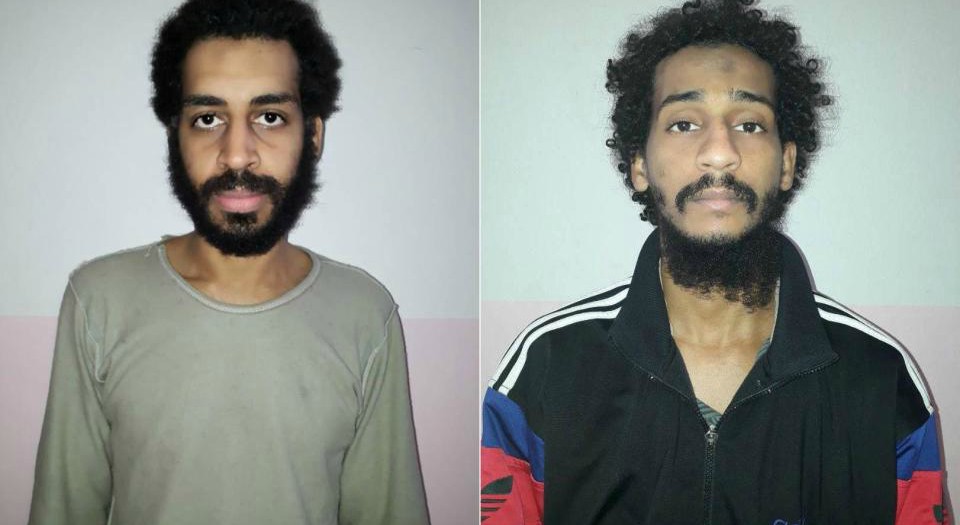 Moral cowardice is never an attractive trait. Moral cowardice disguised as principle is even worse.
That is what we have in the discussion about what should be done with two of the so-called 'ISIS Beatles'. There's a political storm over revelations that the UK home secretary told the US attorney general that the UK would not seek assurances that these two former British citizens won't face the death penalty in the US, as it usually does before it agrees to pack suspects off to the States. And if Britain 'conspires', as some are putting it, in the American execution of these two men, we will be selling out on some thoroughly decent British principles, including opposition to the death penalty. It sounds high and mighty and moral, but lurking behind this trepidation about sealing the fate of two alleged barbarians is a cowardly reluctance to pass any kind of judgement – legal, moral or existential – upon the scourge of ISIS.
Alexanda Kotey and El Shafee Elsheikh were allegedly part of the ISIS cell known as 'The Beatles' because its four members were Brits. They were captured earlier this year, by US-backed Kurdish fighters, and there has been a global tussle ever since over what should become of them. Having been stripped of their British citizenship, there's no automatic reason they should be tried in the UK. British politicians are opposed to their being incarcerated at Guantanamo Bay. So the latest talk is of their being extradited to the US, to answer for their alleged complicity in the gruesome murders of American citizens.
It is worth thinking about the gravity of the crimes for which these men could be charged. The 'ISIS Beatles' are thought to have been responsible for the capture, torture and beheading of 27 hostages, including American journalist James Foley and British taxi driver Alan Henning, who had been helping to deliver aid to Syrians. They beheaded people, on film, 'without the slightest scruple', in the words of one of their former hostages. Their Middle Ages barbarism, broadcast online to horrify Western viewers and titillate aspiring jihadists, summed up the extreme backwardness of the ISIS movement and its desire to mock the very foundations of Western civilisation. If it is confirmed that Kotey and Elsheikh were part of this cell, and played a role in its public executions of innocents, then they deserve the highest punishment imaginable.
In Britain, that would be life imprisonment. In the US, it could be death. And here's the sticking point. Home secretary Sajid Javid wrote to the US attorney general informing him that, in this case, Britain will suspend its normal procedure of seeking an assurance that suspects will not be executed. And according to much of the political class and media set, this represents an immoral warping of Britain's political and legal principles. The fury over the possibility that these two men will be executed has been intense. Unusually intense. More intense, it feels, than the fury that greeted the ISIS Beatles' severing of Alan Henning's neck. Or recent ISIS attacks on British soil. 'Don't look back in anger', we sang about that barbarism, yet when it comes to alleged ISIS members being executed after a fair trial the commentariat gets very angry. It is a perverse moral worldview that feels more put out by the execution of alleged mass murderers than by the mass murder itself.
We feel this way because important legal principles are at stake, observers say. We don't care about these awful people, they say, but we do care about Britain's good and fair approach to justice. Who's buying this? These same people who are suddenly so het up about Javid's alleged undermining of Britain's legal principles have themselves given a green light to the throttling of key British ideals of justice in recent years.
Indeed, at the weekend the Guardian, many of whose writers are peculiarly furious about the possibility of ISIS suspects being executed, published a piece wondering if we should 'get rid' of juries, given that jurors – ie, ordinary people – 'are often prejudiced'. Labour and Tory politicians, including those irate at Javid, have in recent years conspired in the weakening of the right to silence, the curbing of the right to trial by jury, and the obliteration of the rule against double jeopardy that protected suspects from neverending trials. The chattering class has launched all-out assault on the presumption of innocence. Witness the way the #MeToo moment encourages instant belief of accusations of sexual assault, and the demonisation of anyone who says, 'What happened to presuming innocence…?'.
To listen to the same sections of society that have trounced key tenets of due process now slam Javid for declaring war on legal values is a bit much. It suggests something other than principle is at play here; that their instinct in the case of the ISIS Beatles is not to protect British justice but rather to block the visitation of American justice, or any kind of firm justice, upon these alleged killers. Their motor is less principle, than a squeamishness about Western society forcefully confronting the ISIS threat.
This is clear from their continual talk about human rights. Their true concern is not with upholding the principles of British justice, but with forcefielding the 'human rights' of these two men. So the chair of the Equality and Human Rights Commission says it would go against our 'commitment to human rights' to allow them to go on trial in the US without an assurance they won't be executed. We are now seeing what 'human rights' really mean: they are increasingly a means for experts, via treaties and conventions, to interfere in the legal and political processes of nation states, in this case in Britain's decision to put to one side its usual insistence on no death penalty, and America's desire to secure justice for its citizens who were grotesquely murdered. It is testament to the chattering classes' utter dislocation from the values of ordinary people that they have no idea how surreal their talk of human rights for ISIS sounds to most of the public.
The handwringing over the fate of these two men springs not from a genuine commitment to rights, but from the Western political class's moral cowardice in relation to radical Islam. This is why there was controversy over the drone-strike killing of leading ISIS Beatle 'Jihadi John' in 2015; why we shush heated discussion about ISIS terrorism in Europe; why virtually every criticism of Islam is branded 'Islamophobia'; why there can be numerous foiled ISIS plots in Britain in recent months and no one even talks about it; and why many in the political set feel uncomfortable with the ISIS Beatles being treated to American justice. Because we don't really want to confront the ISIS threat, not fully, confidently, morally. It isn't British principles these people are worried about – it's the making of any kind of fierce judgement against this movement that has massacred our citizens, including our children.
Brendan O'Neill is editor of spiked. Find him on Instagram: @burntoakboy
Picture by: Getty
To enquire about republishing spiked's content, a right to reply or to request a correction, please contact the managing editor, Viv Regan.