Why Ozil's resignation has rocked Germany
This race row has revealed a tense relationship with Turkey.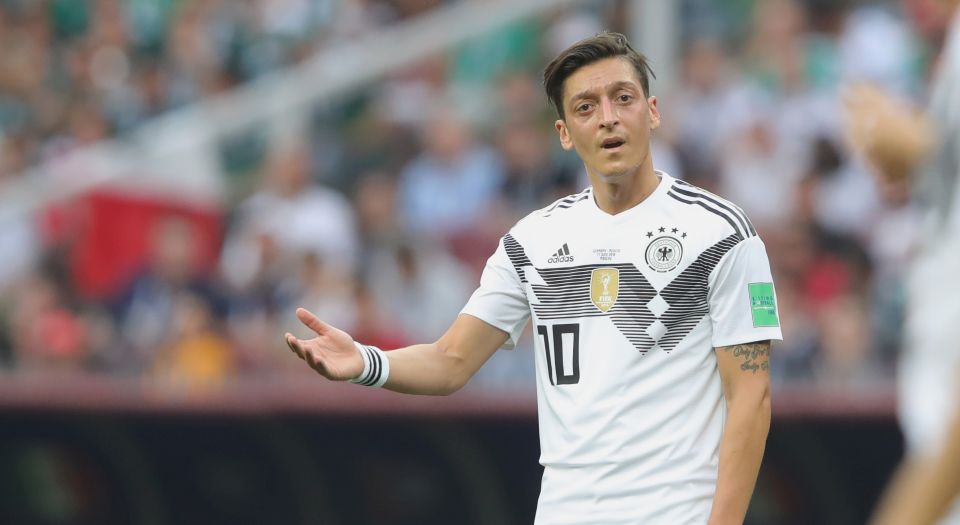 Mesut Ozil's angry resignation from the German national football team has touched a raw nerve. He was first criticised by the German Football Association (DFB) and the German media after pictures, originally taken in May, surfaced of him posing with Turkish president Recep Tayyip Erdogan. He received further flack following Germany's poor World Cup performance, their worst for 60 years. Ozil, whose family is from Turkey, hit back, accusing the DFB of racism in his resignation letter. The controversy has sparked heated debate, domestically and internationally.
In posing for pictures with Erdogan, Ozil claims that he had 'no political intentions' and was just 'respecting the highest office of my family's country'. But this is naive. Erdogan is not just a ceremonial figurehead, he has a long history of campaigning in Germany. Over 65 per cent of Turks living in Germany voted for Erdogan in the last presidential election. Reinhard Grindel, the DFB president, was right to suggest that German fans were owed an explanation for what appeared to be an electoral endorsement of the Turkish president.
Nevertheless, much of the DFB's anger at Ozil is hypocritical and cheap. German manager Oliver Bierhoff even suggested retrospectively that he should have been dropped from the national squad before the World Cup. Many commentators believe the DFB is scapegoating Ozil for the team's disastrous World Cup performance.
What's more, Ozil's accusation of racism calls into question the DFB's attempts to present itself as emblematic of a new, open, diverse and anti-racist Germany. It has mounted a number of anti-discrimination campaigns in recent decades. It awards an 'integration prize', distributes brochures 'against right-wing extremism and discrimination', and runs a campaign called 'Show Racism the Red Card'. This runs in tandem with the German government's attempts to project a positive image abroad. For instance, in 2006, when Germany hosted the World Cup, the Ministry of the Interior insisted that team captains read out a declaration condemning racism before each match. The fact that many great German players have migrant roots is rhetorically exploited whenever possible, as a way of proving the DFB's and the nation's anti-racist credentials.
The close links between German politics and football also explain why chancellor Angela Merkel – usually slow to react to major events, and certainly no keen follower of football – responded as soon as Ozil's resignation hit the headlines. (She said she liked him and thought he was a 'great player'.) Following this, justice minister Katarina Barley said that it was alarming that a great footballer like Ozil no longer felt wanted in his country. The most telling comment came from the foreign minister, Heiko Maas, who said that Germany was losing more than just a top player.
These statements are an attempt to limit the damage this row might inflict. Ozil's resignation is a blow to Germany's carefully cultivated anti-racist image, it points to the problems Germany has had in integrating its large Turkish population and highlights its difficult relationship with the Turkish government – Erdogan has praised Ozil's decision to resign as 'patriotic'. Domestically, the right-wing Alternative for Germany (AfD) has also been quick to exploit this row, claiming Ozil's meeting with Erdogan is proof of the failure of Muslim integration.
But the real question we should be asking is why a case of internal mudslinging after a World Cup cockup became so overheated. Why has it taken on such political importance? This is what happens when sports administrators and politicians use football as a tool for political posturing. By politicising football, the German government and the DFB have scored a disastrous own goal.
Sabine Beppler-Spahl is head of the board of the liberal thinktank Freiblickinstitut e.V., which has published the Freedom Manifesto. She is also the organiser of the Berlin Salon.
Picture by: Getty
To enquire about republishing spiked's content, a right to reply or to request a correction, please contact the managing editor, Viv Regan.