A new socialist America? Calm down
Alexandria Ocasio-Cortez comes off more as elitist than radical.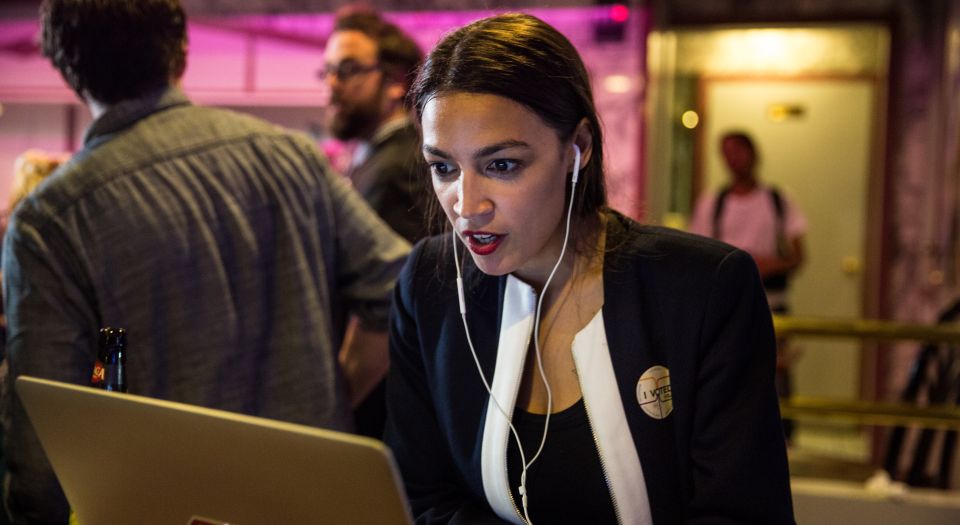 A few weeks ago, Alexandria Ocasio-Cortez was an unknown 28-year-old bartender and social-justice activist. Now she is probably the most famous Democratic Party politician in the US.
Ocasio-Cortez's New York primary victory in June over longstanding congressman Joe Crowley, the party's fourth-ranking member in the House of Representatives, was a surprising upset. Given that her district votes strongly Democratic, she is a shoo-in to win in November. Ocasio-Cortez, who proudly embraces the 'Democratic Socialist' label, is hailed by many Democrats as a political saviour, 'the future of our party' according to the head of the Democratic National Committee. Since her victory, she has become a national figure, touring the Midwest with Bernie Sanders, and her emergence appears to signal that the Democrats are poised to move in a radical-left direction.
But the acclaim and adoration showering down on this novice is over the top, and seems more like the projection of wishful thinking on to a youthful and telegenic woman. Before getting too excited, consider the simple fact of her democratic mandate. Only 13 per cent of registered Democrats turned out to vote in the 14th congressional district that covers parts of the boroughs of Queens and the Bronx. On the night, Ocasio-Cortez won 57 per cent of the votes, or seven per cent of all Democrats. If we believe the hype, it seems that getting seven per cent support in one of 400-odd congressional districts in the country is enough to crown someone 'the future of the party'.
While she and her team campaigned energetically, Ocasio-Cortez's win says more about the weak state of the Democratic Party establishment than it does about her and the popularity of her brand of socialism. As the low turnout indicates, Democratic Party politicos have for many years depended on the apathy of their registered voters. Crowley was clearly over-confident. He outspent Ocasio-Cortez by 10 to 1, but didn't do the legwork. He took a page out of the Hillary Clinton campaign playbook, and didn't bother to turn up to debates.
Ocasio-Cortez ran, first and foremost, on identity politics – specifically, her identity as a Latina, in contrast to the white male Crowley. She argued that a district where people of colour make up the majority (50 per cent Hispanic and nine per cent black) should not have a white man representing them. 'There is a profound mismatch between the community and its representation', she said. Crowley complained that Ocasio-Cortez was making the contest about race. 'I can't help that I was born white', he lamented, a plea that falls on deaf ears in today's diversity-obsessed Democratic Party.
In terms of policy proposals, Ocasio-Cortez sounded a lot like Bernie Sanders: Medicare for All (that is, government-provided healthcare), free college tuition, a $15 minimum wage. Her 'socialism' is mainly focused on introducing a national healthcare system (by that definition, the UK and Canada have long been socialist republics), among other measures that would more traditionally be called welfarism. Most prominent of all, she demanded 'Abolish ICE', the Immigration and Customs Enforcement Agency, in response to the recent uproar over the Trump administration's child-parent separation policy for illegal border-crossers. Her pitch was well-positioned to attract certain enclaves of hipsters and aspiring-gentry millennials – and sure enough, that is mainly who voted for her. Ocasio-Cortez's strongest support did not come from predominantly Hispanic areas, but from the whiter, gentrified parts like Astoria and Jackson Heights in Queens.
As it happens, the Democrats do not have a problem in attracting the hipster vote – but they do have a problem with obtaining the votes of workers beyond the coastal cities. And a platform like Ocasio-Cortez's is unlikely to bring back the workers who have left the party in droves in recent years. Take her call to abolish ICE. In today's world, that is a call for open borders, the cry of the cosmopolitan global elite who want nothing to do with the workers who are proud to be American. US elites are also quick to sympathise with immigrants, who they portray as helpless victims, yet disdain domestic working-class people, viewing them as dumb and bigoted towards immigrants and others. Outside of the trendy parts of New York and other cities, 'Abolish ICE' sounds like the voice of the elite speaking.
And, as it happens, the Ocasio-Cortez line on immigration does not have wide appeal, even among Latinos. As Josh Kraushaar recently reported in National Journal, Democrats are finding that Trump's hardline family-separation policies are not increasing support for their candidates among Hispanics. The anger and mobilisation over immigration is mainly among white suburban women and progressive millennials, not Hispanics. Indeed, recent polls show that Latin approval for Trump increased strongly during the border controversy.
Oscasio-Cortez is clearly following the trail blazed by Sanders, who surprised everyone with the strength of his challenge to Hillary Clinton in the 2016 presidential primaries. The unpolished Sanders earned points for authenticity, but could easily be seen as a holdover from the past. In the opening of Annie Hall, Woody Allen wonders if he will become 'one of those guys with saliva dribbling out of his mouth who wanders into a cafeteria with a shopping bag screaming about socialism'. That's a pretty good description of Sanders. Yet, at the same time, many young people supported Sanders, eager, for some reason, to join an old dude spluttering about socialism.
Ocasio-Cortez was one of those young supporters, an organiser for the Sanders campaign in 2016, and now she finds herself sharing a stage with Sanders. And with her ascendancy, the face of progressivism in the US is getting quite an image makeover: from cranky old Jewish guy to beaming young Latin woman.
Ocasio-Cortez's win shows that the Sanders campaign is more than a one-person phenomenon. She will no doubt give the Sanders wing of the Democrats new life, and generate more interest and support. But will this wing overthrow the Democratic Party establishment? That's not clear at this stage.
Before Ocasio-Cortez's victory, Sanders-backed candidates were not doing so well in the primaries. And there is no guarantee that his favourites will do well over the next few months. The various other factions within the Democratic Party are winning primary races too, reflecting how the party is an amalgam of often competing forces. You could as easily write about the predominance of moderate candidates with military backgrounds succeeding within the Democratic Party: Conor Lamb in Pennsylvania (who won a special election upset in March in a district Trump carried by 20 points); marine pilot Amy McGrath (who won her primary in Kentucky); and airforce veteran Gina Ortiz Jones (who came out on top in a Texas primary).
But in terms of national profile and ideas, it is the Sanders (and now Ocasio-Cortez) wing that has the momentum – because it is attuned with the outlook of the elite, and has their support. The sheer joy with which the media has promoted Ocasio-Cortez, the way in which daytime talk shows like The View can cheerfully chat about how wonderful 'socialism' in America could be, shows that this is the group that has the backing of the cultural elite. And for some time now, the corporate business elite has outsourced their companies' missions and values to social-justice causes like diversity and environmentalism – which are also causes that are most stridently espoused by Ocasio-Cortez and others in the Sanders wing. Politically, progressives like Ocasio-Cortez are making the ideological running among the Democrats at the national level: just witness how established, mainstream figures like Elizabeth Warren and Kirsten Gillibrand followed her lead and jumped on the 'Abolish ICE' bandwagon.
Of course, the establishment figures in the Democratic Party will want to keep their leadership positions. They will talk about a 'big tent', take on board some themes from the likes of Ocasio-Cortez, and borrow the activists' energy for door-knocking at election time – all the while hoping to maintain control. But that may not suffice for a younger generation of self-styled radicals, who have very little loyalty to the Democratic Party and its current leaders.
The 2016 election contest showed that we had entered a new phase of politics in the West. In the US, the establishments of both major parties were revealed to be shells of their former selves, and vulnerable to campaigns from outsiders. The way in which Ocasio-Cortez has become an overnight sensation and a focal point of discussion shows that all aspects of our politics continue to be fluid and unpredictable.
To enquire about republishing spiked's content, a right to reply or to request a correction, please contact the managing editor, Viv Regan.