Women don't have penises
In Britain it might soon be a crime to express this scientific fact.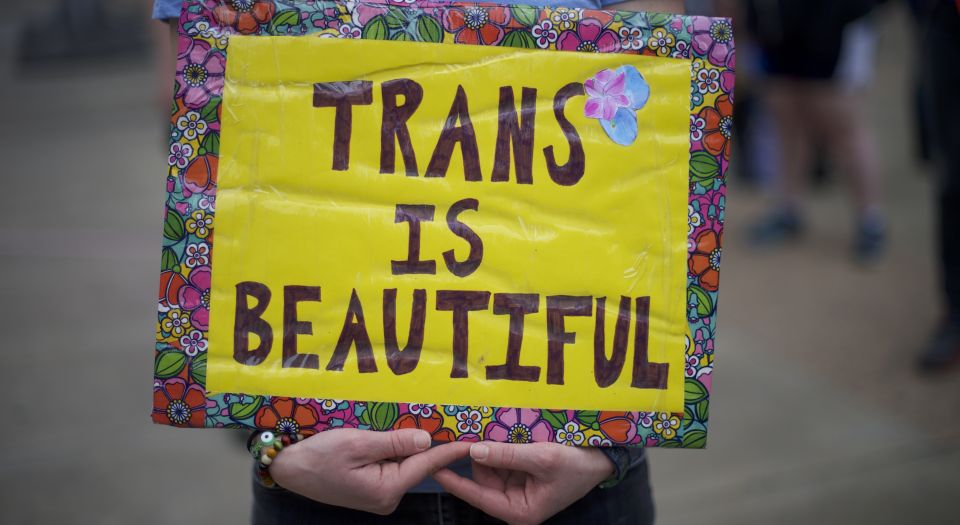 Is it now a crime to tell the truth in Britain? It's heading that way. At the weekend it was revealed that Merseyside Police are making 'enquiries' into a trans-sceptical group that distributed stickers saying 'Women don't have penises'. Yes, that's right: the police, the actual police, are investigating a group for expressing what the vast majority of people consider to be a biological, social, actual fact: that if you have a penis you are not a female. What next: arrest people for saying the sky is blue or that Piers Morgan is a muppet?
The stickers, shaped like penises, were produced by a so-called TERF group. TERF stands for 'trans-exclusionary radical feminist' – that is, a feminist who doesn't think men who have a sex change are real women – but it is really just an updated, PC word for 'witch'. When trans-sceptical women are denounced as 'TERFs' by hordes of irate identitarians online, they are really being branded disobedient bitches, women who really ought to know their place. The 'TERFs' distributed their heretical stickers in the Merseyside area, including on the Antony Gormley sculptures that make up his piece 'Another Place' on Crosby Beach, and all hell broke loose.
Twitter went into meltdown. This is a hate crime, they said. These people genuinely believe it is a hate crime to say women don't have penises. Arrest all biology teachers right away! Twitter snitches, who are legion, grassed on the TERFs to the mayor of Liverpool, Joe Anderson, who promised that he would get the police to 'identify those responsible' for these outrageous declarations of scientific truth. These sticker heretics are an affront to Liverpool's history of 'diversity' and 'equality', he said. A fancy way of saying they are thoughtcriminals. And lo, the Merseyside Police duly got involved: '[W]e are aware of this matter and enquiries are being made.'
Consider what is being done here. Not only are the police making enquiries about the expression of an idea, which is something they should never do; but even worse, they are making enquiries about speech that simply said, 'Women do not have penises'. But that is true. Or, to make a tiny concession to this era of relativism, this statement is considered by very many people to be true. If you have a penis, you are male. If you have a vagina, you are female. Of course people with penises should be at liberty to call themselves women and change their names and so on – but that doesn't mean the rest of us have to accept that they really are women. They clearly are not.
How has it become so controversial to say this? Because the atmosphere around trans issues has become alarmingly stifling. Everything from saying 'Women don't have penises' to having Scarlett Johansson star in a film about an alleged trans-man is now branded 'transphobia'. Feminists who gather to discuss the Gender Recognition Act and the fact that it will allow almost anyone to identify as a woman are harassed, censored, and in some cases physically attacked. Woe betide anyone who turns up to a campus to raise questions about the transgender ideology: they can expect to be No Platformed by the moral guardians who govern student politics.
The end result is the truth itself has come to be outlawed. It is now genuinely risky to say that someone who has a penis is not a woman – that is, it is genuinely risky to engage in reasoned, rational discussion about sexual difference and biological reality. We are sleepwalking into a police state. In recent days the Metropolitan Police have decreed, in their infinite wisdom, that Boris Johnson didn't commit a speechcrime when he criticised the niqab (the implication being that sometimes it can be a speechcrime to mock religion); the West Yorkshire Police threatened to arrest people who abused or mocked them on their Facebook page; and now Liverpool police are making enquiries about trans-sceptical speech. Every day people are arrested for so-called trolling. And a battery of laws, from hate-speech legislation to the Malicious Communications Act, is used to punish people for making off-colour jokes or saying super-rude things about MPs.
Enough. Get the cops out of public debate. Women don't have penises, they just don't, and it should never be a police matter to say so.
Brendan O'Neill is editor of spiked. Find him on Instagram: @burntoakboy.
Picture by: Getty
To enquire about republishing spiked's content, a right to reply or to request a correction, please contact the managing editor, Viv Regan.