The tragedy of left-wing anti-Semitism
Corbyn's critics exaggerate Labour racism; his supporters underestimate it.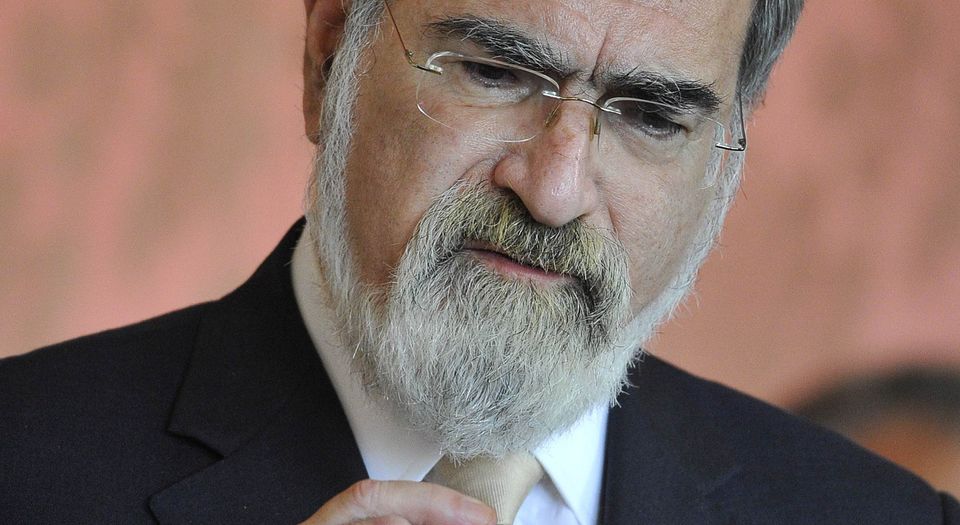 To see how skewed the debate about left anti-Semitism has become, look no further than the spat over Jeremy Corbyn's comments about Zionists failing to understand English irony. This latest stage in the row over Corbynista prejudice confirms that very few people take anti-Semitism seriously. So on one side we have the anti-Corbyn lobby blowing the problem of Labour's racism out of proportion, largely for political ends, and on the other we have Corbyn devotees who seem determined to deny that such a racism problem exists. One side politicises, the other denies. And what gets lost between these two columns of cynicism is a proper reckoning with the new manifestation of Jew-hatred.
The new controversy centres on comments made by Corbyn at a conference hosted by the Palestinian Return Centre in London in 2013. There was a media storm after a journalist discovered that in his short speech Corbyn had a pop at Zionists who had failed to appreciate the irony in a speech the Palestinian ambassador had recently made. The most striking thing in Corbyn's comments is that he described these Zionists as people who have 'lived in this country for a very long time, probably all their lives'. And still 'they don't understand English irony'.
That Corbyn was referring to, and ridiculing, Zionists who have lived in Britain 'all their lives' got people's alarm bells ringing. He means Jews, they said. Corbyn stands accused of speaking of certain people, you know who, as aliens, as inhabitants of Britain yet not really part of Britain. A writer for the Guardian said that where he had previously given Corbyn the benefit of the doubt, he could no longer do so. Corbyn's 2013 comments were 'unquestionably anti-Semitic', he said. Corbyn's supporters fired back that actually he had merely used the word 'Zionist' in a political way. He used it in 'the accurate political sense and not as a euphemism for Jewish people', Labour said.
This week the controversy over Zionists-and-irony blew up again following the intervention of Britain's former chief rabbi Jonathan Sacks. He says Corbyn's 2013 comments were the most prejudiced remarks made by a senior British politician since Enoch Powell's 'rivers of blood' speech in 1968. Labour has denounced Sacks' comments as 'absurd and offensive'. And now the divide is between those who think Corbyn is a lefty Enoch and those who think he is the victim of a right-wing witch-hunt. Frank Field then resigned the Labour whip, on the basis that the Labour leadership has become 'a force for anti-Semitism'. Typically, Corbynistas online have instigated pile-ons against Field and Sacks, branding them racists. To say it is not a good look for leftists suspected of having an issue with Jews to devote themselves to the moral destruction of the former spiritual leader of Britain's Jews is an understatement.
Here's the thing about this latest stand-off on anti-Semitism: both sides are wrong. Corbyn's critics exaggerate the scale of anti-Jewish hatred in Labour circles while his supporters underestimate it. The truth is that Corbyn's 2013 comments were not as bad as Sacks and others claim they were – but they were worse, far worse, than Corbyn's supporters will admit.
On the first problem: the idea that Corbyn is like Powell is just unsustainable. Corbyn has not called for the mass repatriation of foreign-born or foreign-descended people. Corbyn did not say Jews would one day have the 'whip hand' over Gentiles, as Powell said of blacks and whites (though he claimed to be quoting one of his constituents). Bringing Powell into this looks like an attempt to marshal an ugly episode from British history that most people agree was wrong and racist in order to boost the moral authority of the case against Corbyn. It feels cynical and overblown.
However, the wrongness of this exaggeration is outdone by the wrongness of those downplaying what Corbyn said. The great irony of this storm is that Corbyn's attack on Zionists who do not understand English irony was not the worst thing he said at that conference. The worst thing he said was that Jews in Britain were once good people but now they have been corrupted. Seriously. In a section of his speech that was not included in the Zionists-and-irony clips, Corbyn said:
'[In the early 20th century], the progressive leadership in London of the trade unions and the Labour Party… was actually Jewish trade unionists and Jewish people in the East End of London. It was Zionism that rose up and drove them into the sort of ludicrous positions they have at the present time.'
Here, Corbyn is expressing an anti-Semitic idea: that there are good Jews and bad Jews. Or rather, there were good Jews, a hundred years ago, but no longer. 'Them', as he says; they have gone bad. His argument is clear: many Jews were soured by Zionism, turned from progressive people into those dreadful creatures we have today. Jews have been driven into a 'ludicrous' worldview. This section of his speech undercuts his claim that he was using the word Zionist in its narrow political sense. Instead it points to what Zionist really means in the mouths of many modern leftists: bad Jew. That Corbyn looks upon Britain's Jews as having been ruined by Zionism suggests he does in fact hold to a prejudiced view of the Jewish community. He sees them as a community soiled.
Is this the most offensive thing a mainstream British politician has said since Powell? No. But it is the most prejudiced thing a mainstream British politician has said for many years. It does express an anti-Semitic outlook. And yet Corbyn's supporters, who pose as anti-racist, refuse to see this. And so this is where we end up: one side using hyperbole to exploit the anti-Semitism scandal to the end of wounding Corbyn, and the other side flat-out refusing to see anti-Jewish prejudice even when it stares them in the face. Which side is worse? The latter. It has to be. Exaggerating Labour's anti-Semitism might smack of opportunism, and even threaten to make people feel cynical whenever they hear anti-Semitism being discussed. But constantly downplaying the new foul handwringing over Jews and their influence represents an abandonment of the progressive anti-racist worldview and a sinking once again into the Socialism of Fools. Corbynistas need urgently to have a reckoning with the hatred lurking in their circles.
Brendan O'Neill is editor of spiked. Find him on Instagram: @burntoakboy
To enquire about republishing spiked's content, a right to reply or to request a correction, please contact the managing editor, Viv Regan.