The West has no moral authority in Syria
Our leaders' criticisms of Assad and Putin smack of hypocrisy.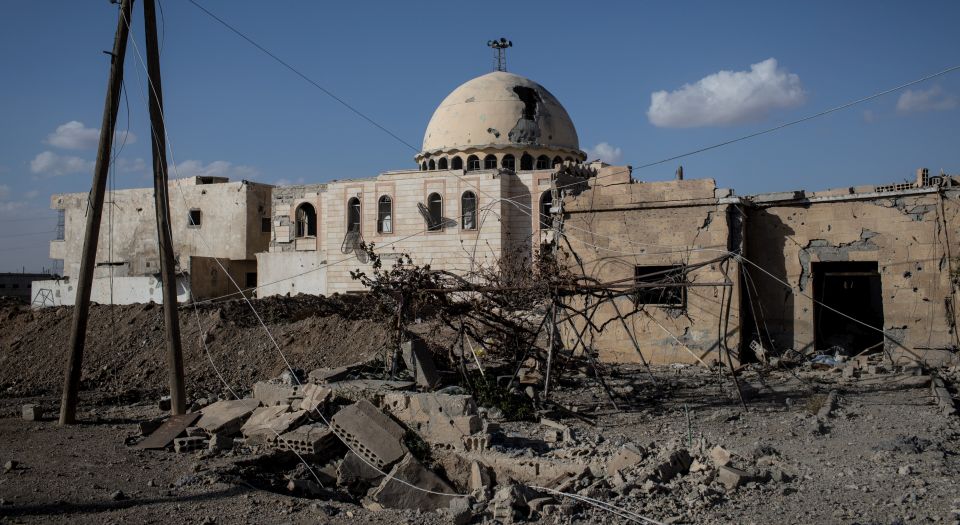 It looks as if the Syrian conflict could be about to grind to its miserable, attritional close. Syrian president Bashar al-Assad's forces are encircling Idlib province, while the Russian navy is building up strength off Syria's Mediterranean coast. They look set to launch an offensive on the last remaining holdout of anti-Assad forces in Idlib, hitherto a so-called de-escalation zone that has provided refuge for hundreds of thousands of Syria's millions of displaced people alongside an estimated 70,000 anti-Assad fighters. As Walid al-Moualem, Syria's foreign minister, put it: 'We are at the final stage of solving the crisis in Syria and liberating our whole territory from terrorism.'
If that does come to pass – and there is no certainty it will, given Idlib borders Turkey, which is vigorously and potentially militarily opposed to any offensive – there will be very little to celebrate. After over seven years of an increasingly internationalised civil war, sparked by domestic, anti-Assad protesters before it was stoked and warped off course by a cack-handed US-led Western intervention, and then re-directed with Russia's entry in 2015, the Syria that emerges will look pretty much the same as the one that first fractured in 2011. It will be ruled by Assad and the minority Alawites, with support from several other minority groups, in latent opposition with a restive Sunni majority. The country will look very different, of course: the ruins where cities stood, the dried-up fields where irrigation once promised crops, and the millions of people without habitation in a place they once called home. There are no winners here. And there are certainly no good guys.
Yet, such is the fog of moralising that has long engulfed the Syrian catastrophe that some still seem to think blame can be laid easily and simply at the door of the evil Assad and his wicked accomplices: Iran and, especially, Russia. It suits their one-baddie-fits-all narrative. As they present it, Syria is a tale of Russian-backed brutality, writ large in indiscriminate aerial bombardments and alleged chemical attacks, leaving many more civilians dead than actual combatants. A tale of the bad guys slaughtering good 'moderate' rebels, and many more innocents besides.
You can hear the narrative now in the warnings to Russia emanating from US secretary of state Mike Pompeo, who called the prospective Idlib offensive 'an escalation of an already dangerous conflict', and said: 'The world is watching.' You can hear it in the leaked reports that the US has drawn up a preliminary list of Syrian chemical weapons facilities to strike if Russia and Assad overstep the mark. And you can hear it, too, in the shrill Western commentary, where this blood-bathed endgame is no more than what Vladimir Putin wants as he seeks 'to ensure Assad's survival and seal an epic Russian strategic victory over the US… whatever the cost in human life and suffering'.
But you don't have to be a fan of a despot like Assad, or Putin's Russia, to see that in Syria, and indeed in Iraq, an arena of conflict entwined with Syria's own, this moralised, Manichaean narrative is unsustainable. For a start, Idlib really is a 'rebel' stronghold. The inverted commas are necessary, because those the West calls rebels within Syria, it calls terrorists without. Because that is what the majority faction, and many of the smaller factions, that make up the anti-Assad forces comprise: hardline, militant Islamists who would happily sponsor a terror attack in Paris or London.
This is not Russian or Syrian propaganda. It is estimated that in the Idlib province right now, there are 70,000 rebels, dominated by the Hay'et Tahrir al-Sham (HTS) faction, which is in control of about 60 per cent of the the province. HTS is actually a rebrand of the earlier jihadi militia al-Nusra Front, which, up until recently, was affiliated with al-Qaeda. This is why the Idlib province was described last year as 'the largest al-Qaeda safe haven since 9/11'. Not by Assad or Putin, but by Brett McGurk, the senior US envoy to the international coalition then fighting ISIS. McGurk's assertion was backed up by the UN envoy for Syria, Staffan de Mistura, who admitted last week that 'no one doubts that Al-Nusra and Al-Qaeda are terrorists… and terrorists identified by the UN need to be defeated'.
Likewise, no one doubts that the Syrian offensive against HTS and its jihadi frenemies will be horrific, with many civilians likely to be killed and whole towns reduced to rubble. This is what happens when ground forces deploy heavy artillery from afar, and fighter jets bomb from on high. It is what happens when relatively small rebel groups deliberately thread themselves through a civilian populace. It is what happens when troops do move in to clear out areas, but only after the aerial bombardment has all too literally paved the way. We know this because it has happened before in the countless, drawn-out sieges that have marked the decisive phases of the conflict in Iraq and Syria.
Yet all those in the US and the UK now wringing their hands over what Russia-backed Syrian forces threaten to do in Idlib, just as they did in Aleppo or Eastern Ghouta, seem to ignore the fact that the US-led coalition did exactly the same in Mosul in Iraq and Raqqa in Syria. The tactics and strategy were near identical. The bombing was merciless, the ruination near total. Amnesty International revealed that in Mosul alone, nearly 6,000 civilians lost their lives at the hands of what UN Humanitarian Coordinator in Iraq, Lise Grande, called 'one of the largest urban military operations since the Second World War'. Yet few in the West have issued 'stark warnings' to the US about its conduct, or talked darkly of war crimes. Instead, the Mosul offensive was sanctioned, not to mention half concealed, on the grounds that the elimination of ISIS was worth the collateral damage.
This is not to justify Assad and Russia's largely blithe disregard for civilian life. It is to point out the moral highground currently occupied by too many in Western foreign-policymaking circles is built on the blood and dust of that interlinked war waged by the US and its allies against ISIS, an Islamist terror group that differs from HTS/al-Nusra Front only in its lack of political astuteness. That is, it is to point out that the bloody mess of Syria and Iraq does not and cannot provide the morality play Pompeo or the broadsheet bombardiers want it to. Rather, it is yet another testament to the folly of Western interventionism. The folly of those who continue to believe, despite the Iraq War in 2003, despite the Libyan conflict in 2011, that they are best placed to decide the fate of distant peoples.
Tim Black is a spiked columnist.
Picture by: Getty
To enquire about republishing spiked's content, a right to reply or to request a correction, please contact the managing editor, Viv Regan.