Serena was no victim of racism or sexism
What we really saw was a rich person intimidating a person of lesser standing.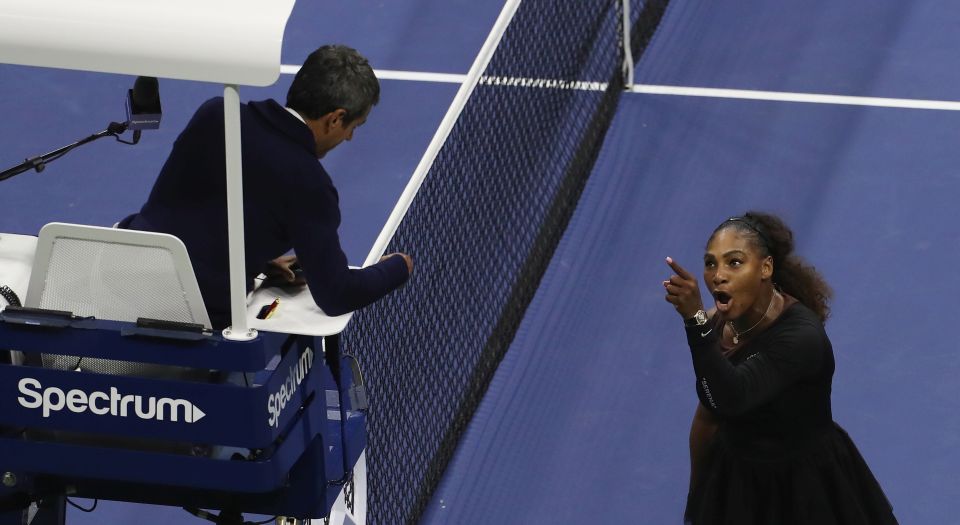 In this year's US Open, out of 33 fines issued to competitors, 23 have been handed out to men. So let us be clear from the outset: there is no sexism afoot in either the competition or tennis in general. As long ago as 1981, the white male John McEnroe was fined for his petulant misbehaviour at Wimbledon, while in 1995 the white male Jeff Tarango was banned from that tournament for abusing the umpire.
Let us also be clear that Serena Williams was talking cant when she protested that she was 'fighting for women's rights' when she unleashed her torrent of abuse at the male umpire at Saturday's US Open final. So was the American National Organisation for Woman issuing its own mendacities when it accused the umpire, Carlos Ramos, of being 'blatantly racist and sexist'. Elsewhere, Billie Jean King says: 'When a woman is emotional, she's "hysterical" and penalised for it. When a man does the same, he's "outspoken" and there are no repercussions. Thank you for calling out this double standard.' The usual imbeciles on Twitter agree: Williams is a victim of racism and sexism, and the reaction proves it.
Utter bollocks. If umpires have sometimes failed to punish bad behaviour in the past, that is because different umpires and referees interpret sporting laws differently – as every actual sports fan knows. But the experienced, gold-badged but famously hardline umpire Carlos Ramos was legitimately laying down the sporting law when he penalised Williams for illegal coaching and then breaking her racket. Williams consequently played both the race and sex card to justify her petulance. This is what Samuel Johnson meant when he said, 'patriotism is the last refuge of the scoundrel': dressing up selfish behaviour as something noble.
Bad behaviour should be, and rightly is, penalised on the field of play everywhere. In men's and women's sports all round the globe, males and females of all races get penalised for such insubordination. And I do not recall McEnroe or Eric Cantona playing the 'Is it because I is an Irish/French male?' card. Billie Jean King's observations only fit in with the imagined 'double standards' that people are keen to invoke, but without any statistical or anecdotal proof of their existence. In an age where women get paid more per-match prize money at Wimbledon than men, any double standards to speak of apply detrimentally towards men.
But we live in race- and gender-obsessed times, an age also of victimhood and imagined slights, so it is no surprise that Williams' tantrum should be interpreted in terms of today's most appealing and seductive narratives. So hypnotised by gender and race have liberal leftists become that they failed to see what really went on here and what really should disconcert them: the spectacle of an entitled multimillionaire using and abusing her position of power in front of a global audience to intimidate, threaten and bully someone of a lower social standing. That is the real disgrace of this incident. This was class warfare from the top down.
Class is something you don't read or hear about much these days. Sure, we hear about 'inequality', but we fail to recognise how the rich constitute a stratum of people who use their power in large ways and small to get what they want, and how poorer people are still trod upon by them. We are used to hearing about how this is done on race or gender lines, through 'white privilege', 'institutional racism', 'mansplaining', 'manspreading', but no such corresponding neologisms exist when it comes to class, and no recognition is afforded to people on account of their class.
People cheerily and witheringly talk about 'whiteness' or 'white privilege' and 'male privilege', as if the pigmentation or chromosomes of people has automatically placed them at an advantage, but are oblivious to class privilege and class disadvantage. I dare say New York or London liberals have never tried to visit Kentucky or West Virginia, or Dover or Middlesbrough, where they will see how being a white male matters nothing compared to being unemployed with no job prospects.
In recent decades the so-called progressive left has become class-blind. No one in the Labour Party talks about it any more. It doesn't register in the pages of the Guardian. It matters nothing to the BBC or the Democrats in America. Everything is about race and gender. It is no surprise that, with the embourgeoisment of the Labour Party, its core vote of the old working class has drifted to UKIP or the Conservative Party.
The cigarette-smoking Harold Wilson may have been a bit of a fraud when he posed in public with a pipe to his mouth, but at least in doing so he recognised that Labour should represent and appeal to the working class. He would not have publicly derided St George's Cross flags in Rochester. He would have also known that untold immigration would jeopardise the wages of the working class.
The humanities graduates who constitute the liberal left will all have been nurtured at university on Foucauldian themes of power, and how people who rule over us exert their will in all manner of ways, conscious or not: hence today's talk of 'safe spaces', 'microaggressions', 'institutional' this and that. Hence, also, gender quotas and affirmative action to rectify these malevolent, invisible forces – always perceived along race and gender lines. But never perceived along class lines. Never recognised when a very rich person decides publicly to humiliate a person who is not.
Patrick West is a spiked columnist. His latest book, Get Over Yourself: Nietzsche For Our Times, is published by Societas.
To enquire about republishing spiked's content, a right to reply or to request a correction, please contact the managing editor, Viv Regan.