Russian athletes: beyond redemption?
Why Russian athletes will always be tarnished in the eyes of the West.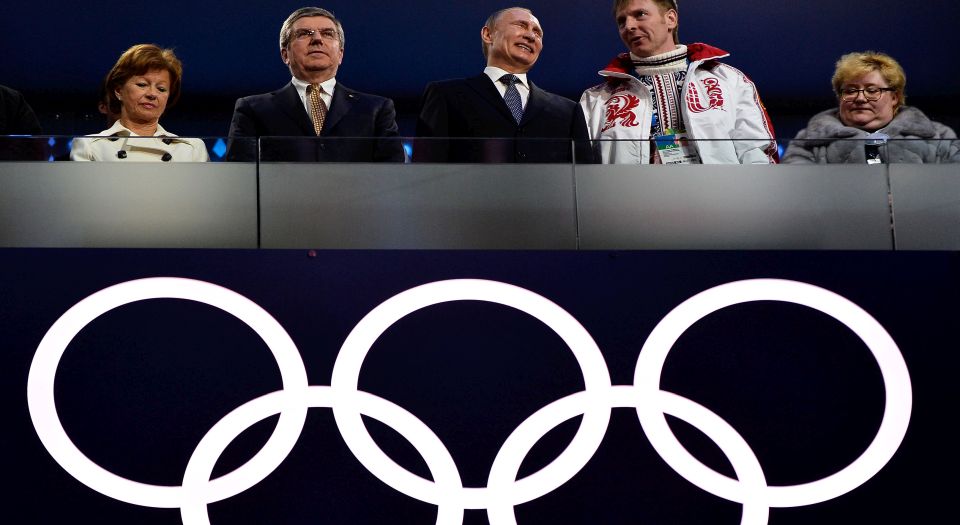 The World Anti-Doping Agency (WADA) has shown an unexpected sense of semi-comic timing. While the Western political and media class was damning the Russian state for its alleged role in the cack-handed 'chemical weapons' attack on the Skripals in Salisbury, WADA seemingly decided this was a good moment to welcome the Russian Athletics Federation (RAF) back into the international fold, after the suspension of the Russian Anti-Doping Agency (RUSADA) in 2015 on the grounds that it covered up systematic doping offences.
It is not a foregone conclusion that RUSADA's suspension (and therefore the ban on the RAF) will be lifted, of course. WADA's executive committee will still have to approve the recommendation of its compliance review committee. But WADA's intent is clear, as a letter to RUSADA from WADA president Sir Craig Reedie and director general Olivier Niggli, revealed by the BBC, clearly shows.
Written in June, 'in the spirit of compromise', WADA's leaders 'acknowledge the great efforts that have been made in Russia over the last few years to rebuild RUSADA…'. They continue: 'We now believe this is the most opportune time to deal with the two unresolved conditions for re-compliance'; namely, the public acceptance that there was some form of state-sponsored doping as laid out in the McLaren Report and the IOC Schmid report, and access to Moscow's anti-doping laboratory, or rather, as the letter goes on to explain, access just 'to those samples, which have been idenitifed by the raw data as being true adverse analytical findings, [the number of which] is likely to be very limited…'. (The admission that 'true adverse analytical findings' – or, in other words, clear evidence of doping – are 'likely to be very limited', is itself a striking admission on the part of WADA, given the oft-repeated assertion that this was 'the biggest doping scandal in the history of sporting competition'.)
In a letter dated 13 September, the Russian sports minister responded: 'I agree to accept the two remaining conditions that were referred to in your letter of 22 June … I hope that WADA will perform its undertaking and reinstate the compliance of RUSADA at the next meeting of the executive committee.'
Ordinarily you would think this might be the end of the matter. Many Russian athletes may have been allowed to compete in competitions, albeit under an independent rather than Russian flag, but many have also been punished, too. So it is not as if Russian sport has been let off scot-free. And there is also the small fact of the Court of Arbitration for Sport (CAS) decision, in February this year, to overturn the Olympic doping bans on 28 Russian athletes, on the grounds that there was insufficient evidence they had broken anti-doping rules at the 2014 Olympics in Sochi. Moreover, Russia's sports authorities are now also willing to go along with WADA's demands (although, admittedly, these have softened a little since 2015). So, given all this, why not lift Russian sport's pariah status? Why not allow athletes with Russian passports to compete freely once more?
Because these are not ordinary times. These are times in which Russia is being transformed into the demiurge of world affairs, the trolling power behind Brexit and Trump, the military power behind the Syrian catastrophe, and now, of course, the poisoning power behind unexplained deaths. Therefore, to exonerate Russia in the sporting arena just does not fit the broader narrative of Russian evildoing. Doping, remember, is meant to be the bane of sport, the source of its corruption, either turning the clean dirty, or turning the clean into victims. How can Russia not be up to its neck in such nefarious activity? Yes, the most recent notorious and successful examples of doping have emerged from within the private, entrepreneurial regions of the West, from Ben Johnson to the BALCO scandal. But, as one columnist asserted earlier this year, it is 'Russia [that] is acknowledged to have committed the sporting fraud of the century'.
Hence the response to WADA's conciliatory move has not been understanding, or a recognition that punishing a whole nation's sportsmen and women might mean, as former Russian president Mikhail Gorbachev put it, that 'the innocent will be punished with the guilty'. No, it has been incredulity and outrage. Beckie Scott, former chair of WADA's athletes' commission, reportedly left her role in protest over the recommendation to reinstate RUSADA. Something called the UK Anti-Doping Athlete Commission has demanded the ban on RUSADA remains in place. And Travis Tygart, head of the US Anti-Doping Agency (USADA), said 'frankly, it stinks to high heaven'.
But why does it 'stink to high heaven'? Russian sport has been punished, and is now willing to comply with WADA's demands. Surely that should be enough. In the eyes of too many, it can never be enough. Because this is not just about cases of cheating in sport. It is about Russia itself. It is about their belief that Russia in general is somehow almost irredeemably corrupt. This is why those leading the charge against Russia and now WADA always leap from sport to a general condemnation or criticism of Russia as a whole, or failing that, of the Russian state and its sinister head honcho, Vladimir Putin. So the problem, as one columnist remarked, was not doping athletes but 'the absence of public morality in Russia'. Or as the US attorney for Grigory Rodchenkov, the Russian whistleblower turned US-based anti-Russia mouthpiece, put it in June, with a veiled allusion to President Trump: 'There are some in our government who refuse to confront Russia for its abject criminality. Doping fraud is one more example of the gangster state that Vladimir Putin has created in Russia.'
That is why many not just in sport, but beyond it too, refuse to accept Russia's sporting rehabilitation. Not really because of wrongdoing by Russian athletes, but because of perceived wrongdoing by Russia in general. There can be no redemption for Russian athletes, because Russia, a land mystified and feared for too long and by too many in the West, is itself deemed beyond redemption.
Tim Black is a spiked columnist.
To enquire about republishing spiked's content, a right to reply or to request a correction, please contact the managing editor, Viv Regan.