Salzburg: the humiliation of British democracy
The EU might find May frustrating, but it's us voters they really despise.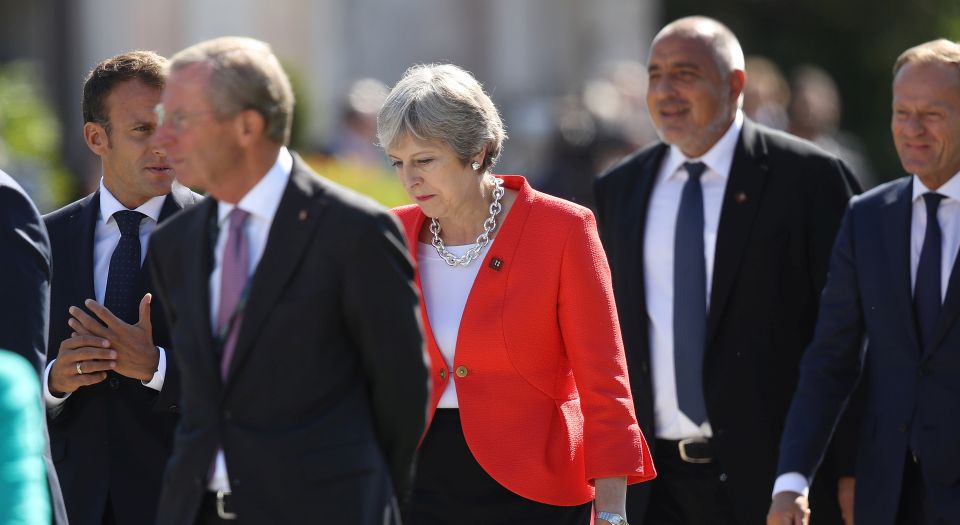 So it was a stitch-up. An ambush. A public humiliation of the British prime minister under the guise of a dinner to discuss immigration, security and a little bit on Brexit. Last night's already infamous Salzburg dinner, at which Theresa May had 10 minutes to sell her Chequers proposal to the assembled 27 leaders of EU nations, captured the Brussels oligarchy's ruthlessness and its contempt for national democracy. For what we had here was not a friendly, diplomatic dinner and conference to discuss tough problems, as was advertised, but a strategically arranged spectacle at which the freely, fairly elected leader of the UK could be rinsed before the eyes of the world media. Never has fully breaking from the EU, without a deal, seemed as tempting and wise as it does this morning.
The events in Salzburg were shocking but also not surprising. They were shocking because what really happened, to put it in some historical context, is that the technocratic oligarchy that dominates 21st-century Europe summoned one of its disobedient members, the UK, in order to mock it and undermine its plans to break away. First the president of the European Council, Donald Tusk, branded May's Chequers proposal unworkable. Then French president Emmanuel Macron said the plans were 'unacceptable', and he labelled the leaders of the Brexit campaign 'liars' for good measure. Then Angela Merkel muscled in, saying there can be 'no compromises' on the Single Market: in short, May's proposal only to keep Britain in the Single Market framework for goods is not enough and it would be better to stay in entirely.
But the Salzburg stitch-up was also not surprising because this is how the EU and its powerful supporters operate. They think nothing of interfering in nations' affairs. Witness their threatened sanctions against Hungary because its people dared to elect a government they don't like. Or their meddling in the selection of Italy's current government. Or their overriding of anti-EU referendum votes everywhere from Ireland to France to Holland to Greece (and now Britain, too). Arrogantly assuming that they know what's best for Europe's nations and their ignorant electorates is what the Brussels oligarchy is all about. So while we should be disturbed by their metaphorical throttling of May and their exertion of pressure on her to compromise even more, we shouldn't be surprised by it. This is the EU in action, and this is why we voted to leave it.
The lesson May should take from this act of ritual humiliation – but probably won't – is that compromising for the EU is a fool's errand. May's Chequer's proposal is a terrible fudge that sells out the British people's firm democratic demand to leave the EU. Instead it promises to keep Britain bound up in EU institutions or under ECJ jurisdiction in such a way that it would negate the clear request made by voters in June 2016: that we should take back control – democratic control – from the Brussels elites. And yet even this craven dilution of the democratic will to try to appease the technocratic overlords of the EU is not enough for the likes of Tusk, Juncker, Merkel and Macron. They want more. They want a further swing of the momentum away from the British demos and back to the Brussels oligarchy. They want everything done on their terms and their terms only. Negotiation with this institution seems increasingly pointless and fruitless, because they will settle for nothing less than a full betrayal, rather than May's partial betrayal, of Britons' democratic wishes.
There was one good thing about Salzburg, though: it confirmed what is really at stake here – the principle of national sovereignty, of popular sovereignty, of the hard-won historic right of a nation's people to determine that nation's affairs and future. So May was right when she argued in her pre-Salzburg column in Die Welt that to enforce an 'external customs border', a border governed and policed by a foreign institution, between different parts of the UK would be unacceptable and 'no other country would accept it'. This throws light on what the EU truly wants, something which May is increasingly incapable of withstanding, because at root she wants it too: the continued governing of key aspects of British political and economic life by a foreign power that British voters have explicitly rejected. Consider what an outrage against democracy this would be. Just as outrageous as May's belief that you can compromise in the face of such neo-imperial ambitions. You can't. You can only stand firm against them.
When the leaders of Malta and the Czech Republic took the opportunity of Salzburg to say that all EU leaders now support the holding of a second referendum in Britain, we saw how deeply the disrespect for national sovereignty now runs among Europe's elites. What we have here are faraway governments siding with Britain's own bruised and aloof political and cultural elites to put pressure on the British electorate to think again and vote again and get it 'right' this time. The British chattering classes' cheering of the EU leaders and their humiliation of May shows how distant they now are from their own public. They share with the Brussels oligarchy a severe distaste for the value of national sovereignty and for the thing that it permits: democratic decision-making. All of today's newspaper headlines say 'May humiliated', but it is British democracy, and us, the British voters, that is humiliated. By a PM who cannot carry out our democratic wishes, a broader British political class agitating against our democratic wishes, and an EU machine designed to thwart our democratic wishes. Enough. It's time to say no to Chequers, no to further compromises, and, if necessary, no to any kind of deal that falls short of Brexit.
Brendan O'Neill is editor of spiked and host of the spiked podcast, The Brendan O'Neill Show. Subscribe to the podcast here. And find Brendan on Instagram: @burntoakboy
To enquire about republishing spiked's content, a right to reply or to request a correction, please contact the managing editor, Viv Regan.