Bring back the mansize tissues
It's crass to try to make everything gender-neutral.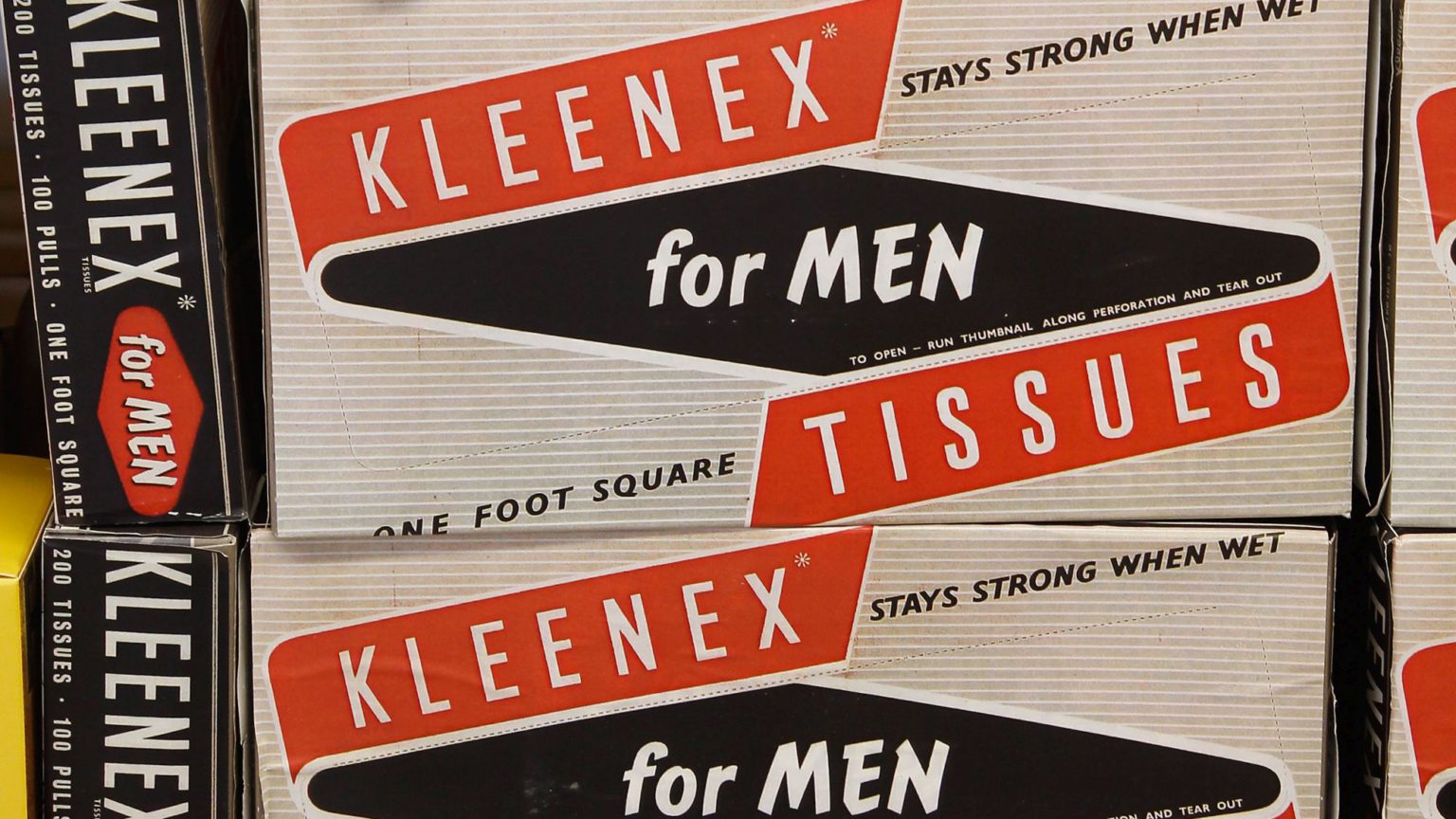 Apparently, women are so fragile that we might die of offence if a packet of tissues is labelled as 'mansize' or if a sandwich is described as a 'gentleman's roll'.
Last week, Waitrose was pressured by social media into changing the name of a sandwich because its name was too 'gender specific'. The offending item was called a 'gentleman's smoked chicken caesar roll'. It was also reported that Kleenex is planning to rename a tissue product as 'x-large' rather than 'mansize' because of 'a growing backlash towards gendered products'.
Corporations are very easy targets for these types of social-media campaigns. Branding departments assiduously avoid causing controversy of any kind and will usually cave in to the demands of determined ideologues to avoid any marketing headaches. But no one ever asks bigger questions, such as, in this case, why should everything be gender-neutral?
Gender expression (masculine and feminine) is a normal and everyday thing. It cannot simply be erased from public life in order to satisfy a small group of intolerant obsessives who want the world to conform to their political preferences.
If some people want to practise gender-neutrality in their own lives, that is absolutely fine; but they need to live and let live. Many people thought the description 'mansize' was quite funny, and others may find the 'gentleman' description on a sandwich similarly appealing. (It must be pointed out that the Waitrose sandwich had that name because it contained 'gentleman's relish' in the recipe. Not that this made any difference to the outraged, of course.)
If you don't like it, that's okay – no one was forcing you to buy either of these products. Presumably, Waitrose goes through quite a careful branding process in choosing the names of products, and clearly no one had raised any serious concerns – until now.
The new push for gender-neutrality is out of step with an open and tolerant society. I really disagree with schools that have enforced gender-neutrality by making all pupils wear trousers. I have always found it is better to be flexible about gender expression and not try to control it. Let people choose for themselves how masculine or feminine they want to be.
When I was in high school, the uniform rules were totally relaxed, so that we could choose what combination of the trousers / shirt / skirt / tie we wanted to wear. Many of the girls chose to wear what had traditionally been the boys' uniform, but when the mood took them they wore skirts, too. Some days they just wanted to be more feminine.
There is huge overlap between men and women now in terms of fashion, work and leisure time. For the most part, people have adopted these changes eagerly. But that doesn't mean that no gender distinctions exist or that people do not want them to. Many men and women freely elect to segregate themselves at hen and bachelor parties or baby showers. Getting angry over trivial issues such as tissue boxes and sandwiches distracts from the fact that our society has progressed enormously in opening up traditional divisions between the sexes. It also makes our society much less flexible and a lot more uptight and reactionary.
Ordinary people are quite capable of choosing what clothes to wear and which products to buy. We do not need social-media mobs to do it for us.
Candice Holdsworth is the founder and editor of Imagine Athena.
Picture by: Getty
To enquire about republishing spiked's content, a right to reply or to request a correction, please contact the managing editor, Viv Regan.