Roger Scruton's cultural appropriation
His new short stories remind us of the universal promise of literature.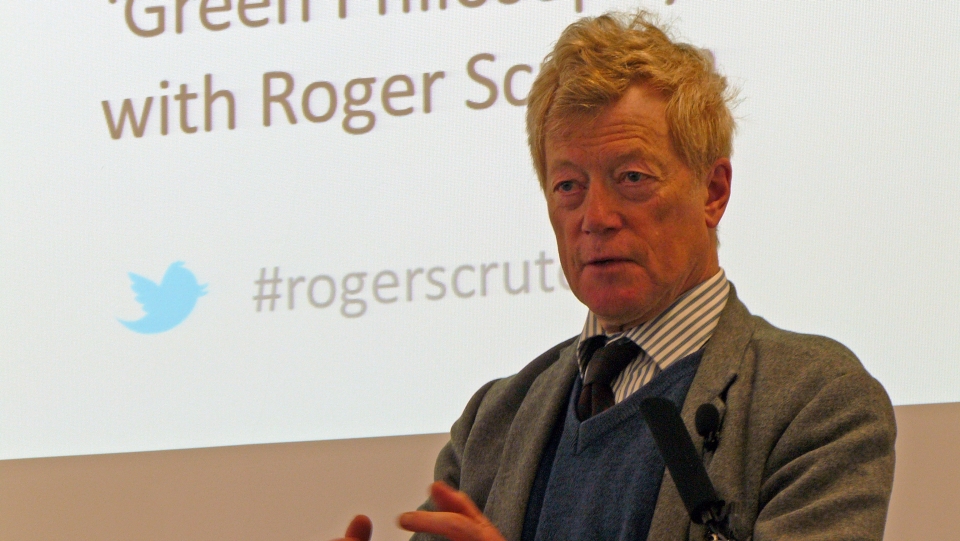 It's not just Halloween revellers or Kardashians with new hairstyles who risk accusations of cultural appropriation. Those who write fiction, who harness our imagination to transport us through time and place, who use their craft to make us laugh, cry, empathise, understand or recoil, are also tried and found guilty.
Lionel Shriver has written of 'using non-white characters in my novels, only to have them singled out and scrutinised for thoughtcrime'. Critics of Kathryn Stockett's 2009 bestseller, The Help, argue that it 'trivialises, misrepresents and stereotypes black women, black men and the black community'.
Anthony Horowitz says he was 'warned off' from writing black characters into his children's stories by an editor who told him it was, 'by its very nature, artificial and possibly patronising'. The stark message to today's authors is: 'Do not dip your pen in somebody else's blood.'
Thankfully, Roger Scruton has not taken heed of this advice. In his latest collection of short stories, Souls in the Twilight, Scruton dips his pen in the blood of a wide range of characters, from the teenage Yusuf whose mind flits between flirting with shop girls and family tales of life in Algiers, to the adolescent Veronica who tries to make sense of the adult relationships that ensnare her.
We meet Sarah and Harold, a student and her professor, a pair whose intense bond leads them from helping Christians in Lebanon to the heart of Islamic jihad. We become entwined in the lives of one-time lovers Guy and Mary as they, through alcohol and opera, grow further apart.
No doubt some will argue that a middle-aged white man cannot and should not even attempt to portray the life of a black teenager. Yet Scruton's characters are convincing. They exist in our imagination. As readers, we believe in Yusuf, Sarah and Veronica; we come to care about them and want to know what happens to them next. But in many ways, this is incidental to the success not just of Souls in the Twilight but of literature more broadly.
To ask whether we are convinced by Guy, Mary and the rest suggests the task of the novelist is verisimilitude and the test of good fiction is that, mirror-like, it reflects back to us a perfect semblance of reality. Like criticising a painting for being less than a photograph, this demands of fiction something we have no right to expect. This is the mistake made by those who cry 'cultural appropriation' and why, as Shriver puts it, 'the new call-out culture is killing fiction'.
Yes, Scruton's characters are credible, and this, in part, is why, as with all good short stories, we are left wanting more. But, importantly, we believe in Yusuf and Veronica in the context Scruton has created for them. It is Scruton's language, the imagery he employs, his ear for dialogue and the world he conjures that creates the backdrop Veronica and Guy exist within. Literature is meant to be so much more than simply a reflection of reality – it entertains, intrigues and provokes.
The truth of fiction is far bigger than the accuracy of historical recall; great art can offer us insight into the human condition. If Souls in the Twilight has a theme, it is dislocation, the experience of not quite fitting in, of feeling at odds with your surroundings and the people around you. It is only through portraying such a range of characters and situations – dipping his pen into other people's blood – that Scruton can draw out not just the specificity of alienation but its universality, too.
In the final story we meet Michael, a grammar-school boy from a suburb 'south of Croydon' where houses 'contained no books, other than those issued by the Reader's Digest'. From the start, Michael longs for more than the daily routine of 'office, television and Sunday outings in the car'. His encounter with troubled Cambridge drop-out Bill leads him to Beckett, Goethe, Flaubert, Mahler, Wagner and, eventually, piano lessons with Dr Jackson.
Both Bill and Dr Jackson seduce Michael into a world of high art and culture. However, unlike the oddly didactic Bill, Dr Jackson inspires through shy but approving asides that lead Michael 'straight to the town library, in order to discover for myself what Dr Jackson had revealed through pretending that I already knew it'.
At the end of Souls in the Twilight we realise this is exactly what Roger Scruton has done: through asides and assuming we already know, he has drawn our attention to something beyond the limitations of our experiences and the narrowness of our identity-bound existence. We, too, are pointed towards poetry, music and literature that transcends the philistine label of 'dead white men' attached to the canon by today's identitarian decolonisers. Scruton teaches us to see beyond gender, ethnicity and social class: he offers us a glimpse into what it means to be human.
Joanna Williams is associate editor at spiked. Her new book, Women vs Feminism: Why We All Need Liberating from the Gender Wars, is out now.
Souls in the Twilight, by Roger Scruton, is published by Beaufort Books. (Order this book from Amazon(UK)).
Picture by: Getty
To enquire about republishing spiked's content, a right to reply or to request a correction, please contact the managing editor, Viv Regan.