Why the BBC was right to interview Arron Banks
Elitist Remainers who want Banks off TV are a menace to media freedom.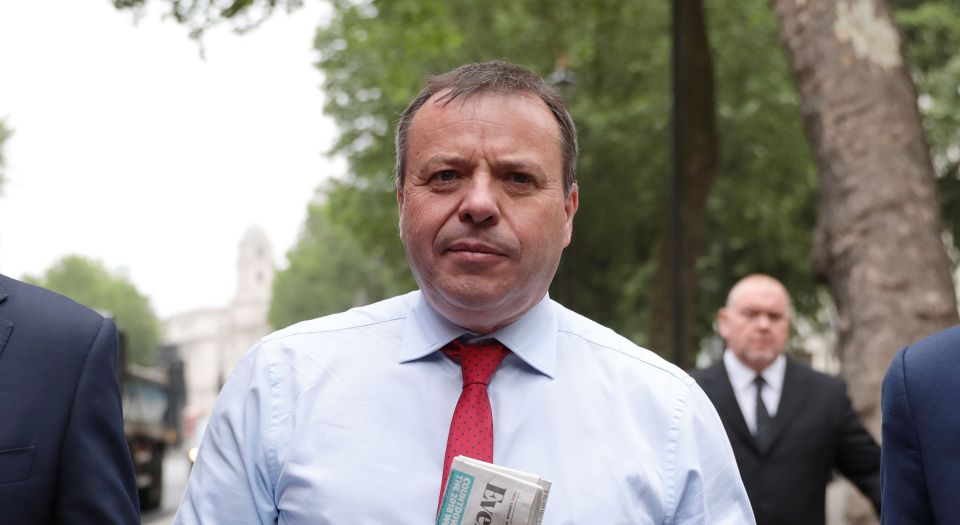 Imagine how self-important you would need to be to think you had the right to reverse a news organisation's editorial decisions. I have been watching TV news for decades and never once have I thought to myself, 'I don't like what that guest had to say. I am going to write to this broadcaster to insist they never have him on again.'
Others, it seems, do think like this. They're so convinced that the world ought to revolve around their opinions that they think nothing of trying to cast out from media life anyone who thinks differently to them.
Consider elitist Remainers' efforts to have Leave.EU funder Arron Banks shunted from The Marr Show on BBC 1 this morning. Not content with trying to strangle democracy by preventing the largest democratic vote in British history from being enacted, now these people want to do over press freedom by heaping pressure on news outlets to change their editorial decisions.
Banks, of course, is the No1 hate figure of elitist Remainers. He's the man they hold responsible for Brexit. They love to present their hatred of Banks as a leftish, anti-big-business stance, when of course its real motor is steaming contempt for ordinary people, whom they look upon as so suggestible, so dim, that they were hoodwinked into voting for Brexit by a few posters and Facebook ads funded by Mr Banks' mysterious money. Every time you hear their unhinged Banks-bashing, remember it is voters they're really hating on.
So, naturally, when the BBC announced that Banks would be appearing with Andrew Marr, they went nuts. How dare the BBC interview someone who has been referred to the NCA, they cried, forgetting about a little thing called innocent until proven guilty — maybe they want to dump that too, along with democracy and media freedom.
Green MP Caroline Lucas, getting her McCarthyism on, wrote to the Beeb to say she was 'incredulous' about this 'decision by the public-service broadcaster' to 'enable this dangerous man to spread disinformation'. Well, if Ms Lucas is incredulous, clearly the interview must be canned.
Lord Adonis, the figurehead of the Brexitphobic lobby, who uses his unelected, undemocratic, unearned power in the House of Lords to cast shade on Brexit and the 17.4million idiots who voted for it, used House of Lords headed paper to write a castigating note to the BBC.
This is the man who complains about political interference by Brexiteers in the BBC — he's somewhat of a conspiracy theorist — now engaging in political interference in the BBC! Having Banks on is a 'very serious editorial misjudgement' and must be reversed, he dictated. There it is again, that arrogance, which will be so alien to so many of us.
AC Grayling, one of the noisiest anti-democrats of the Brexit era, slammed the BBC for 'giving a platform' to Banks. Note the student-like language. As the BBC's John Simpson said of the Banks controversy, 'The urge to keep people we disapprove of from appearing on our TV screens is very much the same as the desire some university students have to no-platform speakers whose views they disagree with'.
The phrase of our time is 'give a platform to'. As in, why on earth is the BBC / Times / whoever 'giving a platform' to this person I disagree with or find obnoxious? It is meant to sound like a radical phrase, but it is entirely censorious, and of a piece with Margaret Thatcher's insistence in the 1980s that certain people, especially Sinn Fein, had to be 'starved of the oxygen of publicity'.
Thatcher's phrase was at least more honest. She knew she was engaging in political censorship and was fine with that. But the new lot, these arrogant new elites who think they can breeze through life without ever encountering a difficult idea, have no such honesty. 'This isn't censorship', they say, 'it's just that not everyone deserves a platform'.
You slippery, dishonest people! Be truthful, please. Your line of argument is indistinguishable from the Thatcherite one: you want to starve certain people, whether it's Arron Banks, Tommy Robinson or leaders of the AfD, of the oxygen of publicity. Censorship, pure and simple.
It is the role of a news organisations to decide what is interesting, to arrange interviews, to interrogate people who are involved in politics or business or some other important public pursuit. That is exactly what the BBC is doing this morning. It is contributing to a healthy open society. Those trying to starve Banks of the oxygen of publicity are doing the opposite: they want to limit media freedom, freeze difficult discussion, and force broadcasters to conform to their worldview. They are a menace to democracy and open debate.
To enquire about republishing spiked's content, a right to reply or to request a correction, please contact the managing editor, Viv Regan.