From Peterloo to Brexit
Mike Leigh's movie reminds us of Britain's unanswered political questions.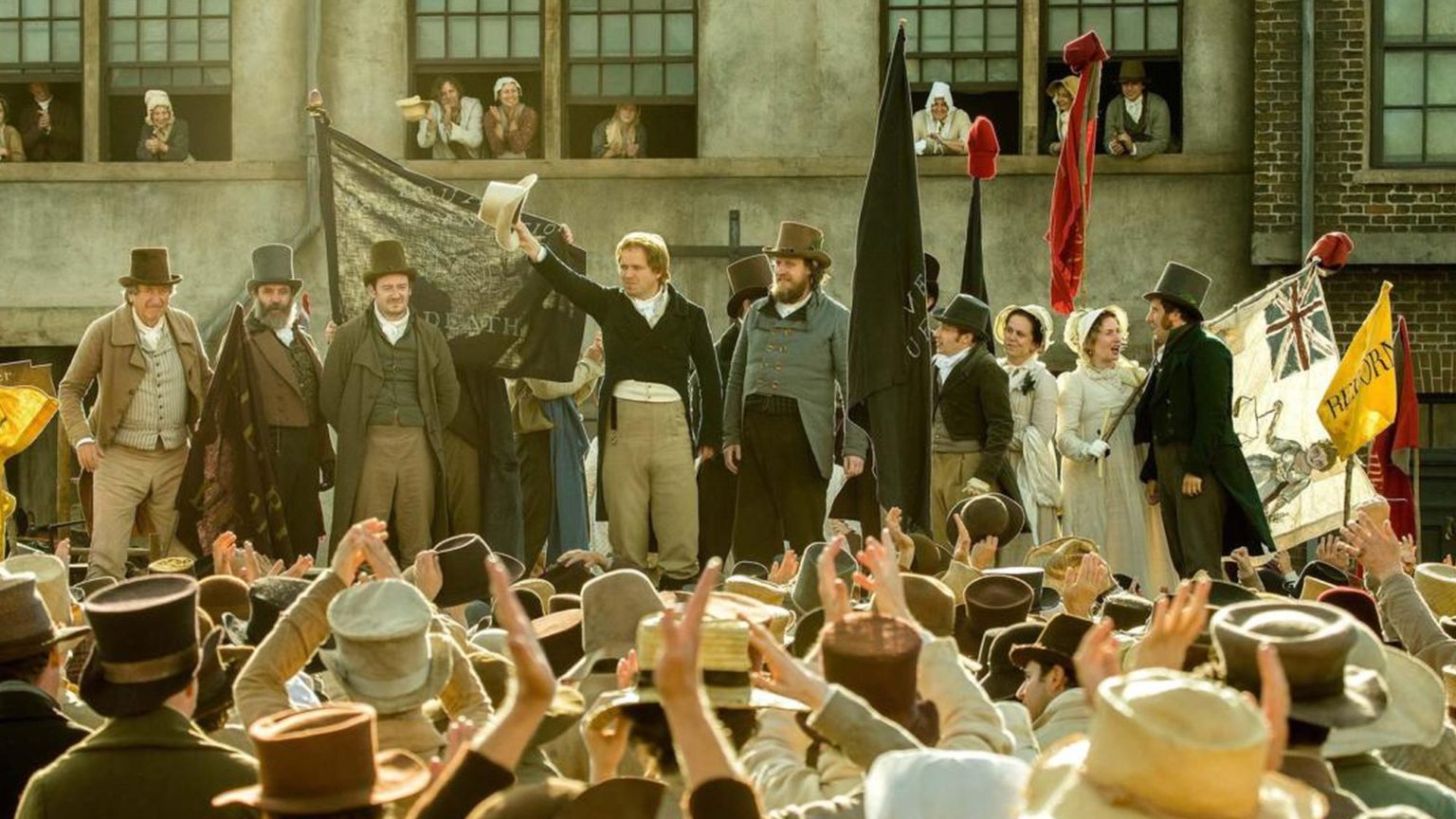 Despite its important subject matter, Mike Leigh's Peterloo has been greeted with trepidation.
Among Leigh fans, there is disappointment that he has opted for another period piece instead of pursuing one of his improvised comedy-dramas (especially given that his previous film, Turner, was so underwhelming). There is also concern that Leigh is turning into Ken Loach, offering up victimhood and sentimentality on past struggles for Corybnite luvvies.
And yet Peterloo is a triumph. For a film based on a dramatic historical event – the massacre of pro-democracy campaigners in St Peter's Field in Manchester in 1819 – it is surprising how low-key and dour the initial scenes are. Set in the textile-mill districts of Manchester, these scenes remind us how grey, stultifying and pessimistic such an existence could be. 'Now't will change', is the frequent cry of people who have become used to having their hopes for change raised only to see them quickly dashed.
As a result of these early grey scenes, Peterloo captures well the moment when something snaps; when the belief starts to spread that there is nothing to lose and a world to gain by demanding political rights and representation.
Some are complaining that the endless speeches in parlours and open fields become tiresome. These verbose speeches state the bleeding obvious on the oppression of textile workers, critics say. In truth, Leigh is too subtle a writer and director to let that happen. He captures history being lived through. Far from being padding, the booming speeches are central to the film. Through them we witness the evolution of the English working class into a potentially subjective and revolutionary force. People slowly evolve from making Biblical pleas for their God-given natural rights to arming themselves so that they might wrench those rights from the king.
One thing that is particularly striking is how the Manchester reformers make appeals to nationhood rather than class solidarity. A bitter sense of 'us and them' prevails, of course, but there are countless declarations towards 'my fellow countrymen'. 'Speaking as an Englishman', characters accurately say. We see a growing demand that the nation state should reflect the wishes of its citizens and be accountable to them, too.
It was of course this appeal to political equality, to the right to vote, that so outraged the 'moral betters' of merchants, lords and government officials. The suggestion that a mill worker should have an equal political voice to a mill owner was enough to send in the cavalry with newly sharpened sabres.
One might argue that Leigh, like Loach, is more comfortable with the working classes when they are being defeated. Perhaps Peterloo is just another re-lived defeat designed to flatter the modern left's low horizons. However, there is no escaping the fact that the reformers of that era were defeated, violently so. The pre-political shape of the reformers meant they were side-stepped by middle-class reformer Henry Hunt, who insisted the protesters should attend the fateful protest in St Peter's Field unarmed, and undangerous.
After the dimly lit pub talk and speeches, the daylight protest and the ensuing carnage appear all the more vivid, dramatic and terrible. The violence and panic of the horseback dispersal feel real rather than stylised. The abrupt ending doesn't make any attempt at neatly tying up loose ends: it leaves many characters' situations unresolved, as of course would have been the case following the massacre itself.
Given the film's magnitude, it is surprising how few big names are in it. Apart from Maxine Peake and Rory Kinnear, Peterloo is a cast of unknowns. It's like a roll call of nearly every jobbing Brit actor who has appeared in, say, Clocking Off, New Tricks or Emmerdale. And they all give committed performances, a testament to Leigh's often underrated talent for squeezing out big performances from fairly small-time actors.
The political parallels between the era depicted in this film and today's demand for greater democracy cannot be ignored. The outraged complaints against the Manchester reformers of 1819 have alarming echoes of the way the Brexit unwashed are talked about today. And what about high-profile Remainer, Mike Leigh? He recently wondered, 'What role did the truth play in people's decision to vote Brexit?'. Maybe, Mike, like the working people of Manchester 200 years ago, Brexit voters just wanted more say over their lives.
Neil Davenport is a writer based in London.
Watch the trailer for Peterloo below:

To enquire about republishing spiked's content, a right to reply or to request a correction, please contact the managing editor, Viv Regan.