Post-Midterm blues for Trump – and the Democrats
The election results were not great for either party – or for the people.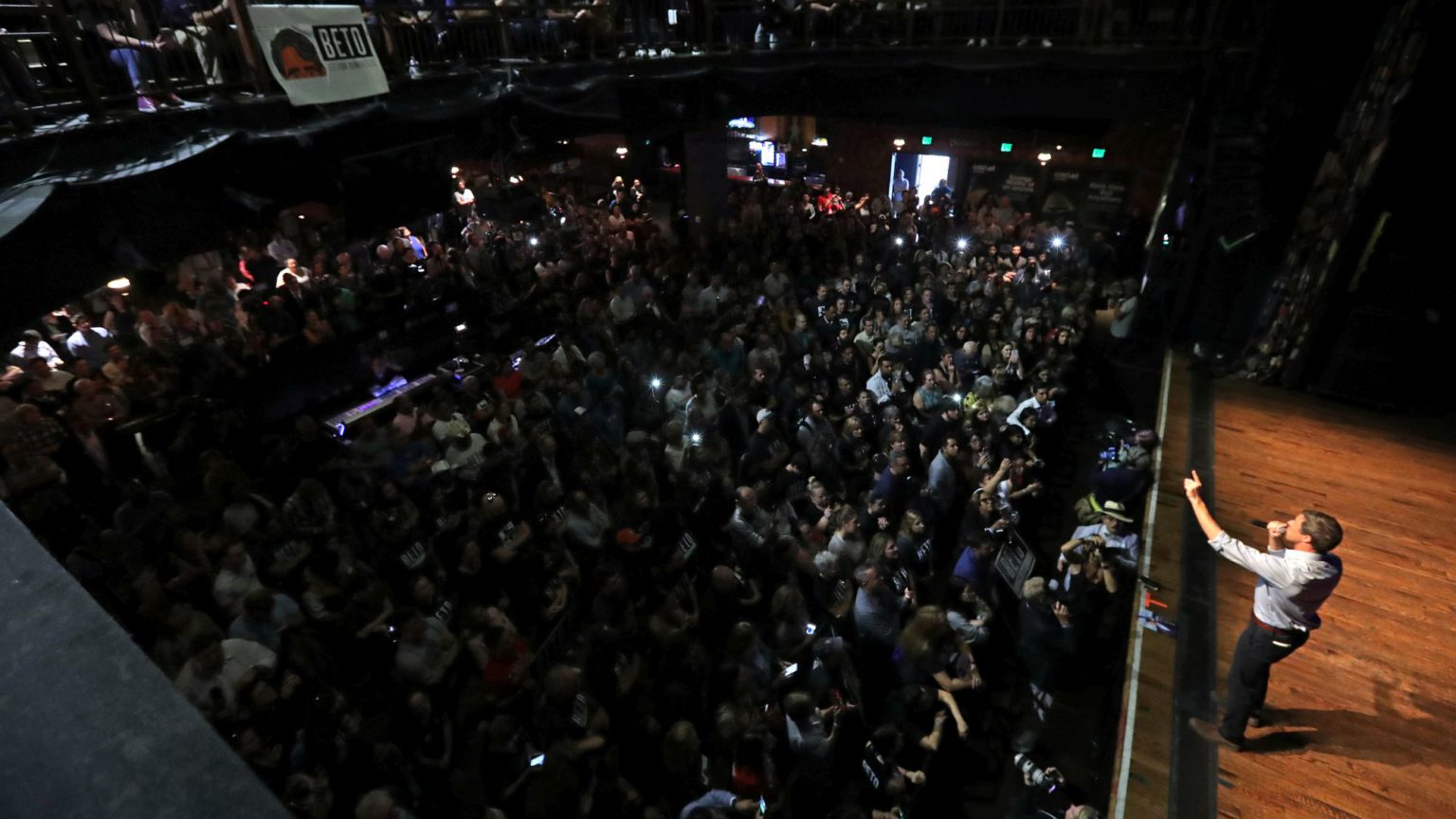 As the arguments about last week's US Midterm elections continue, along with the dragged-out counting of votes in some close-run contests, a few things have become clearer about the results. And in truth, they don't make great reading for either Republican president Donald Trump or his Democratic party opponent – or indeed the American people.
Who won? Depends who you ask…
It is normal to argue about election results and the reasons why parties won and lost. These days, however, post-election arguments are often about what the results actually were, and who 'really' won.
All sides have apparently seen what they want in the US Midterm results. President Trump immediately crowed about 'a great victory'. Washington Post columnist Ed Rogers delivered his 'instant analysis' that 'Democrats might have won the House, but Trump won the election'.
Others saw the results rather differently. Democrat house journal the New Republic declared that, 'It was a big, beautiful blue [that is, Democrat] wave'. For Will Hutton of the UK Guardian/Observer, the Midterms meant progressive politics are back; after a 'dark two years in Britain and the US', Hutton dreamt that this wave could not only topple Trump, but also stop Brexit!
These rival self-serving interpretations reflect the fluid instability of politics today. The Democrats did win a majority in the House of Representatives by making net gains (at the time of writing) of 32 seats, hailed as 'the biggest Midterm blue wave since Watergate' in the 1970s. Yet at the same time Trump's Republicans managed to increase their majority in the upper house, the Senate, by two seats; the only first-term presidents to better that since the First World War were Democratic Party legends Franklin D Roosevelt (1934) and John F Kennedy (1962).
The Midterms don't mean that Trump is triumphant and in control, any more than they mean the Democrats are riding an unstoppable wave to the White House. Instead they suggest that nobody has a firm grip on American politics – and that both the Republican and Democratic parties are in a perilously shaky state of decay.
The parties are not looking hearty
The Midterm campaigns confirmed that neither major US party is what it was.
The old Republican machine has been unravelling for years, as we saw back when the grassroots 'Tea Party' phenomenon emerged as a party-within-the-party. Trump has been the catalyst accelerating this process. We might recall that he won the presidency in 2016 by running against and defeating both the Democrats and the Republican Party establishment.
Over the past two years President Trump has become the dominant figure in Republican politics, operating through social media rather than the party machine. Republican politicians have been largely reduced to the status of Trump's Twitter followers – or else. Last week he publicly and gleefully mocked those more traditional Republican candidates who had distanced their campaigns from his presidency – and lost.
Behind its apparent recovery in the Midterms, the old Democratic Party machine also looks increasingly moribund. Some of the Democrats' successes in the suburbs were won by local groups of middle-class women organising themselves independently, Tea Party-style, via the internet.
More importantly Democrat campaigns were bank-rolled by a handful of billionaire 'super-donors' such as Tom Steyer, who hand-picked their chosen candidates. Media darling Beto O'Rourke, who quite narrowly failed to win a senate seat in Red Texas, raised over $70million – far more than Republican winner Ted Cruz – with half of it coming from 'large individual donations'. Far from a progressive people's party, it looks as if the Democrats are in danger of becoming a rich man's plaything, the party of America's new metro elites.
The divide is about identity not ideology
The obviously split electorate has fuelled much talk of America being 'more ideologically divided than ever'. And what 'ideology' might that be, exactly?
American politics has rarely been based on the sort of clear left-right divide that was familiar in Europe. Today there seems to be less ideology than ever, in terms of any competing political visions of society and the future.
Instead of an ideological divide, the US appears split along the new lines of identity politics. Parties and candidates often promote themselves according to who they are and which groups they belong to, rather than what they might stand for.
The Republicans deployed what is often seen as President Trump's brand of identity politics to appeal to white working-class voters in the Midterms. Having trouble winning over these traditional Democratic voters, the Democrats decided it must be because they were racist – or as Bernie Sanders put it, because white voters are 'uncomfortable' with black candidates. Presumably that's why millions of them voted for Obama. Twice.
For their part, the Democrats retreated further into identitarian politics, winning support from diverse groups including non-white voters, suburban women and young people. Their success has been hailed as an advance for 'progressive politics'. But what is progressive about voting for candidates because of their gender, race, ethnicity or religion, more than their political principles?
All the talk has been about how the new Democratic intake to Congress includes 'the youngest-ever Congresswoman, two of the first Native American Congresswomen, the two first Muslim Congresswomen' etc. Good for them. However, call us old-fashioned, but some of us still believe the fact that a Congresswoman wears a hijab is less interesting than what is in her head.
By pigeonholing and segregating people in this way, the retreat into identity politics can only make divisions worse – and unlike ideological divisions, there is no chance of one side winning through political debate. The big turnout in the Midterms was apparently motivated by anger with the other side of the divide rather than enthusiasm for anything positive. Voters deserve better.
They have forgotten nothing and learned nothing
Donald Trump's election in 2016 was not about his personal qualities. He became the unlikely symbol of a popular revolt against the political elites, whose contempt for 'ordinary' Americans was captured by Hillary Clinton's attack on 'the deplorables'.
Ever since, the US liberal establishment has been desperately trying to find an excuse for its extraordinary achievement of losing an election to Trump, blaming everybody from the Russians to Facebook. Yet they have still not been able to come to terms with the reasons they are so unpopular with millions of Americans.
Thus much of the Democrats' national media campaign for the Midterms initially repeated the mistakes of 2016 – harping on the about how wicked Trump is, rather than making a case for an alternative. However, the penny did eventually appear to drop for some of the smarter campaigns, which focused on issues – notably healthcare – and stopped the pointless Trump-bashing.
Yet now that the Democrats have won back control of the House, what are they promising to do? Spend the next two years investigating the business affairs of the Trump family, and demanding to see the president's old tax returns, while living in the desperate hope that the inquiry into alleged Russian collusion will do their job for them and bring down The Donald. Don't hold your breath waiting. Meanwhile, the first post-Midterms action by 'progressive' campaigners was to stage protests against the Republican president sacking his Republican attorney general.
All of which confirms that, two years on, democratic politics remains a closed, Washington affair from which the demos – the people – are excluded. The Democrats did fairly well in winning young voters last week. But keeping that generation enthused about and engaged with political change will surely take more than banging on about Trump's yellowing tax returns and getting Taylor Swift to endorse a (losing) blue candidate.
Mick Hume is spiked's editor-at-large. His latest book, Revolting! How the Establishment is Undermining Democracy – and what they're afraid of, is published by William Collins.
Picture by: Getty
To enquire about republishing spiked's content, a right to reply or to request a correction, please contact the managing editor, Viv Regan.