Battle of the narcissists
The US media are proving themselves as egocentric as The Donald.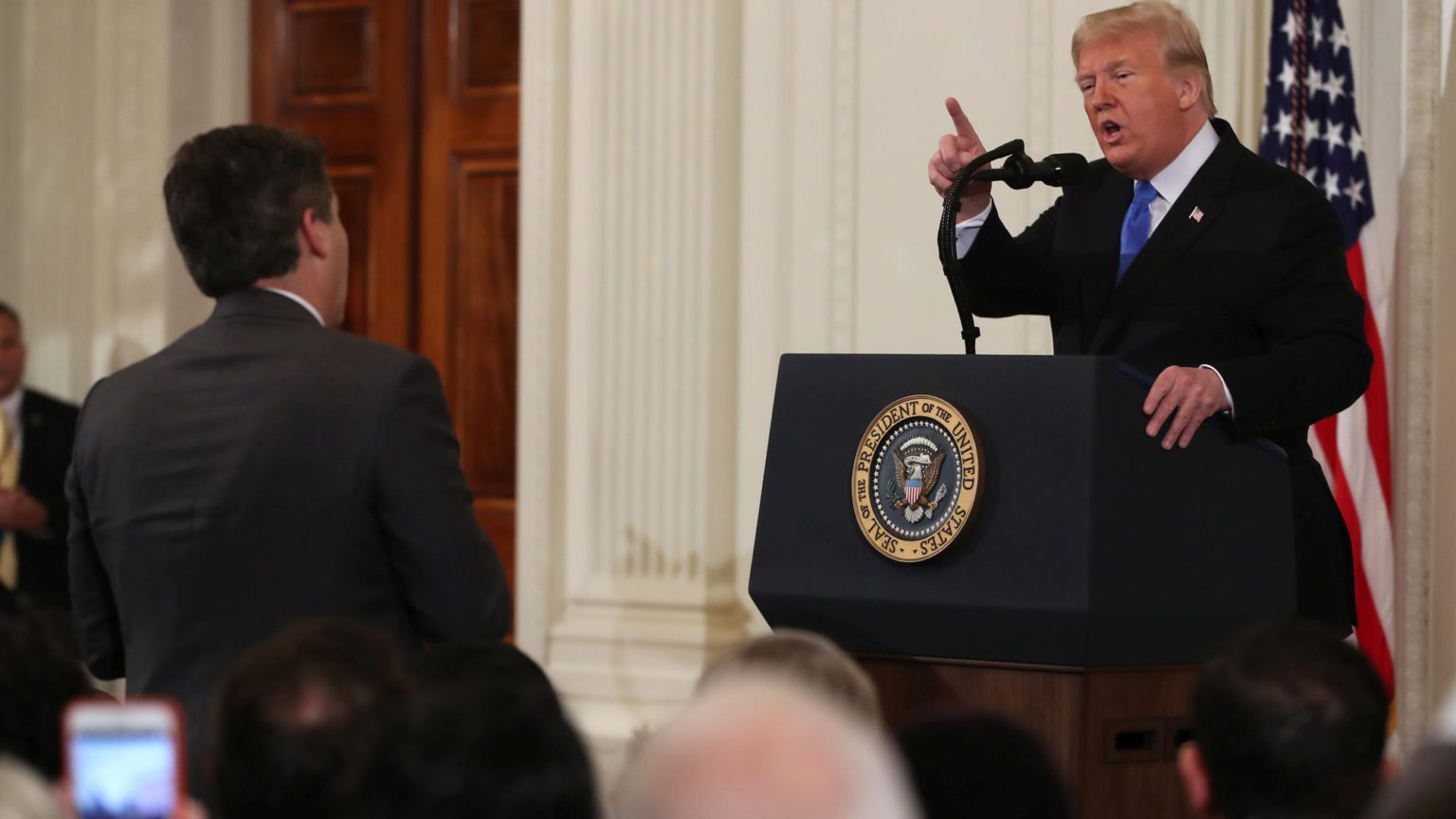 Jon Stewart, the celebrated former host of the Daily Show, told CNN recently that Donald Trump is playing the media, purposefully winding them up to burnish his image as a warrior against a biased, perpetually outraged 'fake news' establishment.
Asked about Trump's attacks on the press, Stewart made an incisive observation of the sort manifestly lacking from his years making lame Dubya jokes on late-night TV. 'I think the journalists have taken it personally', he said. 'He baits them and they dive in, and what he's done well, I thought, is appeal to their own narcissism, to their own ego.'
Little more than a week later and CNN proved how right Stewart was.
At a now infamous press conference in the wake of the Midterms last week, CNN chief White House correspondent Jim Acosta asked Trump about the so-called migrant caravan, which the president made a central plank of his often grim and xenophobic campaign. Acosta and Trump went back and forth. He tried to get in another question. A White House intern grabbed, unsuccessfully, at the mic, and their arms briefly collided. Trump called him a 'rude, terrible person' and went to the next question.
Shortly after, Acosta had his press access revoked. Press secretary Sarah Huckabee Sanders shared a misleading (and allegedly doctored) clip of the arm brush, accusing him of 'placing his hands' on the young woman. Acosta, for his part, shared a clip of him handing over his 'hard pass' to the secret service.
The US media have come in for a lot of criticism of late for fuelling Trump's rise, for giving him the constant attention he so craves and providing the feather-spitting moral outrage that has become his base's yardstick for whether or not their man is doing a good job. Upsetting the right people, as Trumpists would see it, seems to be the primary duty of this presidency.
But the Acosta affair proved that there's perhaps one thing the US media like talking about more than Trump: themselves. Immediately after, Twitter was flooded with journalists slamming Trump and expressing solidarity with Acosta. CNN thundered that the pulling of Acosta's hard pass was a 'threat to our democracy'.
The recent murder of the journalist Jamal Khashoggi in the Saudi consulate in Istanbul was casually invoked to put the press-bashing Trump on a sliding scale with Islamist strongmen butchering their critics.
Trump doesn't have a liberal bone in his body. He openly derides the First Amendment and casually conflates criticism with 'fake news'. His suspension of Acosta's access was dead wrong, even if he did hog the mic longer than he should have and has become a bit of a boorish anti-Trump grandstander.
Press freedom is the cornerstone of the American democratic ideal, arguably more so than any other free nation. Thomas Jefferson once wrote that if the choice was between 'a government without newspapers or newspapers without a government, I should not hesitate a moment to prefer the latter'.
That the 45th president sometimes seems to prefer a press without critics is tragic indeed.
But Trump is hardly some brutal dictator taking a bonesaw to the free press. He's a loudmouth attention-seeker who luxuriates in the liberal-leaning press's hatred of him as much as, if not more than, he smarts from it. And as such, the press plays into his hands time and again.
The often partisan nature of broadcast journalism has been a feature of US public life for some time. But for liberal-leaning outlets, Trump's rise has turned them into a full-blown oppositional force. As the BBC's Emily Maitlis writes, while the liberal MSNBC, like Fox, has always nailed its colours to the mast, CNN is increasingly editorialising on the president.
Indeed Acosta's mic-hogging in the White House last week was mainly taken up with him making impassioned statements, rather than asking critical questions. As two journalism experts point out, he simply asserted that the so-called caravan was not 'an invasion', as Trump has previously put it, rather than asking the president to justify the claim.
Journalists often say that debunking The Donald's lies and sticking up for press freedom is their job. That's true. But many of these journalists are not just critical of Trump, they're hysterical about him, and some are letting their obsession overpower their critical faculties and sense of proportion.
After all, while Trump might talk a lot of trash about the press, what he's actually done to it doesn't amount to much. President Obama, on the other hand, waged a war on whistleblowers – using the antiquated Espionage Act – that caught many journalists in the crossfire.
The Obama administration seized two months' worth of phone records from reporters and editors at the Associated Press in 2013, as part of an investigation into a leak about a CIA operation in Yemen. It named a Fox News reporter a 'co-conspirator' in one criminal spying case, and tried to compel the New York Times's James Risen to reveal his sources as part of another.
It is not that all this went unnoticed in the media. CNN's Jake Tapper rightly noted in 2014 that Obama had used the Espionage Act to go after whistleblowers more than all the previous presidents combined. But Obama's illiberal crusade seems to have been forgotten while Trump's bluster and hissy fits are presented as a threat to the First Amendment.
Perhaps they just have short memories. But some journalists do seem more exercised by insults than clampdowns, more put out by Trump's beefing with them than by what he actually does. As Jon Stewart suggests, this battle is as much about the media's ego as The Donald's.
Tom Slater is deputy editor at spiked. Follow him on Twitter: @Tom_Slater_
Picture by: Getty
To enquire about republishing spiked's content, a right to reply or to request a correction, please contact the managing editor, Viv Regan.