The Macron delusion
The would-be saviour of Europe is hated in his own country.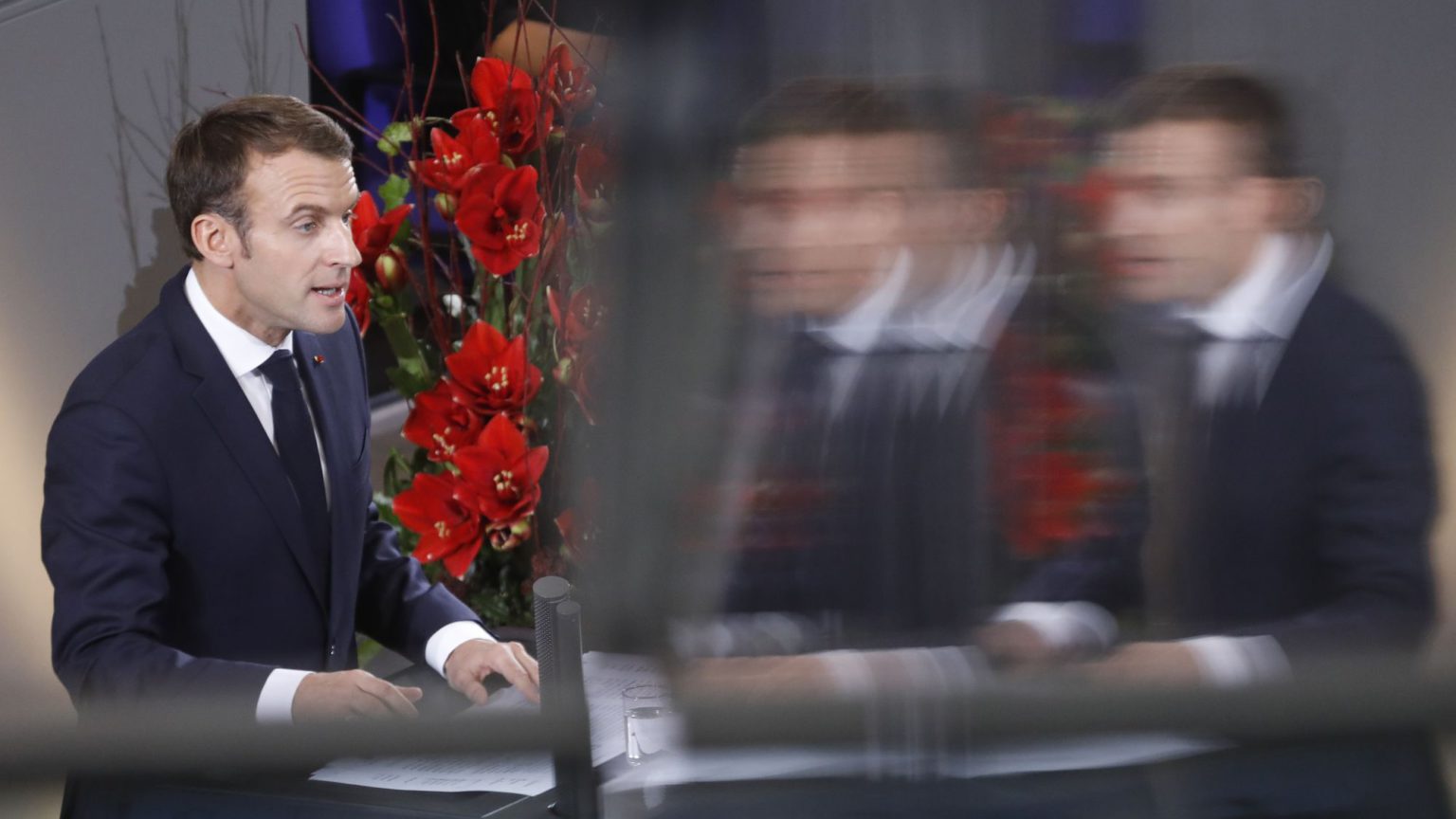 France's President Macron is revered among much of the international commentariat as the saviour of the EU, a popular alternative to populism and an adept technocrat. The Economist, the bible of cosmopolitan centrists, celebrated his election victory in 2017 by depicting him as a modern-day Jesus: literally walking on water. British centrists pine for their own Macron – usually in the form of David Milliband or George Osborne – to save the nation from the political upheavals of Brexit.
This fantasy of a triumphant Macron might offer a modicum of comfort to distressed liberals, who have been battered by populist revolts across the West, but the reality in France is very different. Yes, he won the presidential election decisively in 2017 and his LREM 'movement' won a landslide in the National Assembly elections shortly afterwards. But turnout in both contests was low – the assembly elections had the lowest turnout in modern history – reflecting a dissatisfaction with all the major parties, rather than an enthusiastic endorsement of Macronisme.
After taking office, his approval ratings fell faster than any previous French president: even the hapless François Hollande retained more support after his first 100 days. Currently, just 25 per cent of French voters approve of the president, while a shock poll recently put his party below Marine Le Pen's Rassemblement National (formerly the Front National).
Far from strong and stable, the Macron government has been rocked by numerous scandals and resignations. When Gerard Collomb, his interior minister, resigned in October, he became the seventh high-ranking official to step down in the past year. The man once favourably described as 'the managerial president' by the French press has been largely gaffe-prone and ineffective.
Now his unpopularity has spilt into the streets. This weekend, 288,000 marchers threatened to bring France to a standstill. The so-called gilets jaunes (yellow vests) protested in over 2,000 locations across the country. What began as a day of action by motorists against a hike in fuel tax has erupted into a more general outpouring of anger over Macron's rule.
Macron has long been dogged by the charge that he is a 'president of the rich', favouring the metropolitan elites over the rural poor – and the fuel-tax protests confirm it. For instance, Macron has wooed big tech with tax cuts, subsidies and loosened labour laws in order to realise his vision of France as a 'start-up nation'. Good news for young, tech-savvy Parisiens and graduates. At the same time, his fuel-tax hike is hammering those who live outside the big cities, who rely on their cars to get to work.
Most cars in France take diesel, the price of which has risen by a staggering 23 per cent in the past year. As one gilet jaune told the Guardian: 'Nobody thinks about people on the city fringes, in the provinces, the rural areas. They tell them to use alternative forms of transport, but in reality, that's not possible. They have no other choice but to pay up.'
The fuel-tax hike is emblematic of the kind of technocratic policymaking that has come to define Macron's rule. The aim of the tax is to encourage drivers to buy less polluting vehicles or use public transport to cut carbon emissions. This might be a worthy goal, but no thought is given as to whether public transport is actually available or convenient across the country, or whether the average person is in a position to buy a new vehicle at the drop of a hat or the flick of the president's pen.
Technocratic leaders defend their policies as a matter of 'what works'. But technocracy is often aloof to the real lives and concerns of citizens. Or worse, it considers them a nuisance in need of correction.
This aloof style of policymaking is also reflected in Macron's behaviour. Many in France see the president, an Énarque (France's equivalent to an Oxbridge graduate) and former Rothschild banker, as dismissive of the concerns of ordinary voters. When a pensioner told the president that he only had a small pension, which would be shaved further by Macron's reforms, Macron responded that France would be better off if people like him just stopped complaining.
Macron has been particularly dismissive of the unemployed and the poor. Youth unemployment remains stubbornly high at around 20 per cent. But when a young unemployed gardener, who said he gets up at 6 am every day to look for a job, explained his situation to the president, Macron responded that he only needed to 'cross the street' and he could get some work in a café: 'Frankly, I'm sure that one or two of them are recruiting at the moment. Get going!', he exclaimed.
When he was economy minister in Hollande's government, he described 900 abattoir workers who had been made redundant as mostly 'illiterate'. As president, in a speech to a room of tech startups, he told successful entrepreneurs like them not to forget the left behind, but described the left behind as 'people who are nothing'. The international image of Macron as a Gallic charmer on the international stage stands in stark contrast to his abrasive, dismissive tone when he is speaking to the public at home.
The president's distance from the public is magnified by the fact that he does not see his governing priorities as domestic: revitalising the EU is his raison d'ȇtre. He is clearly more comfortable among the international elite than his own countrymen. He even uses speeches abroad to rail against his citizens at home. Speaking in Denmark, he praised 'the Lutheran people' for embracing the changes of the recent past, in contrast to 'the Gauls who are resistant to change'.
Although Macron's politics often mean he is cast as a European antidote to Donald Trump, his haughtiness brings with it a Trumpian disdain for the media and public scrutiny. Within months of taking office, he famously junked the traditional Bastille Day television interview, saying his thoughts were 'too complex' for journalists (and presumably the public, too).
When it emerged that the head of his security detail, Alexandre Benella, had been masquerading as a riot police officer, beating up a protester and dragging a woman across the ground, the official response was to keep quiet for two months. While Macron eventually accepted responsibility for the 'Benella affair', in the same breath he chastised a number of parliamentarians for grilling his aides and denounced the media for 'talking nonsense'.
With Macron's popularity plummeting ever further, the liberal elite might need to hold out for another hero.
Fraser Myers is a staff writer at spiked and host of the spiked podcast. Follow him on Twitter: @FraserMyers.
Picture by: Getty.
To enquire about republishing spiked's content, a right to reply or to request a correction, please contact the managing editor, Viv Regan.