The Women's March and the anti-Semitism blindspot
The modern left's double standards on bigotry are sickening.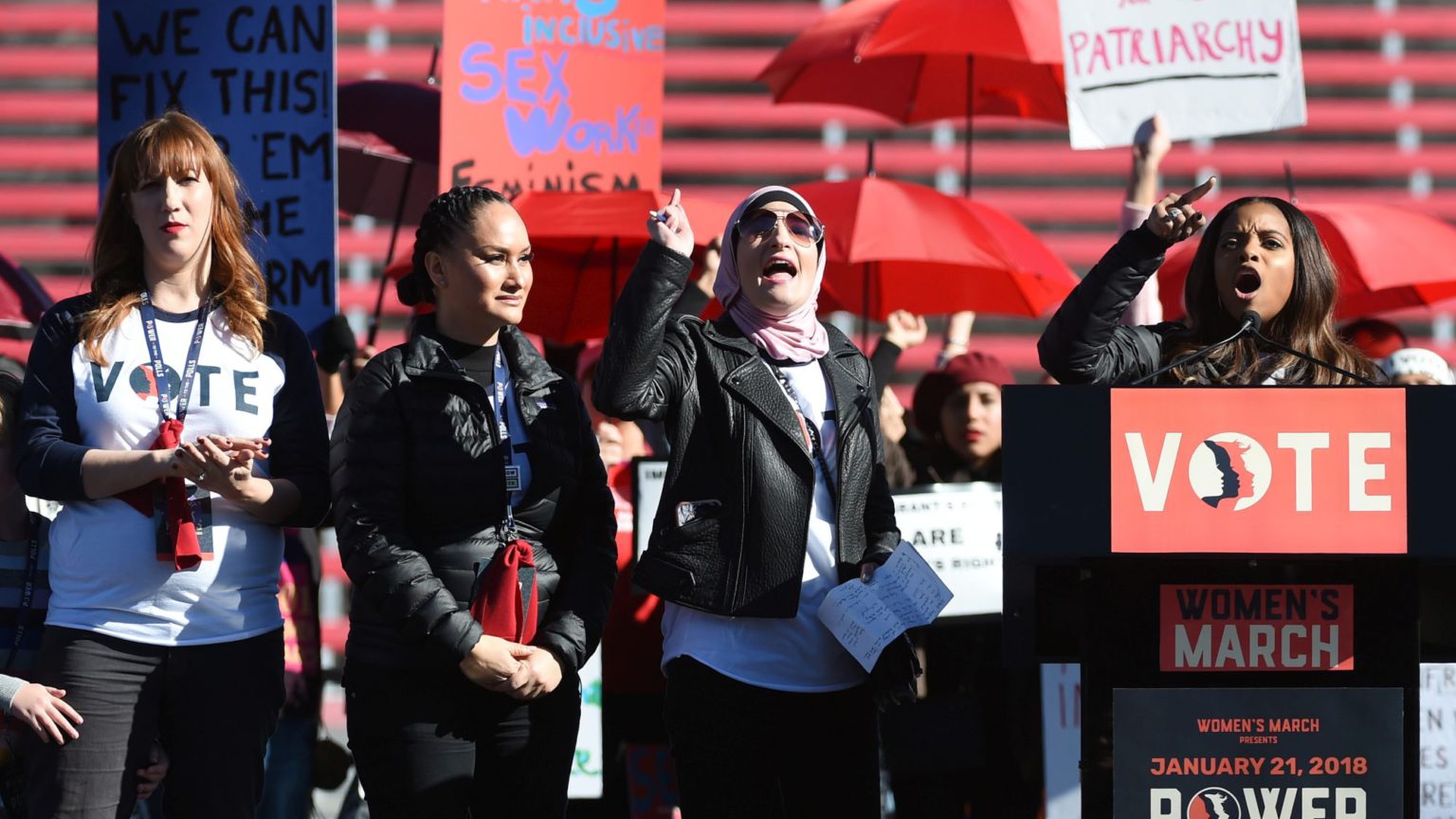 You know things have gone slightly wrong in your liberal movement when you're forced to pause preparation for your next big political demonstration in order to apologise to Jews after you came off as a little anti-Semitic.
Such is the situation the leaders of the Women's March find themselves in this week. The Women's March, the supposedly liberal movement which mobilised millions of people in response to the election of President Donald Trump, is busy promoting its next big march, due to take place on 19 January 2019, but it has hit a bit of a bump in the road.
On Monday, one of the movement's founders, Teresa Shook, called on the current co-chairs, Bob Bland, Tamika Mallory, Linda Sarsour and Carmen Perez, to stand down from their roles.
In a post on Facebook, Shook accused the co-chairs of having 'steered the movement away from its true course': 'I have waited, hoping they would right the ship. But they have not. In opposition to our Unity Principles, they have allowed anti-Semitism, anti-LBGTQIA sentiment and hateful, racist rhetoric to become a part of the platform by their refusal to separate themselves from groups that espouse these racist, hateful beliefs.'
Shook's criticisms are based on some of the co-chairs' associations with Louis Farrakhan, the Nation of Islam leader, notorious for making anti-Semitic statements.
He is perhaps not the most obvious associate for leaders of a movement whose mission statement claims it is 'committed to dismantling systems of oppression' and which holds principles which focus on the rights of women with 'intersecting identities'.
But it has been obvious for a while that today's progressives play a game of double standards when it comes to Jewish people. As different intersectional groups battle it out to see who has the biggest claim to victimhood, it is the Jews who routinely get pushed aside or told to amend their political views on Israel so as to fit in with the accepted groupthink.
Last year, at the Chicago Dyke March Collective (CDMC), Jewish participants were told to leave because they were carrying Jewish Pride flags – rainbow flags with the Star of David on them. They were told their flags looked too similar to the Israeli flag, which could make people 'feel unsafe'. In trying to explain its decision, CDMC said one particular flag-bearer had been expressing support for Zionism. 'The Chicago Dyke March Collective is explicitly not anti-Semitic, we are anti-Zionist', explained the group in a Facebook post. So, anti-some Jews, but not anti-all Jews. Much better.
Yesterday, the Women's March offered their Jewish and LGBTQ members an apology 'for the harm we have caused', in a post penned by Sarsour on Facebook. This was quite a turnaround from their initial response to Shook's post, which accused her of 'attempting in this moment to take advantage of our growing pains to try and fracture our network', and of offering 'armchair critiques'.
However, there is no mention of Farrakhan or Nation of Islam in the apology. Can you imagine if any of the Women's March organisers or leaders were publicly associated with a known anti-black racist, or attended events where Muslims were talked about in the same way Farrakhan talks about Jews? They would have got the sack sooner than you could knit a pink pussy hat.
The actress Alyssa Milano, who kickstarted the #MeToo movement online last year, has said she will not speak at any Women's March events while the movement's leaders continue to refuse to condemn Farrakhan. This must be a huge kick in the teeth for the movement.
For some reason, today's liberals, so keen to defend the rights and feelings of every minority, have a blind spot when it comes to anti-Semitism. They preach love and unity and won't stand for anyone dissenting from the liberal script of inclusivity, except when it comes to Jews. When associates are anti-Semitic, when Jews get barred from events, it is acceptable simply to look the other way. What a bunch of hypocrites.
Naomi Firsht is a writer and co-author of The Parisians' Guide to Cafés, Bars and Restaurants. Follow her on Twitter: @Naomi_theFirsht
To enquire about republishing spiked's content, a right to reply or to request a correction, please contact the managing editor, Viv Regan.