Western war games in Ukraine
There is more to the Sea of Azov skirmish than Russian aggression.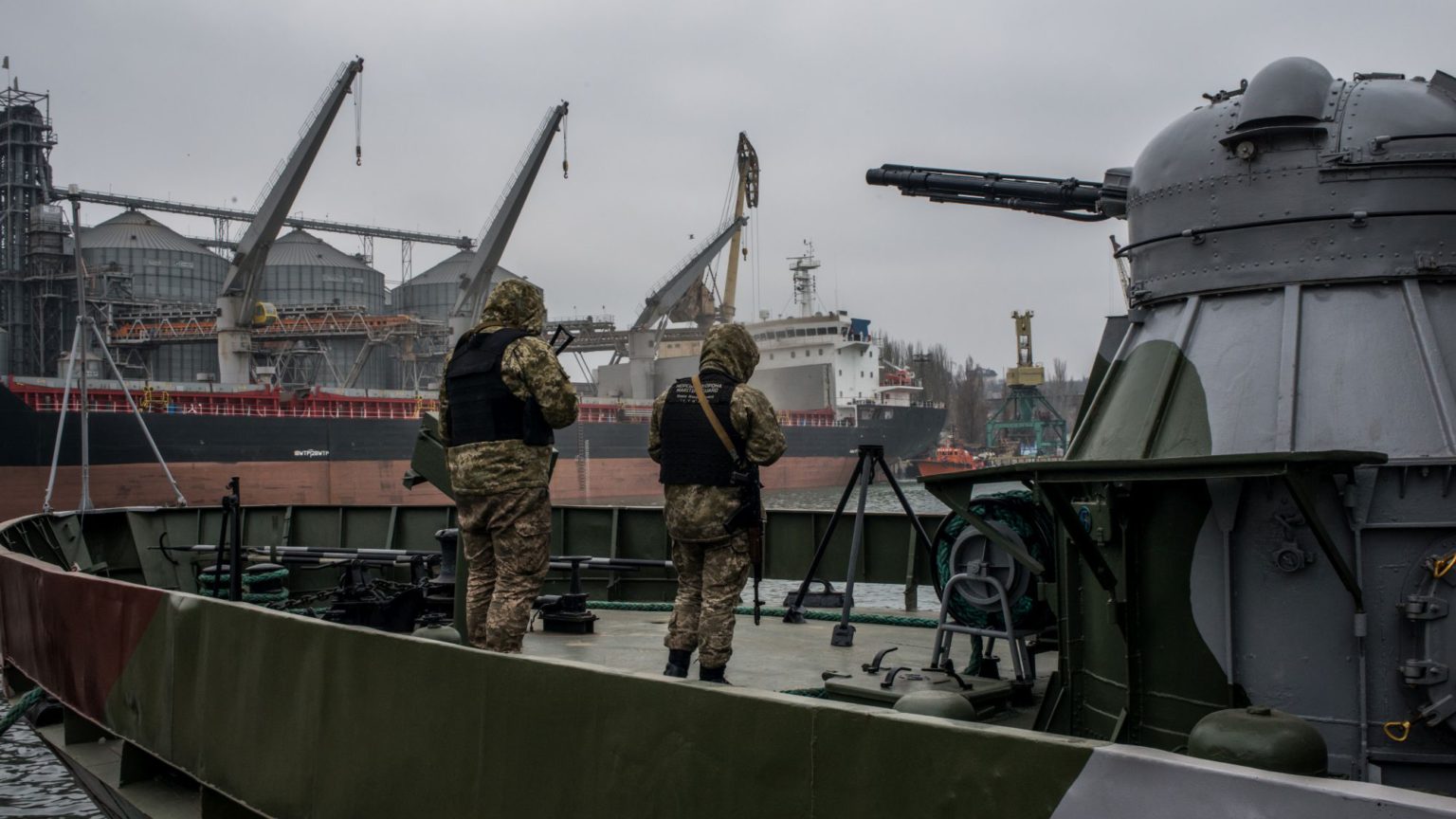 And so Russia's slow-motion assault on Ukraine continues. Having sent troops into the eastern Donbass region and annexed Crimea in 2014, Russia is steadily taking control of the Sea of Azov, which shares both Russian and Ukrainian shores and provides vital access to the Black Sea and the Mediterranean. Just to confirm its maritime intentions, last week Russia even rammed and fired on Ukrainian ships making their way, via the Kerch Strait, from the Black Sea into the Sea of Azov, and then seized their crews.
And, to compound the crisis, Russia is doing this while NATO and the EU look on. Passively, indifferently, weakly.
This, at least, is the conventional narrative in terms of which Russia's simmering, sometimes boiling, conflict with Ukraine is understood: a tale of Russian aggression and Western inaction; of Putin's ruthless ambition and Ukrainian victimhood.
Yet it is a wholly misleading narrative. Not because the Russian state is innocent of all the accusations flung its way. Far from it. Russia is seeking to control the Sea of Azov. It is seeking to consolidate its control of a significant part of Ukraine. And it is not afraid to use ruthless military means to achieve these ends. The 10,000 Ukrainians estimated to have been killed during the conflict so far is testament to that.
No, it is a wholly misleading narrative because it is so one-sided. First, the latest maritime skirmish is not simply another example of Russian aggression, and, second, the institutions of Western power, from NATO to the EU, have been far from inactive, both in fomenting the Russia-Ukraine conflict and in perpetuating it.
In fact, there is a great deal of evidence to support the Kremlin's contention that Ukrainian president Petro Poroshenko sent his nation's vessels through the Kerch Strait as a 'provocation'. Not least because, back in September, the same move was attempted in the form precisely of, well, a provocation, or as the Ukrainian navy put it, in defiance of the Russian 'aggressor'.
A Ukrainian news channel even celebrated that Kerch Strait navigation as 'a brilliant and risky operation under the enemy's nose', while Poroshenko himself thanked the ships' crews for a 'perfectly executed order'. The only difference this time was that Russian border guards were far quicker and ruthless in response.
Moreover, there is also substance to the Kremlin's claim that Poroshenko launched this ill-fated naval exercise for domestic political reasons. For Poroshenko is not a popular leader. He is polling at just nine per cent, and facing a presidential election early next year, where many expect him to lose to former prime minister Yulia Tymoshenko. Which is saying something given she herself is tarnished by her past association with a discredited, corrupt political class.
But then Poroshenko, 'the chocolate billionaire', leads a regime that is even more mired in allegations of corruption. He has banned various dissenting media, and is ironically ruling in as oligarchical a way as the Russian regime that the West so loves to loathe.
The one card Poroshenko still has to play is that of 'pseudo-patriotism', as one critical Ukrainian MP put it. He is trying to rally Ukrainians behind just about the only institution in Ukraine that still commands a degree of respect and authority – namely, the army – against the one force that might unite Ukraine in the spirit of animosity – namely, the evil Russian empire.
This is why Poroshenko's recent declaration of martial law – which was not invoked when Russia actually annexed Crimea, or when it actually invaded eastern Ukraine – is not practical so much as symbolic. It tells his people that Ukraine is now on a war footing, that democracy, liberty and the rule of law (and perhaps even that upcoming presidential election) are for another time.
Yet in declaring martial law, and presenting this seaborne skirmish as 'a new stage of [Russian] aggression', Poroshenko is also playing to an international gallery. He is confirming the all-too-eagerly believed supposition that Russia continues to be a clear and present danger, that Ukraine therefore needs NATO's protection and the EU's and the IMF's political and financial support.
And this is why it is a myth that the West has been too passive, too inactive, in its recent relationship with Russia. Quite the opposite, as Poroshenko's appeals to the West for more support indicate. Because this conflict is already a low-level, war-gaming one between NATO members and the EU on one side and Russia on the other.
That is to say, the West has already been too active in the Ukraine conflict. It has already engaged in a decades-long, half-baked provocation of Russia, through the reckless expansion of NATO during the 1990s and 2000s, taking in once Soviet territories such as Poland, Hungary and the Czech Republic, and, even more uncomfortably, the Baltic states, too – and constantly making eyes at Ukraine. Meanwhile, the EU has hoovered up former Eastern Bloc states and dangled in front of Ukraine potential membership through its Eastern Partnership scheme.
Now, NATO is increasingly focusing its energy on combating the perceived threat from Russia. It has bolstered its forces in the Baltics over the past two years, and this summer it approved plans to increase the NATO rapid-reaction force to 30,000 troops. Yes, many Western commentators point to Trump's reluctance to criticise Putin as evidence of the US's all too conciliatory approach to Russia. But they conveniently ignore the attacks on Russia by US defence secretary Jim Mattis and US ambassador to the United Nations Nikki Haley, who condemned the Kerch Strait firefight as an 'outrageous violation of sovereign Ukrainian territory'.
As for the EU, it has continued to pull Ukraine into its political and financial orbit – the latest disbursement of its Macro-Financial Assistance package, raising loans and investment in Ukraine to €3.3 billion, the largest amount of financial assistance directed at any non-EU country.
In the years before and since the so-called Euromaidan Revolution of 2014, when EU-flag-waving protesters deposed their unpopular but democratically elected leader, Viktor Yanukovych, Russia has increasingly confronted Ukraine as a potential threat on its border, a one-time ally that has now turned into an anti-Russian outpost. It is telling that a European Parliament study in 2017 concluded that 'the era of geopolitical choice for Kiev is over'. In other words, it chose the West.
Yet, in many ways, that is the wrong way round. It would be more accurate to say that NATO and the EU chose Ukraine. And in doing so, they have sowed the seeds of a conflict they now wilfully and myopically blame on Russia.
Tim Black is a spiked columnist.
Picture by: Getty.
To enquire about republishing spiked's content, a right to reply or to request a correction, please contact the managing editor, Viv Regan.