Why that racist bully went viral
This playground incident fed into some elite prejudices.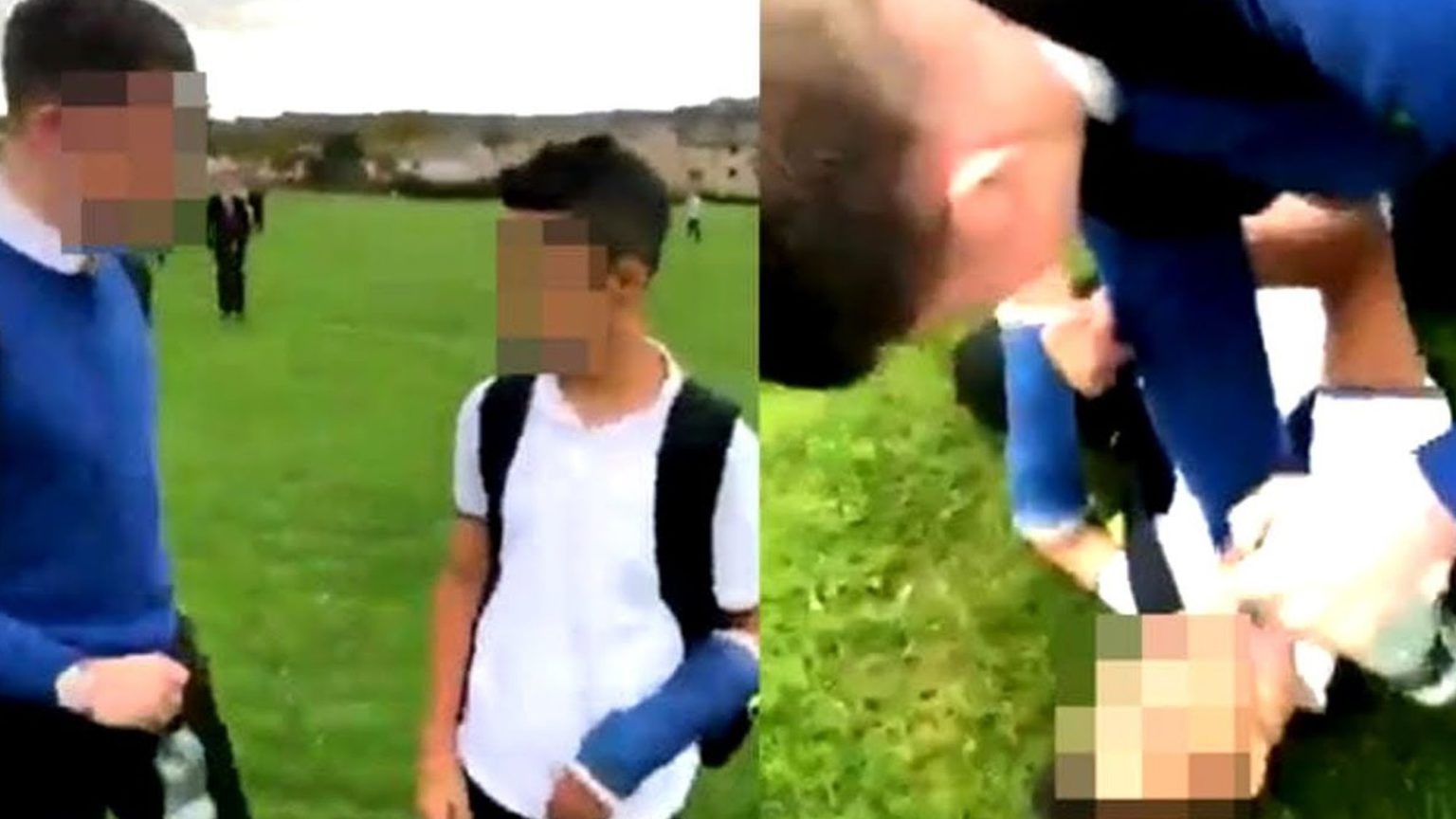 According to the commentariat, the best place to gauge the attitudes of the nation is a school playground. Last week a disturbing video of a 15-year-old Syrian refugee being violently bullied by an older boy, who pretended to waterboard him, went viral. The incident, at Almondbury Community School in Huddersfield, was immediately leapt upon as a symbol of rampant racism in the UK.
Leading journalists voiced their 'disgust' at the video, with one newspaper calling the boy a 'violent thug'. Others called for the boy to be arrested, and then gleefully cheered when West Yorkshire Police confirmed, via a tweet of course, that the boy had been interviewed in connection with the incident.
It has since been reported that he will be charged with racially aggravated assault. Meanwhile, a fundraising campaign has raised over £130,000 for the Syrian boy's family.
This case tells us little about the state of the nation – this was one incident at one school. But it does tell us a lot about the dangers of online virtue-signalling. There are now reports that the bully's address has been published online along with his full name. I doubt any of those enthusiastically retweeting the video would want him to be directly targeted for his actions. But that is what such thoughtless online activity can lead to.
The video was shocking, and the 'waterboarding' element makes it clearly more serious than your average bullying incident. The Syrian boy, presumably born into appalling circumstances, should not have been treated this way. But it is worth asking why commentators were so eager to spread this story. Why did it capture the imagination of the Twitterati so readily?
For many, I'd argue, the image of a white working-class kid violently bullying a Syrian refugee fits all too perfectly with their warped view of the world and of white working-class people in particular. One comic, with a huge Twitter following, claimed in all seriousness that the boy must have been 'radicalised' by right-wing propaganda. Others linked the incident, inevitably, to Brexit. All of a sudden, a 16-year-old boy became an expression of a much wider malaise.
As it turned out, he probably picked up his attitudes from his family, rather than the supposedly racist mood of the country: his mother has previously been convicted of racially aggravated threatening behaviour, and his brother was once arrested at a Britain First demonstration that turned violent.
The truth is that Britain is not the racist country of some commentators' imaginations. Brexit was about control, not prejudice towards immigrants – which is why polls show that attitudes towards immigration have softened since the Brexit vote. The claims that there was a spike in hate crime after the referendum have also been called into question (referrals to the CPS for hate crimes actually went down during that period). Now it seems there are people in the well-heeled, anti-Brexit mob who have to rely on videos of schoolchildren to evidence their own prejudices.
As disturbing as the incident was, it should have been dealt with by the adults who actually know the children – that is, their teachers and parents – not by commentators who just want to use these kids to score political points.
Luke Gittos is a spiked columnist and author of Why Rape Culture is a Dangerous Myth: From Steubenville to Ched Evans. (Buy this book from Amazon(UK).
Picture by: YouTube.
To enquire about republishing spiked's content, a right to reply or to request a correction, please contact the managing editor, Viv Regan.