Why some on the left hate white women
In the new tribal leftism, white women who vote Republican are traitors.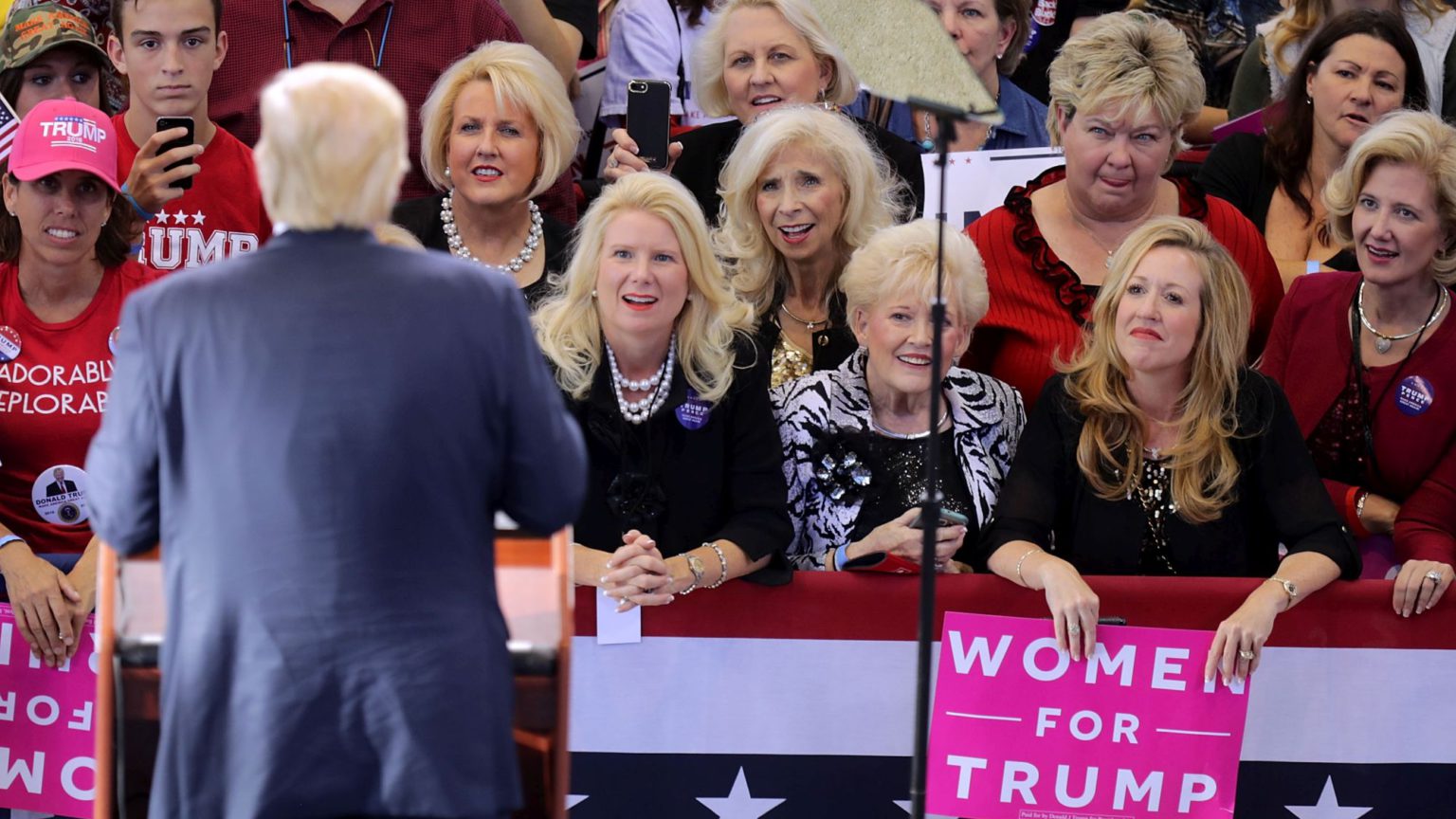 Over the past two election cycles, most white women voted for the Republican Party – albeit by narrow margins. And after both elections, certain segments of the progressive intelligentsia were infuriated by what they perceived to be a betrayal of female solidarity. Some writers on the left have been taking white women to task for voting for an allegedly racist political party, arguing that white women's votes reveal a desire to preserve white supremacy even when doing so involves also standing up for the patriarchy.
Conor Friedersdorf at the Atlantic insists that these sentiments are not representative of most Democrats – and he is probably right. Still, the fact that articles expressing rancour towards 'gender traitors' appear in such outlets as Cosmopolitan and Vogue and the New York Times suggests that the attitude is not entirely marginal. When Treva Lindsey writes at Vox – a hugely popular left publication – that 'if you're not voting like a black woman [ie, for progressive Democrats], you are probably on the wrong side of history', her statement probably resonates with a fair number of left-leaning elites in the US. The animus against white women, then, is worth examining.
Perhaps unsurprisingly, several conservative writers have already denounced the criticism being directed at white women. At National Review, for one, Alexandra DeSanctis argues that the expectation that women are predestined to think and vote a certain way undermines the notion of female autonomy, which ought to be the principle that underlies any serious feminist politics. Even some left-leaning writers have distanced themselves from the resentment against white women. Katie Herzog, for instance, argues that one reason many white women tend to vote Republican is that they are themselves… well… Republicans. She adds that decrying white women as 'gender traitors' is unlikely to improve Democrats' electoral prospects down the line.
In the process, Herzog raises a very interesting question – one that few people in the wars over white women's voting patterns appear to have asked. 'Why the hell aren't [progressive intellectuals] shouting at white men? They vote for Republicans at even higher rates than white women.'
Why indeed? White men do vote Republican by higher margins than white women, so one would expect them to garner even more post-election disdain from progressive writers. That they do not requires some explanation.
Treva Lindsey's Vox essay is a good place to start. She argues that, 'Calling out white women's continued support of conservative politicians isn't excusing or ignoring white men's commitment to electing these candidates. It's an assertion of a profound and perpetual sense of betrayal' (emphasis mine).
The idea here is that white women, as women, have a vested interest in voting for Democrats; so when they vote for Republicans, they act against their own interests. For Lindsey, white women's interests are almost wholly determined by their racial and gender identity. White men, therefore, cannot be faulted as much as white women for voting Republican. After all, white men are merely defending their privileges, which is in some way not as reprehensible as what white women are doing: namely, placing their interest in perpetuating white privilege before their interest in dismantling gender oppression.
There are two obvious problems with Lindsey's formulation. The first is that people bring many considerations to bear when they decide who to vote for. Beyond race and gender, there are also class considerations, geographical influences, religious motivations, political convictions, evaluations about contemporary events, etc. Many of these other factors seem to be more explanatory than gender or race for understanding recent electoral outcomes.
The second obvious problem with Lindsey's line of thinking is that women's left-leaning voting patterns are a historically contingent phenomenon – an odd thing for a professor of gender studies to overlook. Women in Western democracies used to be to the right of men. As Professor Miki Caul Kittilson writes, 'After enfranchisement, women were more politically conservative than men in their ideology, party attachment, and vote choice across democracies'. Much of this gap is explained through women's higher religiosity, given that religiosity is often intricately bound up with conservative parties and ideologies. Moreover, Kittilson notes that women in post-communist and developing countries are more conservative than men in those societies. (Presumably these women are not all voting the way they are in order to uphold the patriarchy.) In short, women are not born to be on the left, and it is both empirically wrong and highly presumptuous to pretend that they are.
But there is a final, less obvious flaw with the logic of those who decry white women's voting patterns on the grounds that white women are gender traitors. Intellectuals of the left have traditionally rooted their demands in universalist principles, seeking to convince everybody to support the left on the simple grounds that the left's positions are morally correct. A universalist left would not attempt to shame women by telling them, 'You must vote for us because you are women'; it would instead try to convince them, 'You must vote for us because we are right'. And it would make the same plea to white men, who, capable of critical reflection as all humans are, would have some basis to be persuaded to endorse leftist causes.
That segments of today's left have chosen the parochial over the universal is lamentable – even, or especially, for those of us who might not personally identify with the left, but who do think that politics is a matter of promoting the common good rather than the good of select tribal groups.
Christian Alejandro Gonzalez studies political science at Columbia University. Follow him on Twitter: @xchrisgonz
Picture by: Getty.
To enquire about republishing spiked's content, a right to reply or to request a correction, please contact the managing editor, Viv Regan.