The betrayal of Charlie Hebdo
Four years after the massacre, the West continues to lose faith in freedom.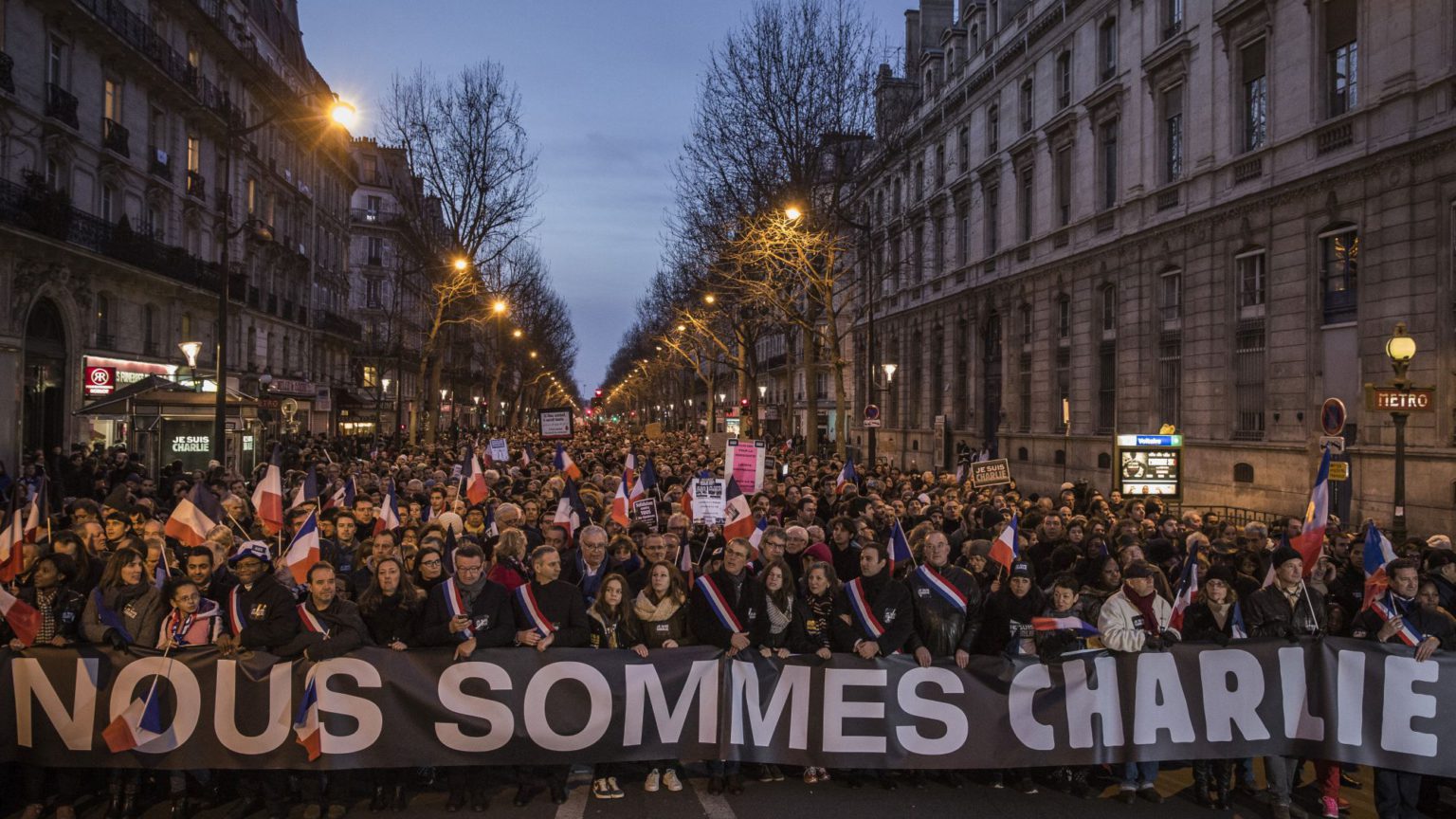 Four years ago today, self-styled jihadists burst into the Paris offices of Charlie Hebdo and shot to death 10 members of the magazine's staff and also a police officer and security guard.
Immediately after the massacre, countless people took to the streets to remember the fallen journalists. Globally, on social media, many echoed the slogan 'Je Suis Charlie' in solidarity.
But when the moment faded, it became clear that the threat to freedom of speech emanates not only, or even primarily, from the 'jihadists' veto'. The deeper problem is us. There's pervasive antipathy to the principle of freedom of speech. Unless we understand and value it, we will lose this crucial right.
Ever since the aftermath of the Charlie Hebdo massacre, it has become clear that free speech is under threat from the mainstream intelligentsia as well as violent Islamists.
First, there was the backlash against Charlie Hebdo itself. While many expressed solidarity, others took issue with the magazine's frequent satirising of Islam and depiction of the Prophet Muhammad.
Free speech is the right to express one's ideas without fear of retribution, even if others disagree with you – even if they are repulsed. This right leaves people free to dissent and free to persuade others of their ideas. No political, religious or ideological viewpoint should be allowed a special exception from challenge, criticism or ridicule.
But once the moment of 'Je Suis Charlie' faded, prominent voices effectively began to blame Charlie Hebdo for the attack.
When PEN America, a writers' organisation, decided to give its Free Expression Courage Award to Charlie Hebdo, more than 200 well-known writers protested.
The dean of a journalism school, writing in USA Today, implied that the magazine's satires of Muhammad should be deemed outside the protections of the First Amendment. And Garry Trudeau, the creator of Doonesbury comics, suggested that Charlie Hebdo had incited the murderous violence against it.
The rejection of free speech has also been visible elsewhere in society. The skirmishes over free speech on college campuses, for instance, have if anything intensified since the Charlie Hebdo massacre. At Berkeley, students rioted in 2017 to prevent a speaker event, causing $100,000 in damage. At Middlebury College, students heckled and disrupted an event featuring the controversial author Charles Murray, injuring a faculty member.
A crucial issue in these skirmishes is the view of an alarming number of students that words are violence. That is, many students today think that hearing ideas that challenge their own is the equivalent to a physical assault. They wilfully blur the line between speech and action.
This is truly ominous because it legitimises the use of force to silence voices you disagree with. Polls show that while few students would themselves be willing to use violence to shut down a speaker, something like 19 per cent to 30 per cent believe it is justifiable for other students to do so.
The attack on free speech is coming from the right, too. President Donald Trump has not only clashed with the media, he has expressed a wider antipathy to the First Amendment. He has suggested that federal libel laws should be 'opened up', presumably so he can go after his critics. He has also threatened to cancel broadcast licenses in retribution for unfavourable coverage.
When we zoom out, then, it is clear that the threat to free speech is far wider than just the jihadist menace. Before we can uphold free speech, we need to understand it. We need to appreciate its value to the advancement of human life, knowledge and progress. The four years since Charlie Hebdo have shown us how far we have yet to go.
Elan Journo is a senior fellow at the Ayn Rand Institute and the author of What Justice Demands: America and the Israeli-Palestinian Conflict. Follow him on Twitter: @elanjourno
To enquire about republishing spiked's content, a right to reply or to request a correction, please contact the managing editor, Viv Regan.