May's Deal: a historic defeat
We cannot let Brexit go the same way.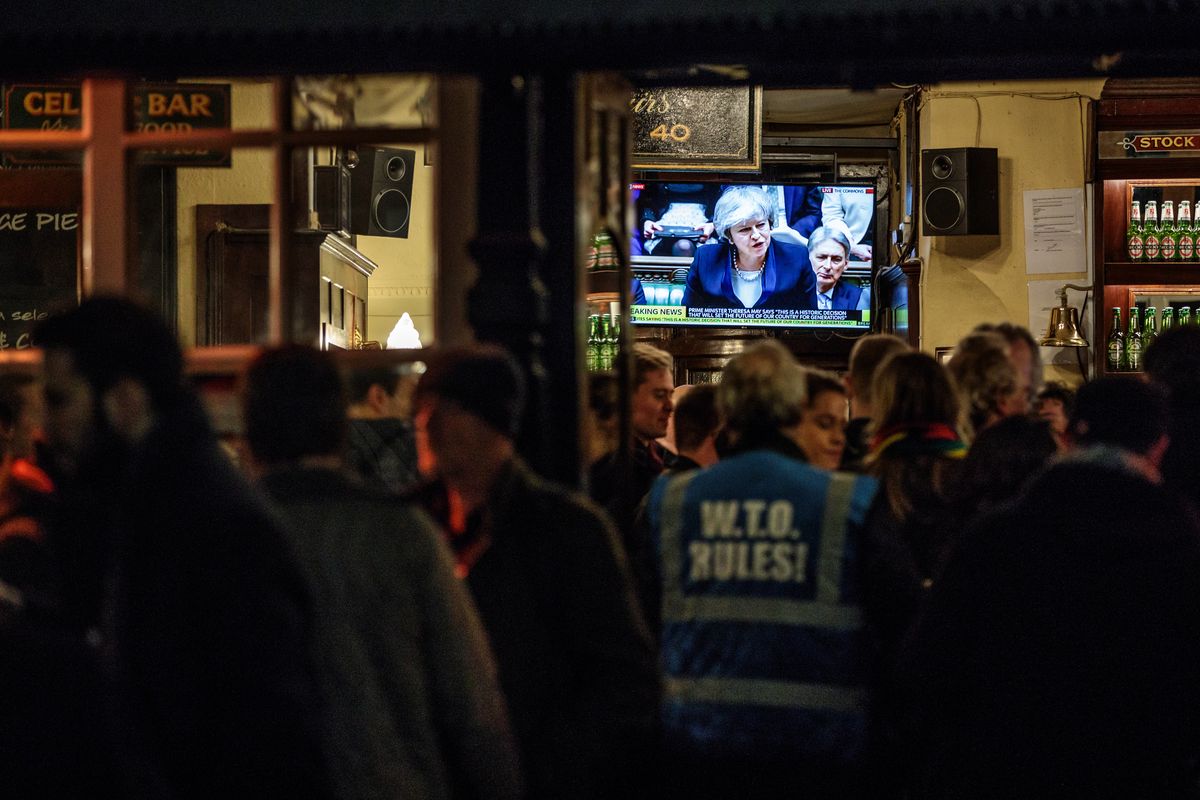 Theresa May has made history. Her 230-vote defeat last night on her Brexit deal was the worst in House of Commons history, the worst since Ramsay MacDonald's minority Labour government was defeated in 1924, and that was by 166 votes.
Her central policy, her government's raison d'être, has been rejected not only by the rest of the House, but also by 118 of her own MPs. This is a humiliation that in normal times would have not just finished off a PM, but done so spectacularly.
Labour leader Jeremy Corbyn has called a vote of no confidence in the government, which will be voted on tonight. May is expected to win it, with Tory Brexiteers and the Democratic Unionist Party saying last night they would back her. But regardless of what happens, her authority is shot.
Nobody knows what will happen next. Had her defeat been half the size, she might have gone back to Brussels to try to get more 'clarifications' on her deal – that is, no real changes to the withdrawal text, but some spin to give Tory and DUP MPs cover to vote for it, particularly on the issue of the backstop.
Instead, May is offering to meet with MPs across the House to find a new compromise. If they manage it, it will be an even softer Brexit than May's sell-out deal. Three-quarters of MPs voted Remain, and those who don't want to reverse Brexit entirely want something like a Norway-style deal, a Remain by another name.
But even if a deal were struck, it would be no great change of direction. What MPs are really fighting over is various flavours of non-Brexit. May's deal would have left us shackled to EU rules with less say over them than we had before. If anything, she has strengthened the case for staying in after all.
This is why the so-called People's Vote crew had their tails up last night. Yes, May has ruled out a second referendum. And yes, Corbyn is clearly reluctant to back it, despite huge pressure on him from his pro-EU membership. But the wind is blowing in their direction, and they know it.
No Deal – which increasingly looks like our only chance for a clean-break Brexit – is the legal default. If no agreement is ratified in time, we leave on 29 March on WTO terms. But MPs this past week, with the help of the Speaker, have proven themselves willing to do anything to stop No Deal from happening.
Arch-Remainers say Brexit is just colliding with reality, that it is undeliverable. This is an argument that might hold a bit more weight if those same people hadn't spent the past two-and-a-half years actively trying to frustrate Brexit – or if Brexit didn't end up falling to a bloodless, incompetent Remainer to implement.
In truth, the political class has just proven itself incapable of delivering what we voted for. The more MPs try to do anything decisive, the more they rip themselves apart. Perhaps we shouldn't be surprised. The Brexit vote was as much a rejection of them as it was a rejection of Brussels. They need to kill it if they want to survive.
But we can't let that happen. And in the days and weeks of backroom dealing, torturous negotiation and no doubt more precedent-smashing moments that will follow, we need to remember that it is no longer Tories vs Labour, or Norway vs Canada, or even Remainers vs Leavers.
It's us, the demos, vs them.
Tom Slater is deputy editor at spiked. Follow him on Twitter: @Tom_Slater_
Picture by: Getty.
To enquire about republishing spiked's content, a right to reply or to request a correction, please contact the managing editor, Viv Regan.