This is a party against the people
The arrival of three Tory Remoaners confirms the Independent Group is a purely anti-Brexit, anti-democratic outfit.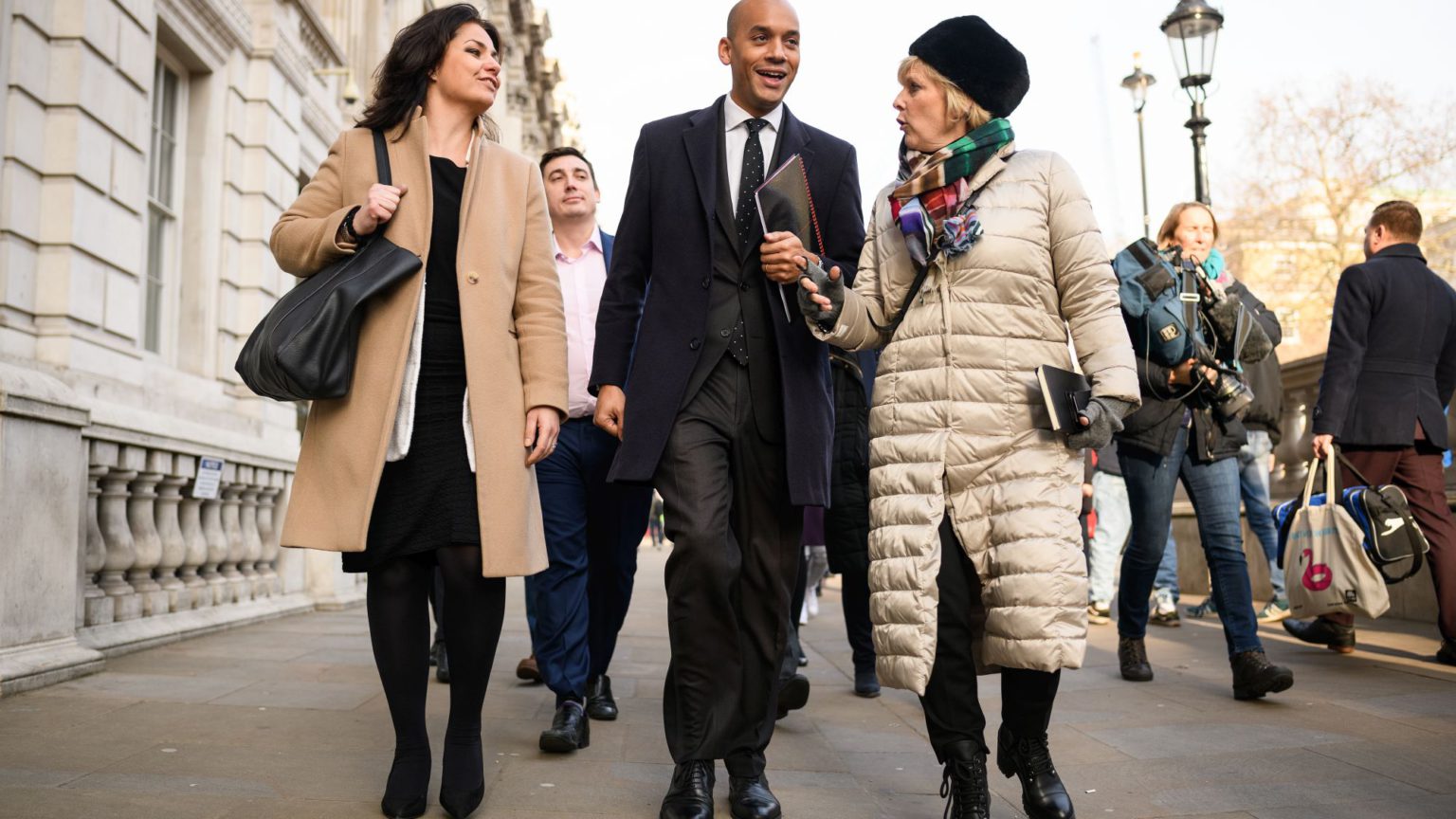 So now we know. Now we know what the so-called Independent Group is really all about. It is about stopping Brexit. It is about preventing the enactment of the largest democratic vote in British history. It is about frustrating the British people's vote for independence from the European Union. Yes, taking Orwellianism to dizzy new heights, this new political group poses as 'independent' while seeking to overthrow the public's desire to make Britain a properly independent nation again.
Of course many of us suspected this the minute the Independent Group was unveiled yesterday by seven disgruntled Labour MPs, including Chuka Umunna, Chris Leslie and Luciana Berger, who has been subjected to vile anti-Semitic abuse by some prejudiced Corbynistas. And yet much of the discussion about the IG has focused on its founding members' disappointment with the direction Labour has taken under Jeremy Corbyn's weird leadership, so people could be forgiven for thinking this group was born of Labour's internal strife rather than of the Brexit issue per se.
You can't be forgiven for thinking that any more. Not after what has happened today. Three Tory MPs, three Tory turncoats, have abandoned Theresa May's Conservative Party and thrown their lot in with the Independent Group: Anna Soubry, Sarah Wollaston and Heidi Allen. What do these three Tories share in common? They despise Brexit. Really despise it. They would do everything within their power to weaken it, dilute it, and ideally thwart it. Their cosying up to Chuka and Co confirms beyond a shadow of a doubt that the Independent Group is a movement against Brexit and against democracy. If this group becomes a new party, it will be a party against the people.
How much do the IG's new Tory members hate Brexit? Soubry devotes an extraordinary amount of moral and political energy to raging against it and the idiots, as she sees us, who voted for it. Voters were duped by Leave campaigners' 'myths', she claims. She says we were 'tricked, lied to, and conned', as if we were wide-eyed children hoodwinked by a pied piper rather than adults who can make up our own minds about Britain's political future. Soubry's elitist contempt for Brexit voters sums up how nasty the Remoaner set has become in recent months.
Soubry, like the seven Labourites who founded the IG, of course wants a second referendum. Or a 'People's Vote', as they dishonestly call it, overlooking the fact that we had a People's Vote in June 2016 – the largest people's vote in UK history, in fact – in which Brexit won convincingly. Like many Remoaners, Soubry initially said she would accept the referendum result yet now she insists we should have another referendum, no doubt to give us dim plebs the chance to give the 'right' answer this time. In 2016 she said of the referendum result: 'I told people that if we voted Leave, we would. And I can't go back on that.' Yet now she has gone back on that. Now she calls on Theresa May to organise a second vote. Why would anyone trust such a flip-flopping politician?
Sarah Wollaston, the MP for Totnes, is even worse. In the run-up to the referendum she initially campaigned for Leave but then she defected to the Remain camp. But even then, after the referendum she said that MPs' job 'isn't to quibble about the result… but to actually implement it'. Parliament has been given a 'clear instruction' by the people, she said: leave the EU.
Fast forward nearly three years and Wollaston is actively refusing to implement our 'clear instruction'. Instead she's agitating for a second referendum. She says Brexit won because Leave campaigners 'play[ed] on people's fears'. There it is again: that snooty view of voters as a dim mass of people easily misled by demagogues. Wollaston's shift from respecting the referendum result to actively trying to frustrate the referendum result captures why so many people no longer trust politicians. With politicians like her, the IG is not going to win many hearts and minds.
Heidi Allen, MP for South Cambridgeshire, is another second-referendum agitator. And she is explicit about the need to include the option of staying in the EU in any so-called 'People's Vote'. So a second vote wouldn't, as some Remoaners dishonestly claim, simply put May's final deal to the public. It would be about forcing the public to think again and this time obey our political masters by voting to stay in the EU. After all, the political elite knows better than us lowly folk who can be tricked and conned and led astray by campaigners and adverts on buses.
The arrival of these three Tories into the arms of the IG confirms what this group is all about. It is a new party of the elite. It is political outfit for snobs and authoritarians. It is a space for hypocrites and anti-democrats. It is a group that will devote itself to one thing and one thing only: waging war against the greatest act of democracy in UK history.
Don't believe the hype about the three Tory defectors taking a stand against the 'hard right' in their former party, or the seven Labour MPs seeking to offer an alternative to Corbynism. The only thing these people will take a stand against is you and me and the millions of other people who voted to leave the EU. This is something new and really worrying: a political party that doesn't want to stir up the democratic spirit, but to suppress it.
Brendan O'Neill is editor of spiked and host of the spiked podcast, The Brendan O'Neill Show. Subscribe to the podcast here. And find Brendan on Instagram: @burntoakboy
To enquire about republishing spiked's content, a right to reply or to request a correction, please contact the managing editor, Viv Regan.