Feminists against women's suffrage
Leading women's activists want to disenfranchise the eight million women who voted for Brexit.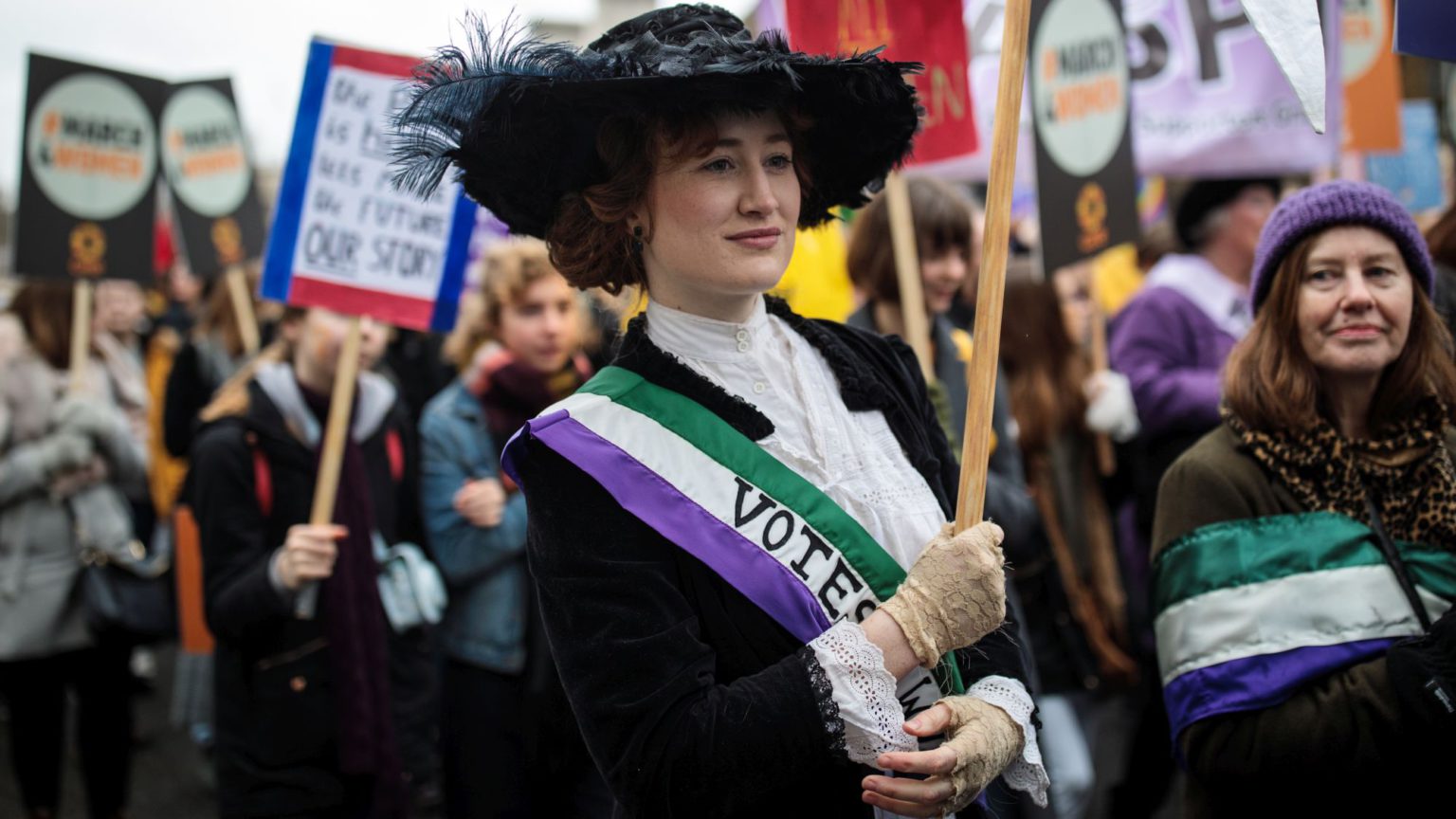 It is no secret that many feminists are out of touch with public sentiment. Polls show that most ordinary people do not define themselves by the F-word. To many of us, it looks like feminists are more interested in the pay packets of wealthy media women or company directors than they are in issues that affect wider society. Feminism increasingly looks like a pastime for the elite rather than a movement for all women.
In the past, this disjuncture between professional feminists and the masses they preach to has tended to be hidden. But ever since the Brexit vote in June 2016 it has burst into the open. Leading feminists now openly tout their opposition to the opinion of the majority. It is no longer a dirty secret that they don't like ordinary people. In fact, feminism has become one of the key weapons in the crusade against enacting the 17.4million-strong vote for Leave.
Last year, feminists celebrated 100 years since the passing of the Representation of the People Act, which gave monied, propertied women the vote. Yet in the same breath that they cheer on the enfranchisement of women a century ago, feminists campaign against mass democracy in the here and now.
So, former Blue Peter host Konnie Huq wrote an article explaining why 'all feminists should back a second referendum' – because apparently it was EU bureaucrats (most of whom are blokes) who secured women's rights. What an insult to the British feminists and trades unions that actually secured those rights.
Feminist author Caroline Criado-Perez has compared the 'People's Vote' march that took place last weekend with the 1913 Great Pilgrimage in which thousands of Suffragists marched to Hyde Park for women's right to vote. This is perverse: Criado-Perez has the gall to speak of a historic march demanding the vote in the same breath as a march demanding that the government ignore a vote.
Addressing the People's Vote march, one of the founders of the Women's Equality Party (WEP), comedian Sandi Toksvig, declared that 'history will show we were right' to call for a second referendum. So the WEP claims to be a voice for women in politics, even as it openly agitates for the overruling of the votes of the eight million women who voted for Brexit.
Alongside arguing for the disenfranchisement of the millions of women and men who voted for Brexit, feminists have tried to depict Brexit as a product of sexism. 'It is all just ambitious entitled boys playing games with toy soldiers. I feel sick', tweeted Labour MP Jess Phillips. 'Brexit was born from sexism', says the anti-Brexit Best for Britain campaign.
After the Chequers summit with Theresa May and leading Tories at the weekend, journalist Jane Merrick tweeted: 'No offence but stick 14 women around the table and Brexit would be sorted by sunset.' When some Twitter users pointed out that the prime minister is a woman, Merrick responded: 'Gosh people are really angry and obtuse for a Sunday evening aren't they?'. The classicist Mary Beard followed suit the next day. She tweeted: 'There is something terribly depressing (and revealingly symbolic) about a load of (mostly) posh hardline men turning up at Chequers in their (mostly) posh cars to "sort Brexit". I fear it says it all.'
In truth, it is feminists' hostility to Brexit that 'says it all'. In insisting that Brexit is 'sexist' and 'anti-women', and that we now need a second referendum, their message is clear: women (and men) must only support what we tell them to support. Their characterisation of Brexit as 'boys playing games' shows their disdain for ordinary voters, as if we are infants who don't know what we are doing. In reality, Brexit was a demand for every individual to have a say in politics; it was a universal demand for democracy. In their crass attempts to gender the Brexit vote, feminists have revealed how wedded they are to the divisive and destructive politics of identity – and how terrified they are of working-class voters, in particular, finally finding their voices.
Even as feminists go on about the men – or 'idiots', in Jess Phillips' words – who pushed for Brexit, they are more than happy to line up alongside the likes of Alastair Campbell, Tony Blair, Lord Adonis, Keir Starmer or Dominic Grieve when it comes to overthrowing our democratic vote. Their denial of democracy shows how little respect they have for the freedom of working men and women to shape the world around them. They might erect statues of Millicent Fawcett and quote the writings of Sylvia Pankhurst, but don't be fooled – they do not care about suffrage for women or men.
Ella Whelan is a spiked columnist and the author of What Women Want: Fun, Freedom and an End to Feminism.
To enquire about republishing spiked's content, a right to reply or to request a correction, please contact the managing editor, Viv Regan.