The worldwide struggle for democracy
From Wigan to Hong Kong, people are fighting for their democratic rights.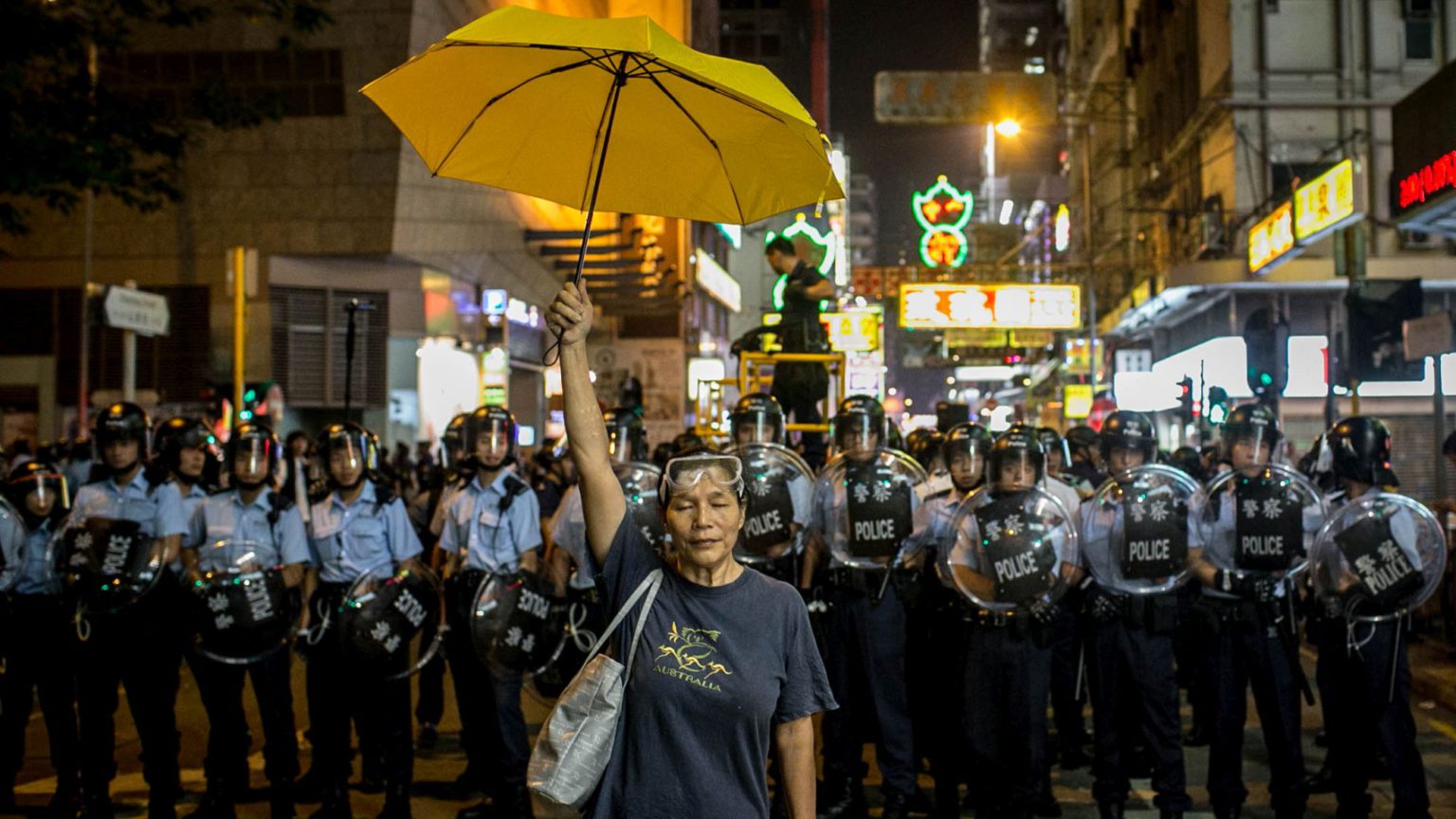 There is an uncanny parallel between the words of a 16-year-old teenager from Wigan, Lancashire, and a retired 75-year-old Baptist minister from Chai Wan, Hong Kong.
'We're protesting to save democracy', said Jordan Gaskell, a Leave Means Leave activist, who was campaigning with his mates in his hometown recently. They were exasperated at the attempted sabotage of a public vote which secured more support than anything else in British electoral history.
'We strive for democracy because democracy strives for freedom', were the words of Reverend Chu Yiu-ming, one of the nine leading Umbrella Movement activists found guilty last month of public nuisance for their involvement in the 2014 pro-democracy protests in Hong Kong. Law professor Benny Tai and retired sociologist Chan Kin-man were given the longest sentences: they were jailed for 16 months for conspiracy to commit public nuisance for shutting down central Hong Kong for 79 days in late 2014.
The Umbrella Movement was sparked by China's breach of the 'one country, two systems' form of governance in Hong Kong when Beijing decreed that it would tightly control the nominations of candidates in Hong Kong elections. The month-long trial was monitored closely by the leaders of China's Communist Party, raising further serious questions about Hong Kong's autonomy in relation to China.
Now, tens of thousands of protestors have taken to the streets over a new extradition law that would allow for the transfer of certain fugitives to foreign jurisdictions, even when Hong Kong has no extradition treaty in place. The bill would include mainland China – a frightening prospect for Hong Kongers, who could find themselves extradited for political reasons.
Hong Kong is sleepwalking into autocracy. Once liberty has gone, it's an almighty struggle to get it back. Through tears and impassioned speeches, the Umbrella Movement activists are warning that if you take away the demos – the people – all you are left with is kratia – power or rule.
In Britain, the long and sustained campaign against Brexit has been an astonishing spectacle. A privileged and vocal minority has been campaigning for a second referendum because it didn't like the outcome of the first one. There has also been sustained verbal, media and social-media attack by Remain campaigners on elderly Leavers and the working class, who are depicted as a swinish multitude. All of which has revealed an intense contempt for democracy itself.
If politicians in the UK and Hong Kong continue to dismiss, erode and trample over democratic freedoms, they should not be surprised if another Brexit-like earthquake happens. With campaigning for the European elections underway, pro-Brexit parties are expected to make large gains. Nor should it be a surprise if, armed only with an umbrella, Hong Kongers continue to take to the streets to say that the erosion of universal suffrage is unacceptable.
Beneath the umbrella of democracy, the Reverend Chu Yiu-ming of Hong Kong and Jordan Gaskell of Wigan could find plenty in common. The question they are both asking, and the question all democrats are asking, is how many more protests, referendum results and campaigns will it take for the expressed will of the people to be recognised and acted upon by the political class? You dismiss the demos at our peril.
Johnny Hennessy is a British national and Hong Kong resident.
Picture by: Getty.
To enquire about republishing spiked's content, a right to reply or to request a correction, please contact the managing editor, Viv Regan.