Now the French police are attacking disabled people
They are brutalising elderly and disabled gilets jaunes for protesting peacefully.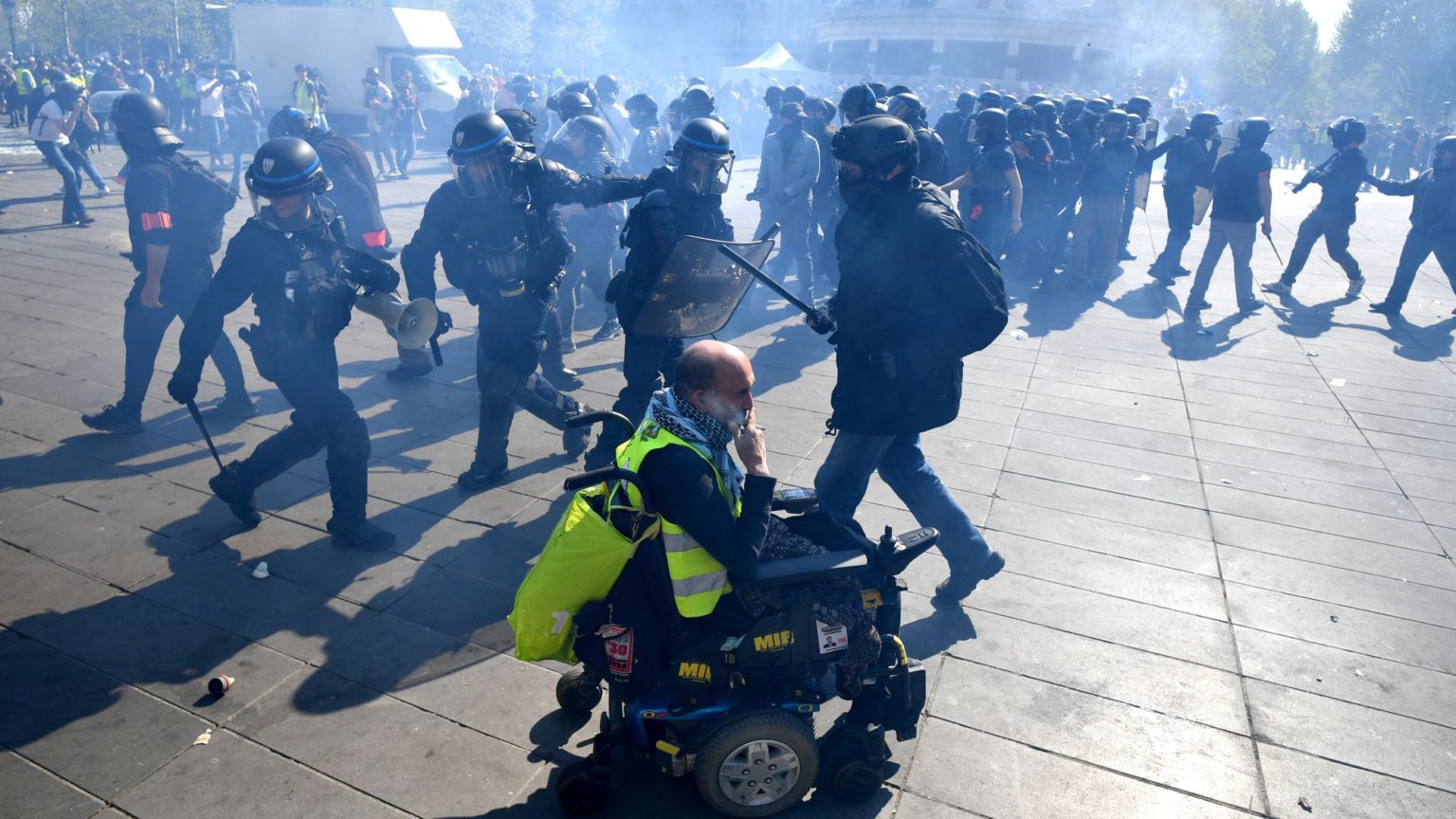 The French gilets jaunes protests, now in their 26th week, have faced extraordinary levels of police violence. As of this week, 788 acts of serious police aggression have been documented. While their defenders argue that police are only responding to 'thugs' and 'vandals', there are many documented incidents of police attacking innocent protesters, journalists, medics and even the disabled.
Last weekend in Lille, a policeman teargassed two protesters in wheelchairs.
??️IMAGE CHOQUANTE #Lille #Acte26 : Deux personnes handicapées en fauteuil roulant se font gazer à bout portant +Des coups de pieds ?La honte!
?Vidéo à envoyer à l'IGPN EN MASSE SVP#GiletsJaunes #YellowVests #France #Macron #Castaner #Paris #ActeXXVI pic.twitter.com/bgwicm3X20

— Le Général (@leGneral2) May 12, 2019
Last month in Toulouse, police confiscated a protective mask and a pair of glasses from a disabled protester. When the protester argued with police and asked for them back, he was sprayed with teargas.
The elderly have also been subjected to police violence. Video footage from January shows a gang of police surrounding an elderly man and beating him:
allo @Place_Beauvau – c'est pour un signalement – 269 (précisions)

Tabassage d'une personne âgée. Réglementaires les coups portés par le personnel sanitaire des FdO (sac à dos rouge) ? #ActeIX Bordeaux

Sourcehttps://t.co/7A0nN2hbNx pic.twitter.com/rKZJaZSxkf

— David Dufresne (@davduf) January 13, 2019
So are these disabled and elderly protesters merely dangerous thugs in disguise? One disabled gilet jaune was dragged to court in Toulouse, under the laughable charge that his wheelchair was 'used as a weapon'.
The truth is that the police violence and repression against the gilets jaunes is out of control. And yet this receives little to no coverage in the mainstream international press. Why?
Picture by: Getty.
To enquire about republishing spiked's content, a right to reply or to request a correction, please contact the managing editor, Viv Regan.