The Aussie revolt against 'social justice'
Voters have turned their backs on the authoritarian politics of so-called progressives.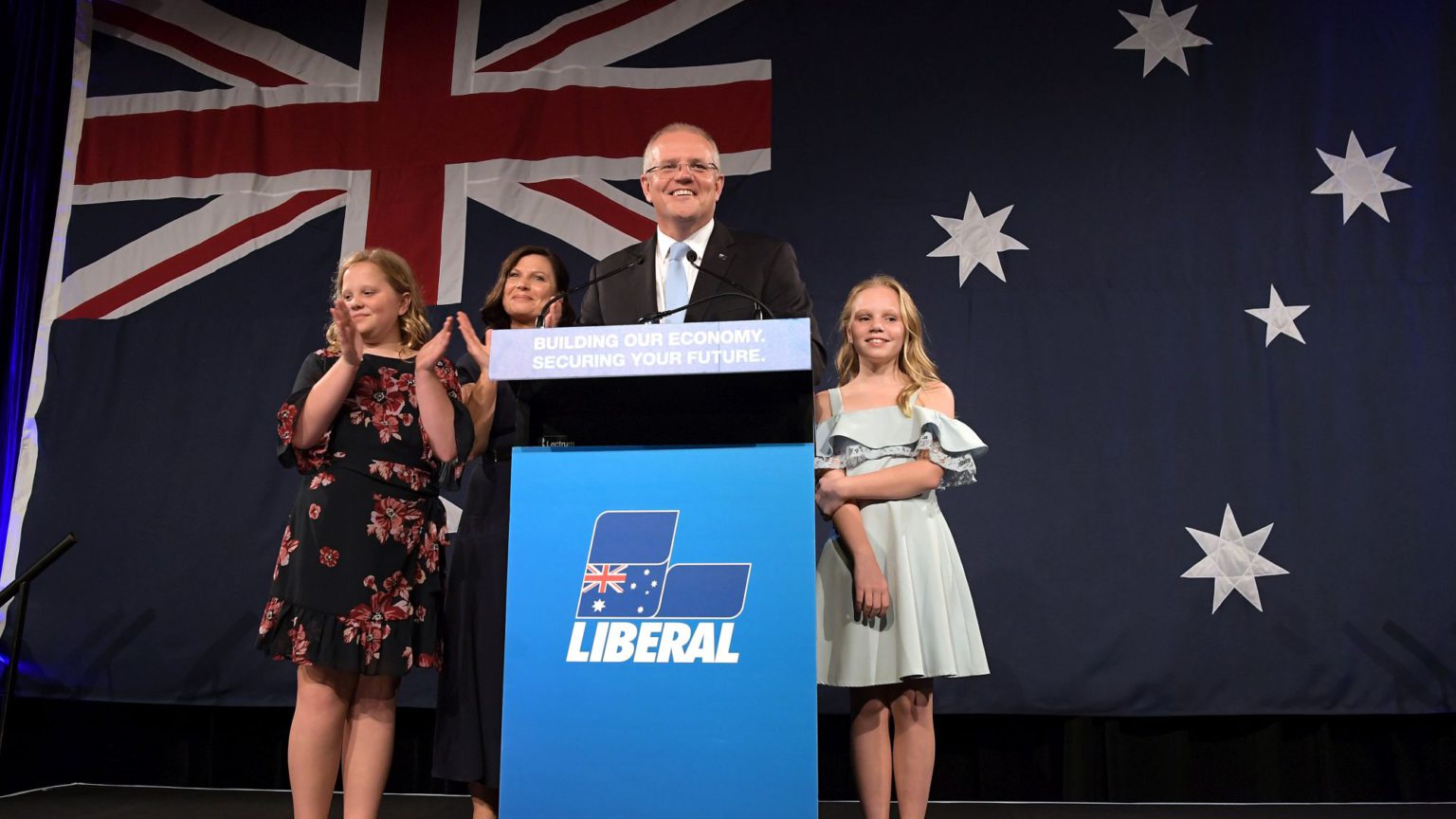 Australia's re-elected conservative prime minister Scott Morrison began his victory speech on Saturday night by rubbing salt into wounds. 'How good is Australia?', he declared, evoking a deafening cheer from his punch-drunk supporters packed shoulder to shoulder in the ballroom of the Sydney Sofitel. 'How good are Australians? This is the best country in the world in which to live.'
Pride in one's country, like faith in God, was once an unremarkable sentiment for a prime minister to express. Yet in this election, to make a patriotic statement was to venture into fiercely contested territory.
For Morrison's progressive Labor opponent, Bill Shorten, Australia is perhaps a slightly better country than it might have been had it not been for the brave crusades of earlier social-justice campaigners. But Australia's supposed national indifference to the environment, inequality, discrimination and its lingering colonial stain makes it an embarrassment in the eyes of the world, in Labor's view.
Labor's policies, designed to restore Australia's virtue, are peppered through a policy document that runs to 309 pages. Labor would hold a referendum to become a republic and rid ourselves of the embarrassment of a colonial queen. Centuries of racial exclusion would be ended by guaranteeing one race – indigenous Australians – seats in parliament.
The failings of Australia's so-called non-discriminatory immigration policy would be fixed by discriminating between LGBTI asylum seekers and the boringly straight. Refugee status would be automatically granted to those whose stated sexual preference was illegal in their home country with or without evidence of actual sexual activity or actual persecution.
Australia's biggest export, coal, was blackening our reputation and the size of Australia's carbon footprint was a national disgrace. Labor would set an emissions target three times more onerous than that required by the Paris Agreement, but could not say how much it would cost.
Australia's highly progressive tax system wasn't progressive enough. Labor would embark on a massive redistribution programme to address intergenerational equality and other socioeconomic injustices.
At its core, Saturday's election was a contest between two tribes. One consists of those who identify themselves principally by the place in which they live and shared social values. The other defines itself by its allegiance to international causes and the presumption that the global educated class knows better than the rest.
Morrison represented the Somewheres, as David Goodhart christened them, while Shorten was the Anywhere man, harvesting grievances, no matter how small, and turning them into monumental issues of social injustice that made us an outlier in a progressive-minded world community.
Support for Shorten's platform bordered on the fanatical among the university-educated professionals whose influence appears to grow deeper at every election. For doctors, teachers, academics and other professionals who rely wholly or in part on government largesse for their income, the new progressive dawn heralded by Shorten couldn't come soon enough.
The renewable-energy sector feared the return of a conservative government pledged to end the subsidies which made up most, if not all, of its profits. Shorten's 50 per cent renewable-energy target would provide its meal ticket for a decade at least. Labor's plan to adopt a Norwegian-style electric-vehicle plan opened up new avenues of rent-seeking, each one lined with charging stations paid for at the taxpayer's expense.
There was widespread acclaim in the media of course, particularly by the public broadcasters who are ipso-facto members of the rent-seeking class. The ABC's claims of impartiality were undermined by its supporters, the Friends of the ABC, who manned polling stations with printed instructions to voters to put the conservative barbarians last on their numbered preferential voting paper.
The misty-eyed delusion that Labor would win on Saturday night spared almost no one in polite society. Pollsters came to assume that respondents were telling them the truth and that those who refused their calls were a representative cross-section of the population, rather than world-weary outsiders who had come to assume their views would be ignored and couldn't be faffed to play the insiders' game.
Betting companies fell for the delusion, too, assuming that the big money placed on a Labor victory was a guide to a wider sentiment. A week from the election, Morrison was the 7-1 outsider. Two days before the election, SportsBet paid out on a Labor win.
The script for election night would be familiar to those who followed the Brexit referendum count or the US presidential election. It began with confident, smiling faces on ABC TV. Early results from election booths were discounted as outliers. But as the percentage of votes counted rose and the trend continued, their faces began to tighten and the silences grew longer.
The resident psephologist began grumbling about glitches in the Australian Electoral Commission's computer. The air was visibly sucked out of the wrinkled face of Barrie Cassidy, a senior ABC political presenter and former adviser to Labor prime minister Bob Hawke. By the end of the night, he was as expressionless as a punctured football.
The results unleashed a torrent of self-righteous and self-pitying national self-loathing. 'It's not Morrison, it's not the Liberals, it's not the policies, it's not Queensland, it's not Dutton. It's the country that's rotten', wrote Guardian Australia columnist Brigid Delaney, summarising the feeling of the people in the room at what was supposed to be Labor's election night party: 'The fact that their vision for Australia's future was not affirmed made them feel estranged and alienated from their own country.'
Grief gave way to anger on Twitter. 'F*** you Australia', wrote Harry on the Left Side. 'We had a great opportunity to build a just, fair, progressive, environmentally responsible, clean-energy powerhouse of a nation and once again you squandered it… Don't complain I no longer care.' Captain Fluffula added: 'Jesus f***ing Christ, I am so angry and sad, what a f***ing shitty country we are since Howard.'
Avril, whose handle is decorated with flags from multiple nations, wrote: 'So, Australia wasn't immune from the f***witterry that brought the world Trump and Brexit.' Grug, Karen, Jackson, Bitchy Single Person and countless others were on a unity ticket, each one ashamed, very ashamed or deeply deeply ashamed to be an Australian on Saturday night. Van Badham consoled herself. 'At least I go to bed knowing that I did everything I could.'
The morning light offered little clarity to those whose entire worldview had been repudiated in the space of a few hours. 'I held my son this morning and said, "You are the most precious thing in the world to me"', wrote Clementine Ford. '"Bird", he replied.'
Crushing as the defeat was, the Anywheres will inevitably recover, and return to prosecute the case for progressive change towards an elusive utopia. Once again they will be disappointed by the apparent indifference of the Australian middle class, the largest and wealthiest of any nation in the world, which repeatedly shows a preference for prime ministers who like the place pretty much as it is, flatly egalitarian, in which it is perfectly fine to be better off than your neighbour, but never to assume you are better than them.
It is a place where the economy has ticked over for almost 28 years without a recession, immigrants succeed, the late autumnal sun shines on election day, and everyday Australians get on with the business of nurturing a family and striving to achieve a comfortable, stable and independent life a cut above the average in the best bloody country on Earth.
Nick Cater is executive director of the Menzies Research Centre and a columnist for the Australian.
Picture by: Getty.
To enquire about republishing spiked's content, a right to reply or to request a correction, please contact the managing editor, Viv Regan.