Morrissey is the rock rebel we need right now
You don't have to agree with everything he says to appreciate his one-man war on conformist thought.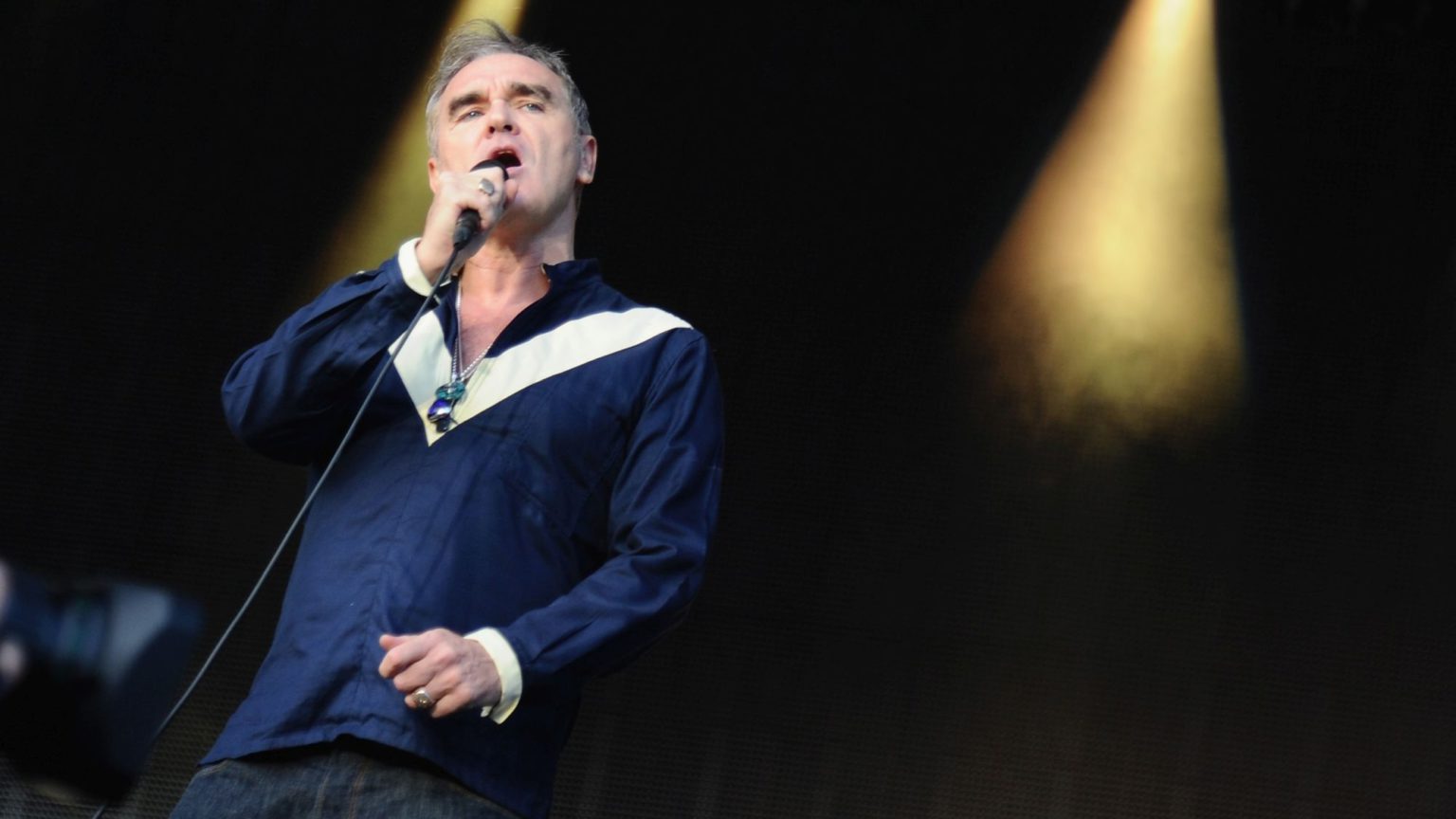 In 1966, there was the 'Beatle Boycott', when record stores in the American Bible Belt refused to stock Beatles albums after John Lennon said The Beatles were more popular than Jesus. A southern radio station even organised 'Beatle-grinding': disappointed fans would send in their Beatles records so they could be reduced to 'fine dust' by an industrial-grade tree-grinding machine.
Then there was the Sex Pistols boycott, when major high-street record stores refused to stock the punk rockers' 1977 monarchy-bashing single 'God Save the Queen'. They were egged on by square MPs. 'If pop music is going to be used to destroy our established institutions, then it should be destroyed first', ranted Labour MP Marcus Lipton. Then came the NWA boycott in 1989, when some US record stores, at the behest of the pathologically anti-rap ladies-who-lunch of the Parents Music Resource Center, refused to stock Straight Outta Compton. ('I don't give a fuck', Dr Dre said.)
And now there's the Morrissey boycott.
A UK record store is refusing to stock the Mancunian legend's work on the basis of his offensive comments. Only this boycott isn't organised by uptight Bible-bashers, Mary Whitehouse-style loathers of punk, or racist posh women, who think a young black man saying 'Fuck tha police' is the end of civilisation as we know it. No, the boycotters this time are progressives. Or at least that's how they'd describe themselves, somewhat inaccurately.
Spillers Records in Cardiff, the oldest record store in the world, has banished Moz's output from its premises because its owners don't like his political views, in particular his support for the anti-Islam party, For Britain. 'I only wish I'd done it sooner', said the owner of the indie store, to sympathetic nods of approval from middle-class music-lovers for whom Morrissey has proved a bitter disappointment of late.
There are few things sadder in the world of cultural commentary right now than Moz-bashing. You can't flick through the pages of the music press or browse a muso website without coming across a pained op-ed by some tragic fortysomething about how The Smiths saved his life when he was a fat, friendless 13-year-old and how distraught he now is to discover that Moz is a massive racist. In their view, that is. But then, in these people's view everyone who didn't vote Remain in 2016 and who doesn't check their privilege on a weekly basis is a massive racist. They despise 21st-century Morrissey because – brace yourselves – he has different opinions to theirs. He likes Brexit (he called it 'magnificent'), doesn't like mass immigration (he's worried about too many Muslims coming to Europe), and isn't a fan of Diane Abbott. ('British politics is a moral disaster on every level… even Tesco wouldn't employ Diane Abbott', he said recently, which, I'm sorry, is hilarious.)
Now, whatever you think of Moz's views – I like what he says about Brexit and Diane Abbott, but not what he says about immigration or the meat industry (give it a rest, Steven!) – the fact is that he's a national treasure. He just is. And like all national treasures – the Queen Mum, David Attenborough, Noel Gallagher – he's a bit mental. What's the point of a national treasure who doesn't every now and then say or do something that makes you wince, whether it's Attenborough calling human beings a 'plague on Earth' (thanks a bunch) or the Queen Mum letting her kids dress up as Nazis.
More to the point, since when did we expect pop or rock stars to have perfectly correct views, as defined by PC dullards, on every issue? That will come as news to Thin White Duke era David Bowie, with his fascist dalliances. Or Eric Clapton, who was partial to Enoch Powell for a while. Or even bloody Lee Ryan of Blue, who responded to 9/11 by saying: 'Who gives a fuck about New York when elephants are being killed?' If you're disturbed that pop people have iffy views, then the problem is you, not them, since you clearly think it's their job to furnish and flatter your political worldview. It isn't. Get your own political opinions. Stop being so needy. One could argue that Moz's incessant and often witty rage against PC culture – whether he's bigging up Brexit, dissing Islam or singing the praises of Israel – makes him a proper rock'n'roll rebel. You may not like what he says, but there's no doubting that he is grating against the conformist outlook of the stuffy new elites, very knowingly too, in that way that rock rebels are meant to.
Their job is to make music. That's all. What they think about things is immaterial. The current contempt for Morrissey reveals a seriously intolerant streak in cultural circles, which now seem to be packed with people who want to erase – or 'cancel', to use PC parlance – anyone whose politics differs to their own. However much they try to dress up their Moz boycott in the finery of anti-racism or whatever, in truth those Spillers guys are no different to the people who boycotted Lennon because he dissed Christ and the bores who boycotted Johnny Rotten because he insulted Her Maj. In all these cases, artists were punished because of what they thought and said.
Brendan O'Neill is editor of spiked and host of the spiked podcast, The Brendan O'Neill Show. Subscribe to the podcast here. And find Brendan on Instagram: @burntoakboy
Listen to the latest episode of The Brendan O'Neill Show below:
Picture by: Getty.
To enquire about republishing spiked's content, a right to reply or to request a correction, please contact the managing editor, Viv Regan.