A million-strong march for freedom
Hong Kongers have shown remarkable bravery in standing up to Beijing.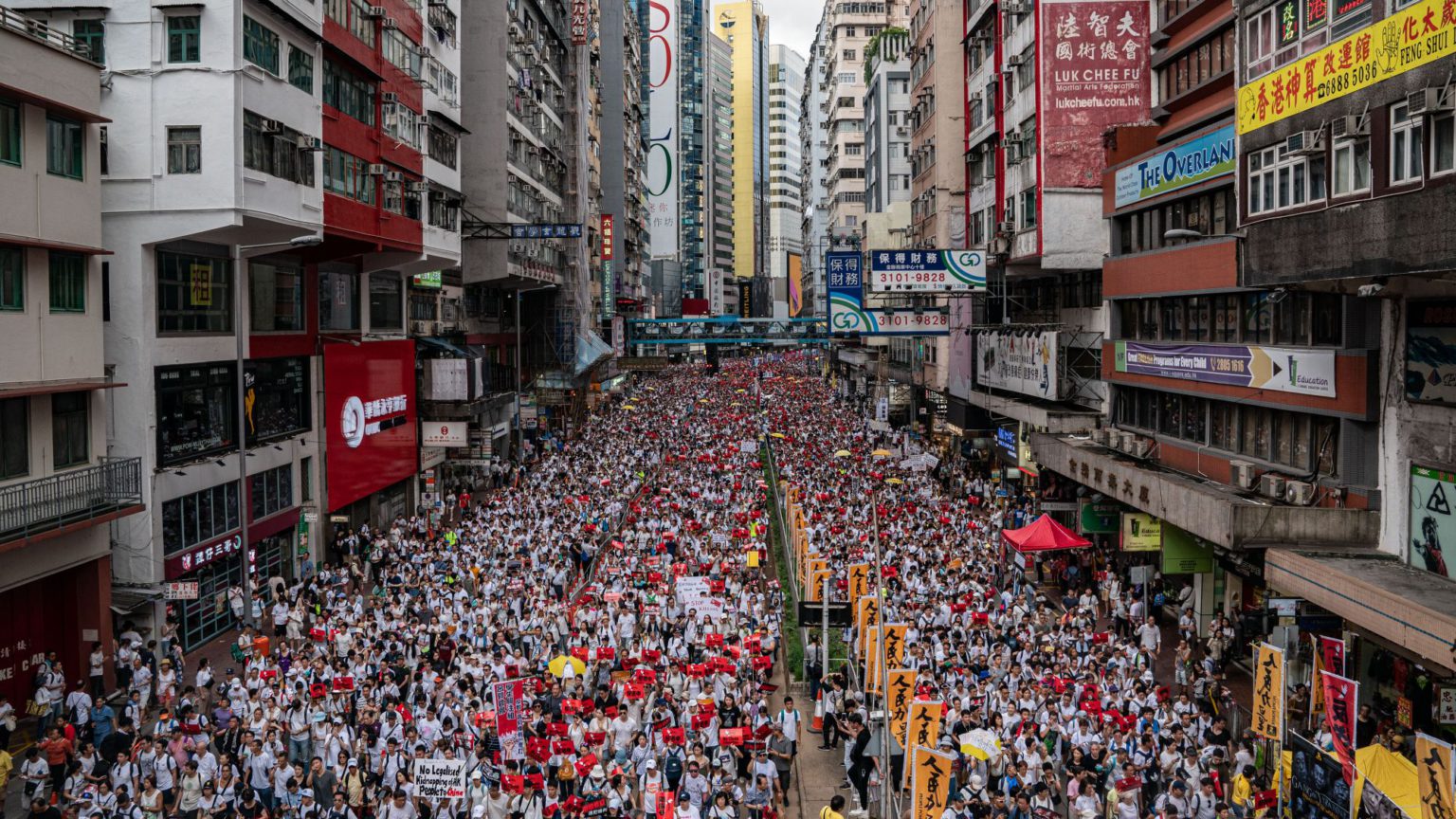 On Sunday, an estimated one million people marched through Hong Kong. It was the largest march in Hong Kong's history, larger even than the 2014 pro-democracy Umbrella Movement.
The marchers were protesting against a new controversial extradition law. The law will allow alleged criminals to be extradited from Hong Kong, Taiwan and Macau to mainland China, where they will face trial in Communist Party-controlled courts. Beijing presides over an extremely flawed and opaque legal system which even allows for arbitrary detention and torture. Pro-democracy campaigners, human-rights activists and journalists believe this new extradition law illustrates the CCP's determination to suffocate political activism in Hong Kong.
The law further undermines Hong Kong's autonomy by interfering in its judicial independence, which, until recently, had been fairly well protected. Since Britain handed its former colony back to China in 1997, it has operated under a principle known as 'One Country, Two Systems', which is supposed to allow Hong Kong a high degree of autonomy until 2047.
Hong Kong is a multicultural melting pot. It has flourished both under colonial rule and as a semi-autonomous territory and is now an economic and cultural hub. But over the past decade, the Chinese mainland's growing interference in local elections and free speech has shattered our city's confidence. In 2015, five staff members of Causeway Bay Books, whose owner was critical of Chinese censorship, were kidnapped by the Chinese authorities. Last year, one of the last remaining bookshops in Hong Kong to sell titles that were banned in mainland China closed down, undoubtedly due to a fear of reprisals from Beijing. In 2014, the Umbrella Movement, a campaign of civil disobedience led by university professors and student activists, was hoping to extend rights and freedoms by campaigning for full universal suffrage in Hong Kong. Now Hong Kongers are faced with the removal of their most basic rights, including the right to a fair trial.
For decades, Hong Kong was a safe haven for people escaping persecution across the world. My family was among the many refugees to have fled to Hong Kong from mainland China during the Cultural Revolution. In recent years, Hong Kong hosted whistleblower Edward Snowden. The extradition bill is the final nail in the coffin of this proud history.
On Monday, the day after the protest, Hong Kong chief executive Carrie Lam thanked the protesters, saying she understood their concerns, adding that scrutiny was all part of 'good governance'. Nevertheless, she vowed to press on with the bill.
Lam is believed by many in Hong Kong to be a puppet of the Chinese Communist Party. In her short time as chief executive, she has introduced one controversial scheme after another. Most notably, she approved the incorporation of China's national-anthem law into the Hong Kong constitution. The law punishes anyone found singing the Chinese national anthem in a derogatory way. Lam also kowtowed to Chinese demands when she pressed ahead with a land-reclamation scheme against opposition from both local residents and even her closest advisers.
State-run newspaper China Daily blamed Sunday's mass marches on Western interference: 'Some Hong Kong residents have been hoodwinked by the opposition camp and their foreign allies into supporting the anti-extradition campaign.' But in truth, the West has largely been silent when it comes to these protests and the extradition law. British foreign secretary and Conservative leadership hopeful Jeremy Hunt has yet to make any statement on the protests. Most Western countries are afraid to criticise Chinese authoritarianism too heavily for fear of losing lucrative investments. For instance, the protest took place less than a week after the 30th anniversary of the Tiananmen Square massacre, which China denies took place. The Western commemorations of Tiananmen were largely muted and even the United Nations was reluctant to comment on the anniversary.
The absence of critical voices across the world makes the bravery of Hong Kong's people all the more remarkable. They are standing for their freedoms and standing up to both their own government and the Chinese state. The millions marching in the street prove that Hong Kong's people have spoken – and we will not live in fear of China's authoritarian shadow.
To enquire about republishing spiked's content, a right to reply or to request a correction, please contact the managing editor, Viv Regan.