Why shouldn't there be a play about Harvey Weinstein?
The problem with David Mamet's new play isn't that it covers #MeToo – it's that it is awful.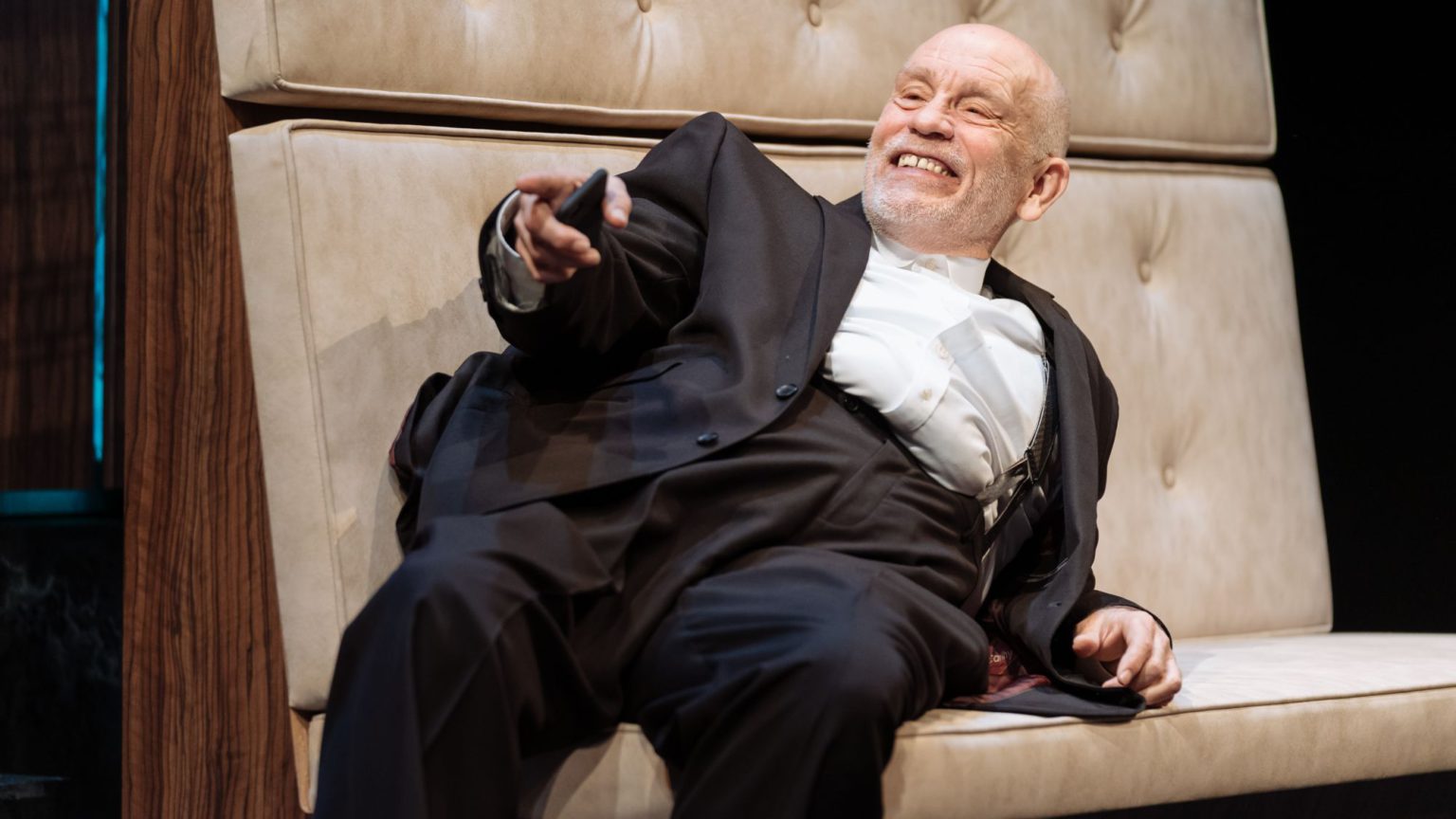 Well, here's a play destined (or should that be designed?) for controversy. American playwright David Mamet returns to the West End with Bitter Wheat – a black comedy in which John Malkovich, last seen on stage in the early 1990s, takes on the role of a bloated, Viagra-quaffing film mogul accused of molesting actresses.
As the interviews make clear, this is a play inspired by the Harvey Weinstein scandal, but not about it. Any similarities to real events are, as the old disclaimer goes, purely coincidental. Not that you could tell that from the critical response. When the play opened last week, reviewer after reviewer rushed to express their outrage. Some felt it was 'too soon' to go there; others attacked Mamet, a rich white hetero, for daring to appropriate the #MeToo story. One magazine refused to review it entirely. If you're a culture writer looking to cement your woke credentials, the Garrick Theatre is clearly the place to be.
But the outrage crowd have missed the mark. This isn't a bad play because it is unethical or un-PC. It's a bad play for boringly old-fashioned reasons: it is terribly written and dull as dishwater.
Where to start? How about at the beginning, where Mamet has us endure 20 minutes of Barney Fein – Malkovich in a fat suit – repetitively berating a jobbing screenwriter who doesn't appear again until curtain call. Given that this has zero bearing on the rest of the play, it seems natural to ask why it is there in the first place. To show us Fein is an asshole? Well, it works. But aren't we supposed to think this is Harvey Weinstein? Did Mamet expect anyone to be ambivalent?
Things don't get much better after that. There are bad jokes, ludicrous side-plots (a rampaging jihadist intent on extinguishing Fein's family, for one), and some maddeningly dull dialogue. Thanks to Mamet's idiosyncratic writing style, a good portion of the running time is consumed by characters repeating themselves or asking for clarification. Perhaps you think this is some great dramatic device intended to increase the realism. To your average punter, though, it's total crap.
One of the sad ironies is that for all the outrage that Mamet would dare tell Weinstein's story, the play would be much better if he actually had done that. The only time Bitter Wheat ever picks up is when it veers into docudrama territory. Take the final scene of act one: an up-and-coming starlet jets into Hollywood to discuss the commercial arrangements for her next film. After a long-winded restaurant scene (slowed down terminally by rambling dialogue), they take the meeting to his hotel suite. We're on familiar territory here. In some ways it's the most predictable part of the play – after all, we all know where it's going – yet it is by far the most interesting. The tension is palpable.
Mamet even does some interesting stuff with Fein/Weinstein himself: at one point, he has him go on a self-pitying tirade about how it feels to be an unattractive fatty in a town full of beauty, suggesting his predatory behaviour is driven by his inadequacy complex. It's a tad indulgent, admittedly, but much better than anything else on offer.
Sure, it would have been legally difficult to write a proper Weinstein play, but would it have been unethical – or problematic? Not necessarily. A few years back, the excellent Park Theatre hosted a play about Jimmy Saville. Not only did the playwright borrow heavily from victims' testimonies to ramp up the realism, he also hired Alistair McGowan – a world-leading impressionist – to mimic the disgraced paedophile. This was about as triggering as it could get. And it was bloody excellent, too.
So is there anything else worth salvaging here? Not really. The acting is competent, but the supporting parts are as thin as they come. The luckless male assistant stands out as being particularly one-dimensional. Honestly, you'll find richer parts in a pantomime. The direction (also done by Mamet) is similarly dire: during the first half, there are two 'pauses', where the curtain comes down to enable a scenery change. It might have kept the production budget down (always a priority in the West End) but it looks desperately amateur. Although at least it gives any unimpressed audience members a chance to rush for the exit.
And what of the big draw: Malkovich himself? It's a solid performance, if a little overdone at times. One low-point stands out: towards the end of the second half, Fein finds himself flat on his back; encased in his inflated fat suit, Malkovich flails his limbs and mimes his helplessness. If that sounds like an Olivier in the waiting, you need to get out more.
Judging by the audience reaction at the end, there were a handful of Malkovich super-fans in the house. At least they weren't disappointed. If that's you, though, I'd encourage you to get in quickly – with a pair of tickets in the stalls costing over £300, I wouldn't be surprised if this one closes early.
Robert Jackman is assistant features editor at the Spectator. Follow him on Twitter: @robertjackman88.
Bitter Wheat is at the Garrick Theatre until 21 September.
To enquire about republishing spiked's content, a right to reply or to request a correction, please contact the managing editor, Viv Regan.