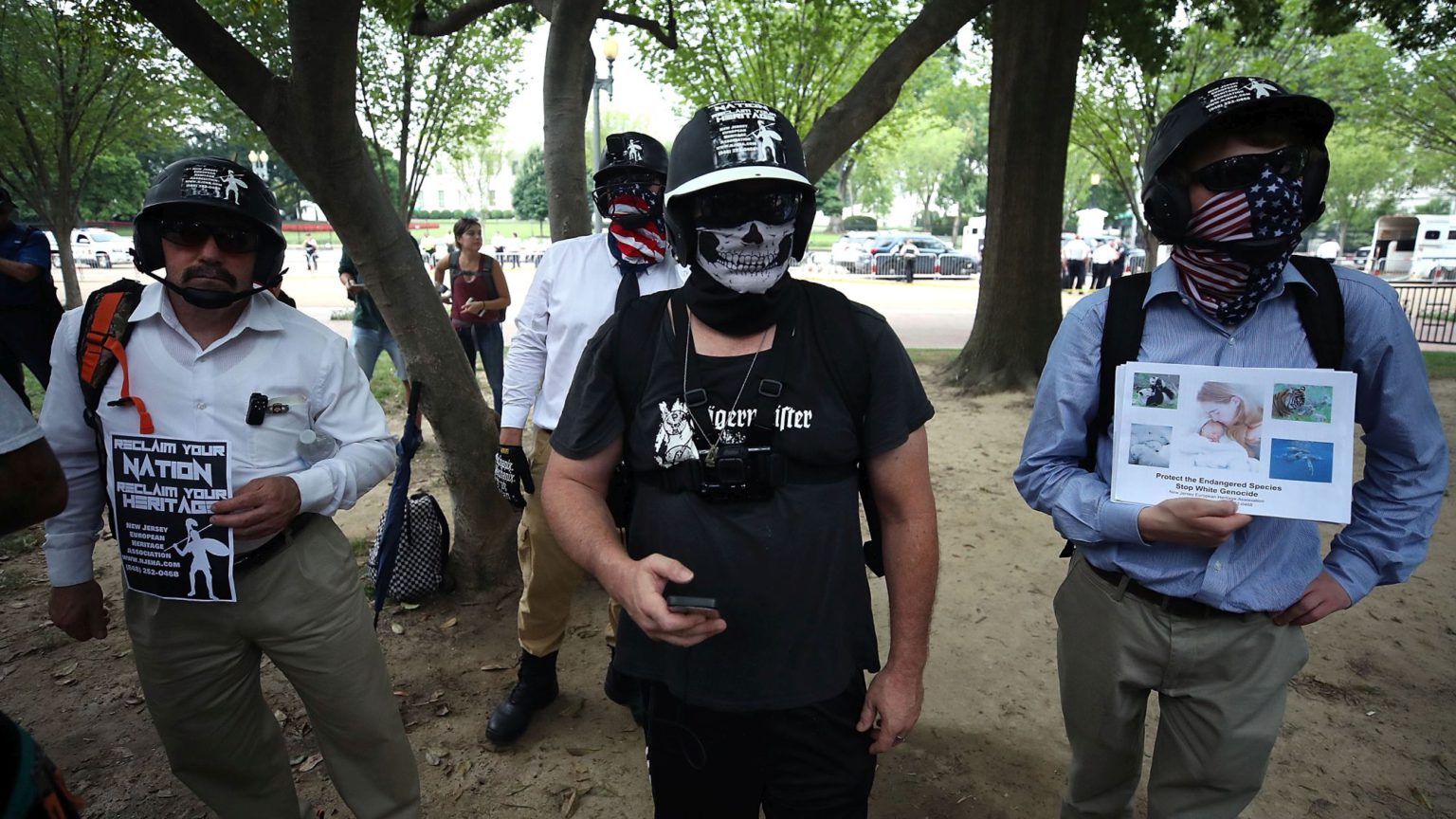 The SPLC: how hate-monitoring became big business
The Southern Poverty Law Center and its hysteria about 'hate' are finally unravelling.
America's chief 'hate-watch' organisation, the Southern Poverty Law Center (SPLC), is facing an existential crisis.
Based in Alabama, the SPLC is similar in age and form to the UK's Searchlight, only still relevant, and a lot, lot bigger. About half-a-billion-dollars-in-assets bigger, according to its latest donation reports.
Although long accepted by America's institutional media as the national arbiter of what constitutes hate and hate groups, the SPLC's uncanny ability to raise money (including million-dollar cheques from such recent notables as George and Amal Clooney and Apple's Tim Cook), and its equally uncanny inability to spend it, has long drawn criticism, especially from the left (for example, see here and here).
Such scepticism was validated recently when, following the sacking of founder Morris Dees for failing to meet the SPLC's own standards of behaviour, the New Yorker published claims from insider Bob Moser that the SPLC has intentionally inflated the threat of hate groups for years. Among other claims (which include #MeToo-esque allegations against Dees), former SPLC staffer Moser wrote that he and colleagues long privately ridiculed the group's 'hyperbolic fundraising appeals', which, as he puts it, were aimed solely at scaring 'gullible Northern liberals' into believing 'hate was always on the rise.' As Current Affairs recently described the claims, the SPLC's model really was, and continues to be, all about 'finding as much "hate" as possible in order to make as much money as possible'.
Following the bombshell revelations, Twitter removed SPLC as one of its hate-monitoring 'safety partners'; a Republican senator called for an Internal Revenue Service investigation into its nonprofit status; and the wider media have seemingly stopped using the SPLC for comment as frequently as they once did.
The SPLC's history is worth recounting. It started in the 1970s, predominantly as a nonprofit law firm that focused on fighting the Ku Klux Klan. While Dees' motivations have always been questionable (early partners have maligned him as a 'televangelist', and it is alleged he kept funds intended for black hate-crime victims), he did win numerous court battles against the Klan, which ultimately resulted in its bankruptcy.
This presented a problem, however. Without a Klan to fight, there was no fight to fund, so Dees was constantly in search of new bogeymen – the renaming of its original monthly magazine from Klanwatch to the more general-sounding Hatewatch reflected this shift. Along with its pivot away from the Klan (although it still manages to feature prominently in SPLC literature), it also dropped its expensive and time-consuming legal advocacy work and began focusing on putting out 'investigative' reports on other 'hate and extremist groups' across the US. Initially, the SPLC pushed resources toward exposing the country's racist skinhead 'scourge' of the late 1980s and early 1990s. And when that started to wane, it moved on to exposing militia and survivalist groups in America's South and Midwest.
But with the probability of being killed by a right-wing extremist being lower than getting struck by lightning, the fearmongering narrative cannot hold without constant nourishment. So, today, the SPLC has expanded its crusade against hate to encompass everything from so-called neo-confederates and anti-LGBT groups, to pick-up artists and manosphere bloggers, and even a few token non-white organisations.
Chief among the SPLC's initiatives is its annual hate map: a gimmicky interactive map allowing people to see the latest quantum of hate in their state and beyond. The latest tally puts the number of American hate groups at a whopping 1,020. Reliably, news of the rise in hate (and it is always rising) receives wide national and regional coverage.
A minute's analysis of the map's methodology, however, reveals numerous problems, most obviously: the inclusion of one-man outfits; organisations with mere PO box addresses; individual chapters of single groups; and organisations that are either defunct, moribund, or clearly no cause for concern – that is, tiny outfits with names like the Folkgard of Holda & Odin. In other words, much of the annual hate-group tally is composed of, as commentator Mark Steyn puts it, 'irrelevant penniless shaven-headed nobodies', rather than genuine causes for alarm.
In Current Affairs, Nathan Robinson writes that to focus almost solely on small fringe (and almost always poor) groups and individuals is to engage in activism 'without sacrifice' and the 'politics of spectacle'. According to Alexander Cockburn, in a 2009 piece for Counterpunch, this has always been 'the Dees way', 'fighting theatrically' rather than actually working to empower poor minorities, as many of its lower-level, predominantly black staff had urged the SPLC to do.
So keen was the SPLC to up its hate-group numbers in the 2000s that it began targeting more mainstream organisations, including 'nativist' advocates for tougher immigration enforcement and 'homophobic' Christian groups advocating a traditional definition of marriage. But because such groups are neither hateful nor extremist – Barack Obama and Hillary Clinton supported the traditional definition of marriage until 2013 – the SPLC's attempts to expose them as such were particularly desperate affairs, composed, in the main, of context-free quotes from current and past presidents or from people merely 'associated' with said groups.
Sadly, many take this fearmongering coverage all too seriously. The 'anti-LGBT' Family Research Council, based in Washington DC, as well as several Republican congressmen, were attacked by gunmen inspired by SPLC literature. Perhaps Charles Murray, a conservative intellectual labelled by the SPLC as a 'white nationalist', was lucky to get away with just a roughing-up.
Going beyond mere fringe targets arguably hasn't helped the SPLC. While their previous targets were too poor to fight back legally, these more mainstream groups and individuals are not. After the SPLC labelled British Muslim radio presenter Maajid Nawaz an 'anti-Muslim extremist', it was forced to pay an out-of-court settlement of $3.4million. Others have also filed lawsuits against the SPLC, the results of which will be determined over the coming months.
Putting aside the inherent problem of having a business model dependent on finding hate (it will always be found, and it will always be surging), there are fundamental questions as to how and why groups and individuals are being defined as 'hatemongering', 'racist', and so on. When should racist speech, for instance, be distinguished from merely objectionable speech? Moreover, given the weight such a charge carries in Western societies today, how can we ensure its use is not politically motivated?
For example, Canada has had a hate-speech law in place for decades, and it too has suffered from its partial, politicised use. In 1975, Toronto police cited the hate-speech law as a pretext for removing anti-Vietnam War protesters who were handing out pamphlets titled 'Yankee Go Home'.
Canadian human-rights lawyer and former justice minister, Irwin Cotler, was right to characterise 'hate speech' as an 'attempt to win the debate by labelling' and 'a cowardly approach to the discussion and the argument'. This is certainly the tactic employed by large, powerful groups like the SPLC. In the US, to be labelled racist is to be considered so morally repugnant that even necrophiliac and cannibal Jeffrey Dahmer, who largely killed black men, wanted it to be known he was not a racist.
One way to ensure groups like the SPLC adopt a less fearmongering approach to racism is to encourage them to engage with groups and individuals, in private conversation or public debate, before branding them 'hateful'. After all, the SPLC ostensibly believes in the contact theory of healing multicultural divisions.
Further, there should be an expectation that journalists reporting on the SPLC's hate-group designations at least confirm that an attempt at contact has taken place. The same goes for the SPLC's controversial reports. Before journalists accept their findings, they should vet the reports' research and methodology, ensuring that there is some rigour to the SPLC's analyses.
As Robinson writes, simply labelling and maligning groups and individuals as racist 'is the type of anti-racism advocacy [that is] endemic to a certain kind of "elite liberalism"'. This approach, he writes, gives the public 'a totally skewed idea of how racism works and how to begin solving it'.
After all, if the SPLC is neither showing how racism works nor attempting to solve it, then what precisely is its point?
Bradley Betters is an attorney and writer based in the US.
To enquire about republishing spiked's content, a right to reply or to request a correction, please contact the managing editor, Viv Regan.