What America can learn from England about vaping
While US policymakers are stoking hysteria about e-cigs, English hospitals are opening their own e-cig shops.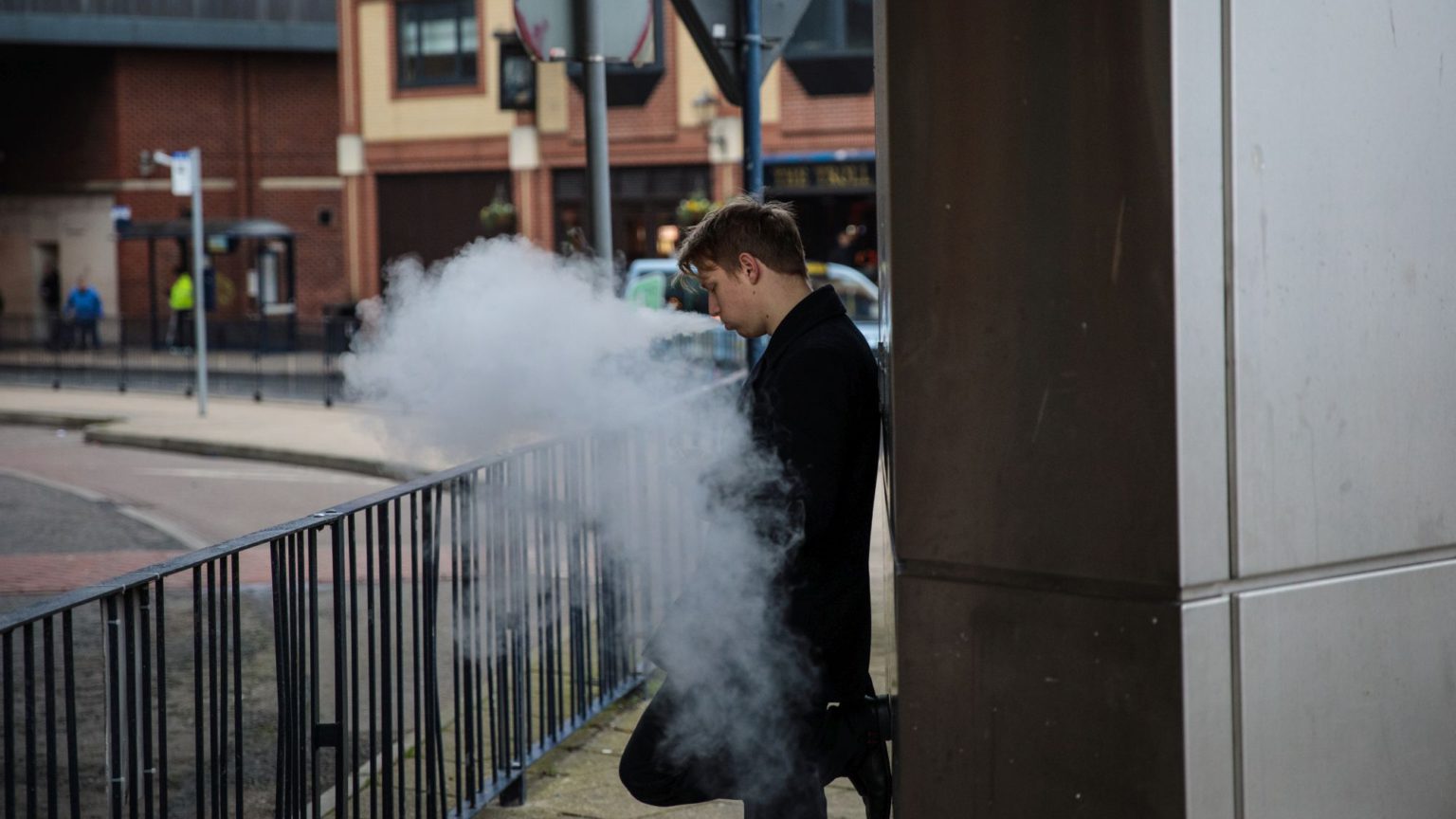 Electronic cigarettes (or e-cigarettes) have been around for several years now. And while there is still much to be learned about e-cigarettes, scientific research has at least affirmed that vaping is safer than smoking. A landmark study, published in the New England Journal of Medicine, found that e-cigarettes can help smokers quit with greater success rates than other nicotine-replacement products.
Public Health England (PHE) maintains that e-cigarettes are 95 per cent safer than cigarettes. 'While vaping may not be 100 per cent safe, most of the chemicals causing smoking-related disease are absent and the chemicals present pose limited danger', reads a PHE policy document.
PHE rightly says that vaping removes the vast majority of the harmful effects of burning tobacco, which creates tar. This tar contains thousands of chemicals, carcinogens and mutagens, which cause many ailments, including heart disease.
PHE has put its full force behind promoting e-cigarettes as a smoke-free alternative. As a result of public-awareness campaigns and proportionate regulations, England has seen significant changes in how nicotine is consumed. It is proof that business innovation in nicotine products can work alongside public-health regulation.
Ecigwizard, one of the largest vape retailers in the UK, has opened vape shops in two NHS trust hospitals in the Midlands. The stores aim to attract patients who are struggling to quit smoking, and to help medical professionals learn more about vaping.
The opening of vape shops in medical facilities draws a stark contrast to how vaping is viewed in the US. A US hospital would never allow a vape shop to open on its premises. The US Food and Drug Administration (FDA) still maintains that e-cigarettes are harmful to general public health, rejecting the existing evidence.
During his tenure as commissioner of the FDA, Scott Gottlieb helped to manufacture hysteria about young people vaping. Federal data does show that millions of young people have tried e-cigarettes. But this has been construed by Gottlieb, other top-level Trump appointees, the tobacco-control movement and the media as something far worse than it actually is. Countless analyses of the data show no corresponding proof that millions of young people are addicted to e-cigs. While curtailing underage uptake of e-cigarettes is essential, the US has still failed to find a balance in regulation.
Acting FDA commissioner Ned Sharpless recently wrote in an article on the FDA website that since e-cigarettes are 'still relatively new', the agency is taking what it calls a more measured approach. He offers a more balanced position than his predecessor, noting 'the potential for harm reduction' while stressing the need to keep 'e-cigarettes out of the hands of minors'. But this doesn't mean much at the end of the day. Vaping and e-cigarettes are still required by US law to be treated as tobacco products, as his piece shows.
Public Health England bases its approach to vaping on products' relative risk to human health. While England still has a relatively advanced regulatory regime surrounding the e-cigarette market, it is not hampering the benefits e-cigs can bring. The FDA, by contrast, is promoting hysteria about vaping and damaging public health in the process.
Michael McGrady is an independent journalist and researcher covering tobacco harm reduction and public policy.
Picture by: Getty.
To enquire about republishing spiked's content, a right to reply or to request a correction, please contact the managing editor, Viv Regan.