The casual authoritarianism of Remoaners
Jo Swinson and Caroline Lucas have said they would reject a second pro-Leave referendum result.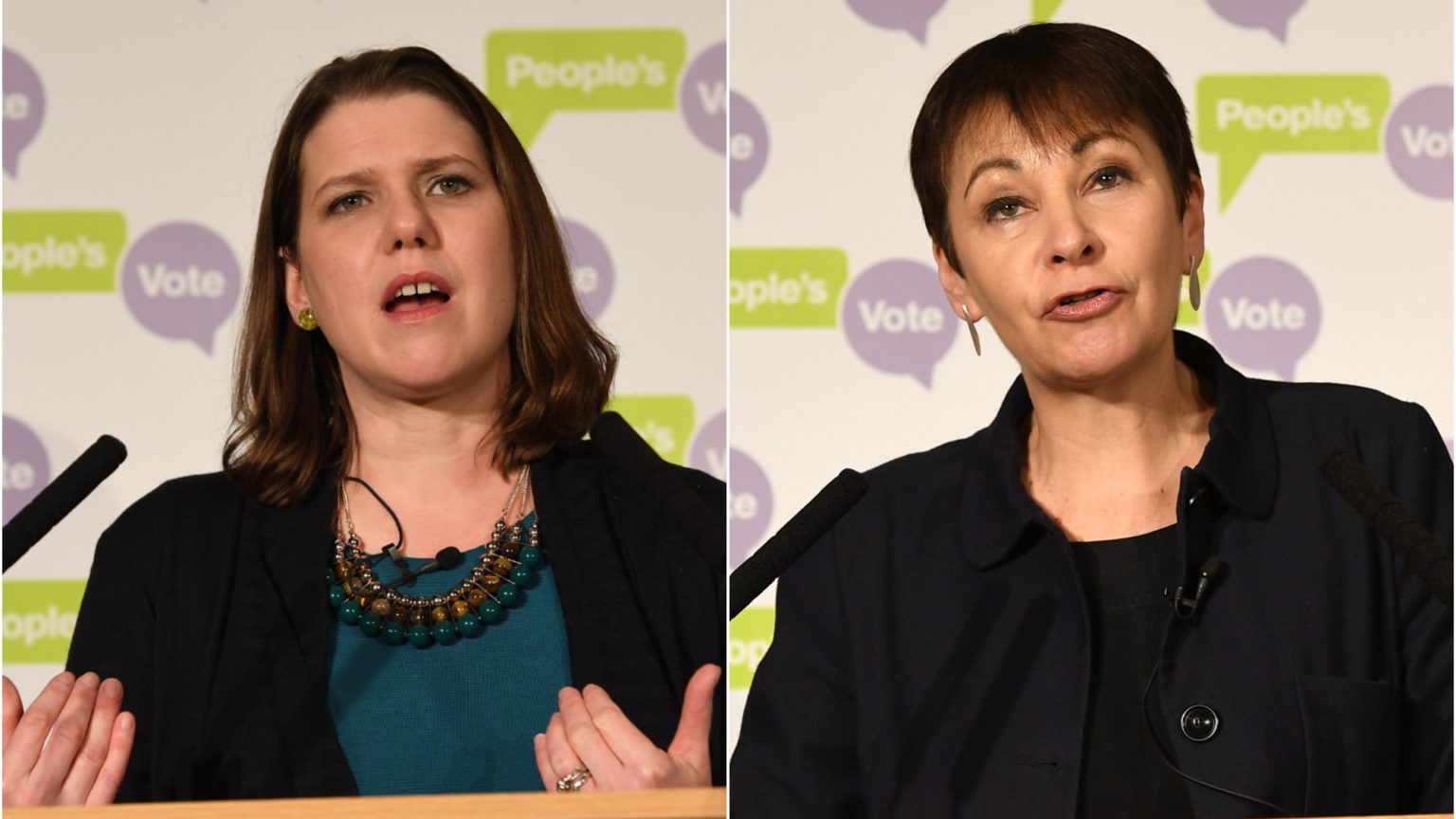 In 1945, Clement Attlee said referendums were 'the instrument of Nazism and fascism'. In 1975, Margaret Thatcher, nodding to Attlee, said referendums are a 'device of dictators and demagogues'.
These quotes have been dug out time and again since the EU referendum, by Remainers horrified by the result. They slot Attlee's and Thatcher's remarks into their own warped view that democracy equals fascism. People are so dumb and wicked, goes the thinking, that we're just waiting to elect genocidal maniacs. Referendums are not democratic exercises because it is all too easy for demagogues to mislead the sheeple.
But if anyone has been trying to use nominally 'democratic' processes to authoritarian ends recently, who has been trying to use the language of democracy against democracy, it is the Remainer elite. And in recent days, two of the political leaders of the Remain outlook, Liberal Democrat leader Jo Swinson and Green Party MP Caroline Lucas, let slip their authoritarian intentions.
Swinson and Lucas are among those calling for a second referendum on Brexit. But when pushed by separate BBC interviewers as to whether they would accept the result of another referendum if the country voted Leave again, they both said no. On BBC News yesterday, Swinson said 'No', adding that 'I'm going to do what I was sent here to do'. On Politics Live today, Lucas was at least more direct: 'Um, no I probably wouldn't.'
These admissions explode the argument the so-called People's Vote campaign is still trying to make with a straight face. That is that while the electorate voted for Brexit, we didn't vote for any particular Brexit deal. We should therefore have a right to vote on the terms, and if we now want to change our minds – that's fine too!
Clearly, this was always bollocks. A second referendum is not about us having a final say – it is a means to an anti-democratic end, and the result would also be ignored if it went the 'wrong' way.
Given the anti-democratic bile that has been been spewed from Remoaners these past three years, Swinson's and Lucas's slips are hardly shocking. But we need to make clear what they are saying here. They are saying they are only willing to accept the outcome of democratic votes if they win them. This is the attitude of autocrats, happy to hold an election but only if one party is on the ballot. They are willing to use the ballot box to bolster their position, but just as willing to reject the result if they lose.
It's amazing how inured we have become to these kind of authoritarian Remoaner arguments. Remember when Donald Trump refused to say whether he would accept the result of the 2016 US election if he lost? Liberals lost their shit – and rightly so, for once. But when essentially the same attitude is voiced by two leading Remainers, it is deemed by commentators to be eminently sensible – the leadership Britain needs!
For all the pearl-clutching over Boris Johnson's history of spicy statements, what Swinson and Lucas have said in the past 24 hours is far worse than anything our new PM ever dashed out on a deadline. And this casual authoritarianism has become worryingly mainstream among the chattering classes.
Tom Slater is deputy editor at spiked. Follow him on Twitter: @Tom_Slater_
Pictures by: Getty.
To enquire about republishing spiked's content, a right to reply or to request a correction, please contact the managing editor, Viv Regan.