At last the country is run by Leavers
Boris Johnson's Cabinet is more in tune with public opinion than May or Corbyn could ever be.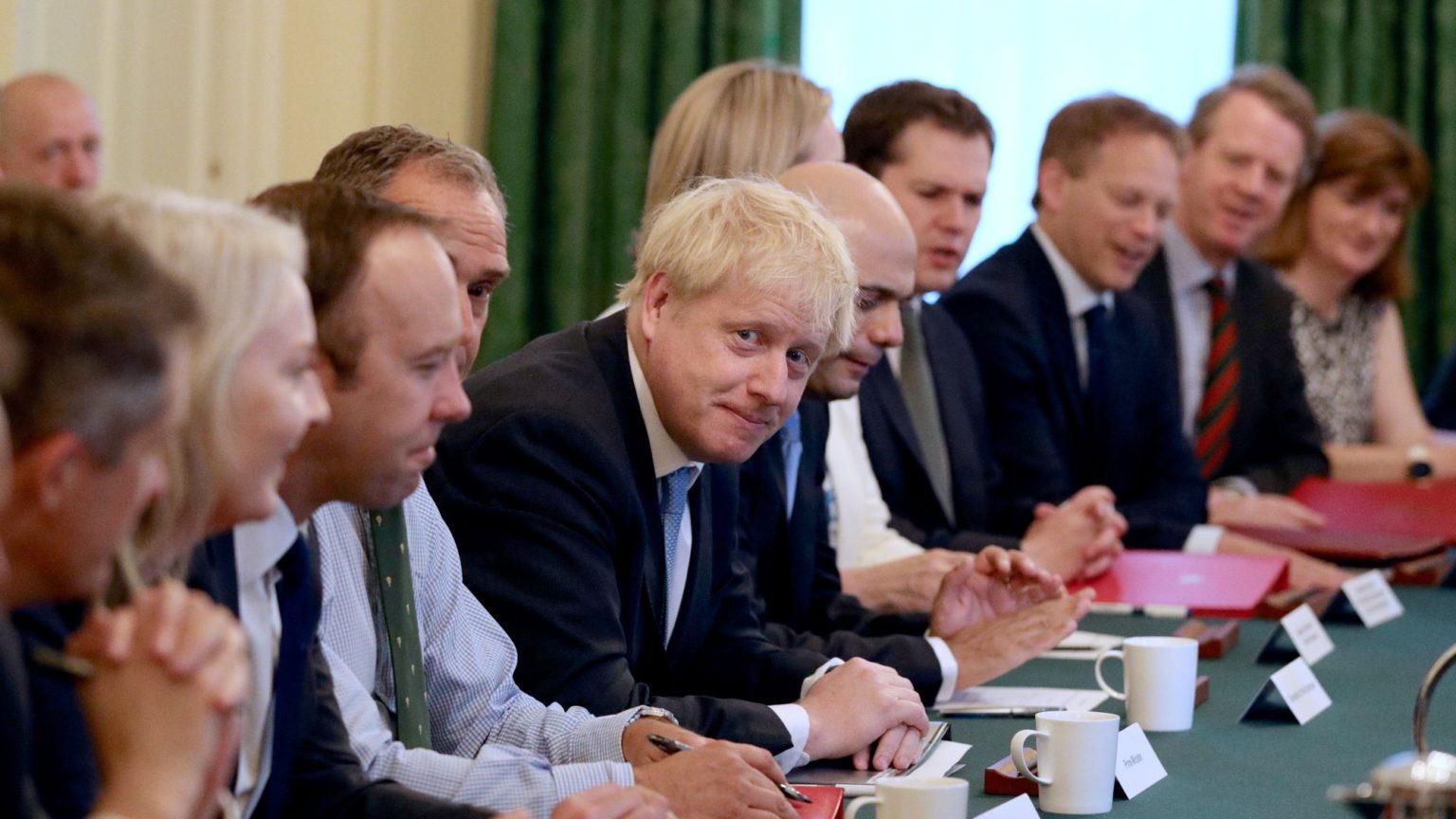 Remoaners in the media are alarmed at Boris Johnson's 'brutal reshuffle'. He is 'rewarding Hard Leavers', they claim. His clearout of no fewer than 17 of Theresa May's 30-strong Cabinet, and his replacement of them with largely pro-Leave and even pro-No Deal ministers, is disturbing and shocking, moans the pro-EU set. Not for the first time they need to get a grip. What is really shocking is that for the past three years Britain was run by Remainers. We often overlook how perverse it was that a nation which voted Leave was so dominated by a Remainer elite. Johnson's new Cabinet redresses this undemocratic disparity between political-class sentiment and public sentiment and gives rise to a UK that is now run by Leavers. About bloody time.
It is testament to the anti-Brexit elites' sense of entitlement, to their belief that they were born to rule, that they are so disgusted that pro-Leave people now have the top jobs. There's the PM himself, of course, who was famously flighty on leaving the EU to begin with, but who then stabbed his flag in the Leave camp and played a key role in Vote Leave. There's his home secretary, Priti Patel, an implacable Leaver. And his foreign secretary Dominic Raab, a long-time intellectual critic of the EU and literally the only person May ever sent to Brussels who couldn't be bossed around by Brussels – hence he had to resign as May's Brexit secretary because he got in the way of her strategy of caving in to every single one of the EU's demands. And there's Jacob Rees-Mogg, head of the European Research Group and now leader of the House of Commons, which is hilarious given how many people in the Commons – including on the Tory side – hate how pro-Brexit he is.
Across the Cabinet, there are ministers who have committed to leaving with No Deal if necessary by 31 October. It remains to be seen whether the BJ government can pull this off, and there will be serious repercussions for it, electorally and reputationally, if it fails to. But that we now have a government led by Leavers is perfectly normal. Good, in fact. It means this Cabinet is far more in tune with public sentiment than the Remainer double act of Theresa May / Phillip Hammond ever was, and than Jeremy Corbyn's Brexit-thwarting, second referendum-backing Labour could ever be. Never forget the most staggering political statistic of modern times – where 52 per cent of the public voted Leave, just five per cent of Labour MPs did. Boris might be Eton, Rees-Mogg might sound like a man from another era, but it is testament to Labour's stunning drift from its traditional voter base and from the public in general that their Cabinet is more reflective of public opinion than Labour is.
On top of these ministers we have Boris's new senior adviser, Dominic Cummings, the strategic whizz behind Vote Leave, and his director of policy, Munira Mirza, friend of spiked and a committed Leaver. Downing Street is now a Leave bastion. This is progress. The proof is in the pudding, of course, so Downing Street must make good on its Leave credentials or else the masses' eyes will roll yet again, as they have many times over the past three years. In some ways the most admirable thing about the appointment of Cummings is that it suggests Johnson doesn't care that much what the media class thinks. He must have known that having Cummings at No10 would cause a meltdown among those chattering-class muppets who think Cummings is a mad, criminal mastermind who hoodwinked the electorate in 2016 – and yet he still did it. Let's hope this is a positive sign of a healthy disregard for media-class moaning and Twittermob hysteria.
Here is what is most striking about so many Vote Leave people now playing a key role in government: for three years the anti-Brexit, anti-democratic wings of the establishment have tried to demonise Vote Leave as a criminal enterprise. They have insulted it, demonised it. They have accused it of destroying modern Britain. And yet here it still is, more influential than ever. And that is not down to any peculiar talents on the part of Vote Leave, by the way. It's down to the fact that Leave campaigns are still necessary. Unbelievably. More than three years after the people voted to leave, the fight actually to leave continues. It must be hoped that Johnson and his team understand what a colossal blow to people's aspirations and to the democratic spirit itself it will be if they now do not deliver on Leave. It will be a far greater failure than May's. We always knew she was a Remainer. But they're Leavers. And if Leavers don't deliver Leave, then politics will suffer even more than it did under the Maybot regime. No pressure, guys.
You don't have to have unfettered faith in this Cabinet to see that it feels refreshing. It was always a depressing sign of the times that British politics – not to mention the British media elite, the cultural elite, the university system, the judiciary and all other powerful institutions – were dominated by Remainers. This was a Leave country ruled by Remainer politicians, proof of the chasm that now separates elite opinion from public opinion. The new Cabinet goes some way to rectifying that. Now let's leave. Properly, fully, with no turning back. Out, out, out.
Brendan O'Neill is editor of spiked and host of the spiked podcast, The Brendan O'Neill Show. Subscribe to the podcast here. And find Brendan on Instagram: @burntoakboy
To enquire about republishing spiked's content, a right to reply or to request a correction, please contact the managing editor, Viv Regan.