An establishment rebellion
Why the elite loves the eco-warriors.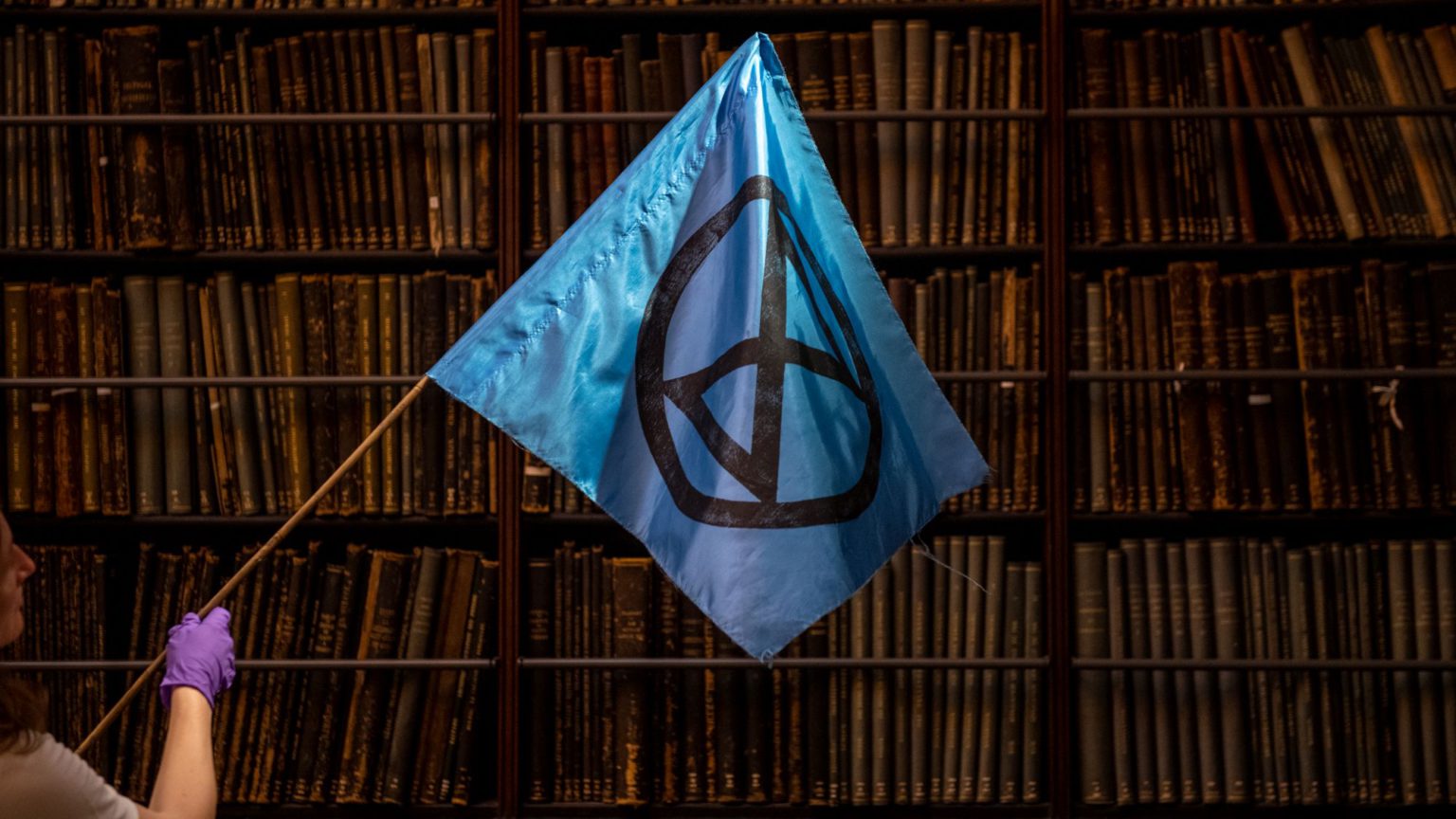 London's Victoria and Albert Museum has acquired a number of artefacts associated with Extinction Rebellion (XR), the protest group campaigning to reduce Britain's carbon emissions to 'net zero' by 2025. Apparently, just nine months since Extinction Rebellion's first public stunt, its paraphernalia deserves to be housed alongside some of the world's best art and design works of the past 5,000 years.
It is hard to think of any supposedly radical protest movement in history that has been so readily embraced by the establishment as Extinction Rebellion. And the love-bombing isn't just coming from the usual luvvies like Dame Emma Thompson and activist celebs like Lily Cole and Charlotte Church. Recently, XR attracted the attention of wealthy philanthropists. Last month, three wealthy Americans (one of whose family wealth comes from the oil industry) donated nearly £500,000 to XR and vowed to raise millions more. Other wealthy backers include a hedge-fund manager, who remains anonymous.
Then, there is the literary establishment – from heavyweight authors like Margaret Atwood and Phillip Pullman to big-name publishers like Penguin, it has thrown its weight behind Extinction Rebellion, too. This Is Not A Drill, XR's protest handbook, was recently rushed out for release by Penguin. Penguin's editor breathlessly declared that climate change was so pressing that XR's book needed to be published several months before its initial release date: 'This is an emergency, and we have to react like it's an emergency.' The book even features a contribution from Rowan Williams, former archbishop of Canterbury – the former head of the established church.
The reason for this establishment love-in is that Extinction Rebellion represents no rebellion at all. It has the appearance of a rebellion, certainly – protesters glue their hands to buildings, block roads and get themselves arrested. But the message is one that affirms and flatters establishment opinion rather than challenging it.
Parliament, for instance, was quick to heed XR's demand to declare a 'climate emergency'. More significantly, the group's main aim of reducing UK emissions to 'net zero' is one that is shared not only by the Conservative government, but also by MPs of all stripes. The 'net zero' target for 2050 was nodded through parliament with just an hour and a half of debate and without a single vote needing to be cast. XR is only more impatient in its demand, calling for a 2025 deadline.
Many have tried to compare Extinction Rebellion's climate crusade with past movements for progressive change. Justifying the V&A's decision to acquire Extinction Rebellion artefacts, senior curator Corinna Gardner compared their punchy colour palette to that of the Suffragettes. Similarly, XR leader Roger Hallam claims his protesting is in the 'tradition of Gandhi and Martin Luther King'.
These comparisons are delusional, pretentious and insulting. But they unwittingly highlight something important. Whether it was the Chartists, the Suffragettes, the civil-rights movement, or the gay-rights movement, these genuinely progressive campaigns were all despised by the elite at the time. These were campaigns that sought to expand human freedom, to wrest rights and resources from the establishment. By contrast, environmentalist campaigns like Extinction Rebellion are, by their very nature, against freedom. They seek to place new limits on human activity: on industry, on economic growth, on our travel, on our diets, and on childbirth.
For many years, the great and the good have been in broad agreement that something must be done about climate change. But they also seem to agree that the bulk of the costs should not be shouldered by them. Only last week, celebrities, business leaders and politicians descended on Sicily for the 7th annual Google Camp, which this year was dedicated to tackling climate change. After arriving in their private jets, mega yachts and sports cars, delegates were treated to a lecture on climate change by Prince Harry, who delivered it in his bare feet. Earlier this year, 1,500 individual private jets flew to Davos. The highlight of the summit was a conversation between Prince William and Sir David Attenborough… on climate change.
The establishment only seems to care about 'pollution' when it is ordinary people doing the polluting. It is always cheap flights, cheap food and cheap fashion which cause the most consternation among environmentalists. In turn, climate change presents the establishment with an opportunity to manage the little people's habits, tastes and aspirations.
Extinction Rebellion merely provides a faux-radical gloss to this depressing and stultifying prospect.
Fraser Myers is a staff writer at spiked and host of the spiked podcast. Follow him on Twitter: @FraserMyers.
Picture by: Getty.
To enquire about republishing spiked's content, a right to reply or to request a correction, please contact the managing editor, Viv Regan.