Down with the lifestyle prefects
Banning snacking on public transport is the maddest nanny-state idea yet.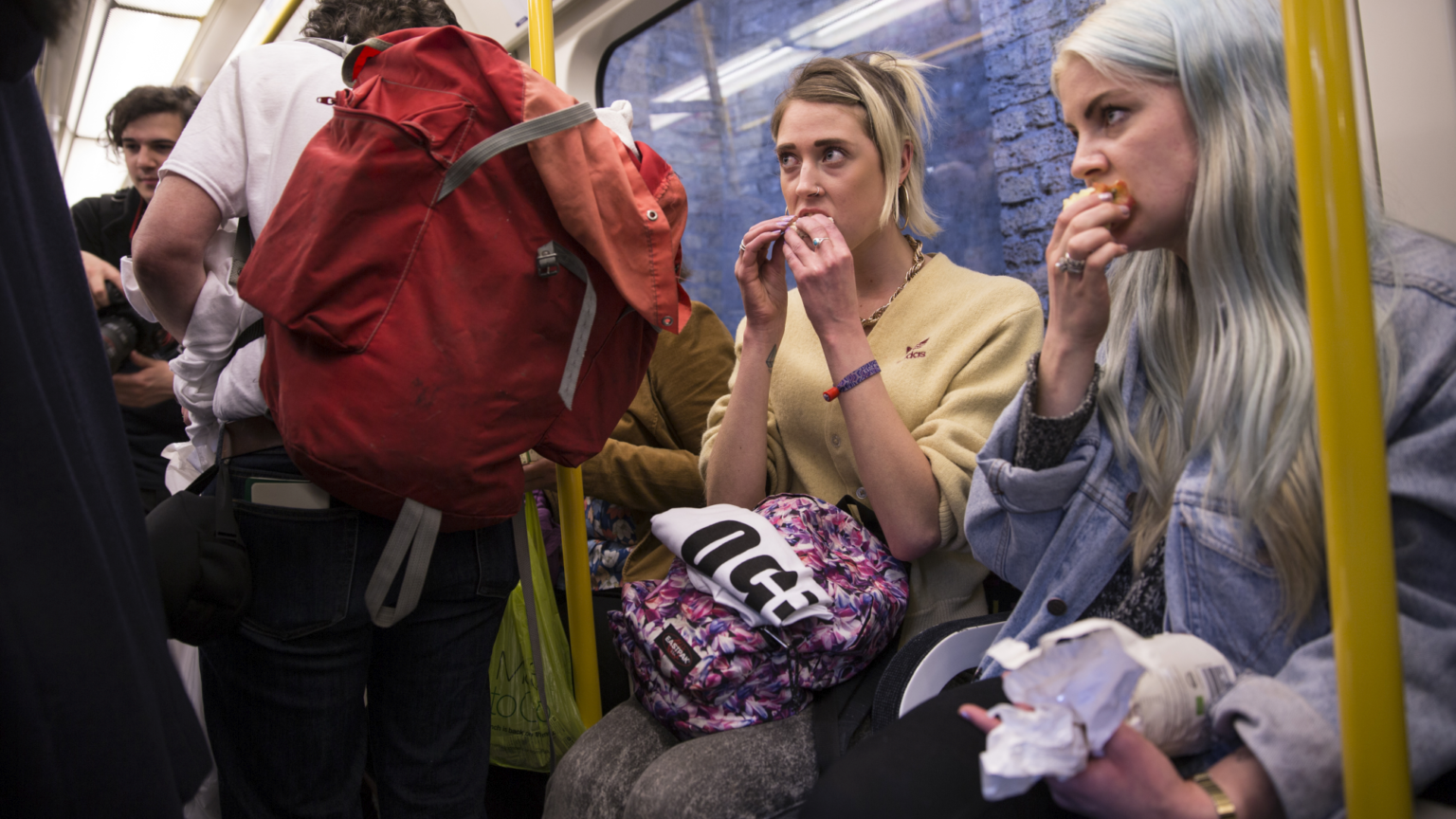 I talk about politics on my current tour, but not as much as usual. Partly because we are – bar a few changes of personalities – still in the same democratic headlock we've been in for three-and-a-half years, but also because one day Brexit will get resolved. Nanny statism, however, is here to stay.
That was made clear by today's news, in which Dame Sally Davies, the outgoing chief medical officer, made a number of draconian recommendations to control obesity, among them banning snacking on public transport.
We've had a steady stream of lifestyle prefects calling for bans and taxes over the past few years, but I can't remember one as likely to rile the British public as this. Public transport is already overpriced and overcrowded. The one thing you can do to alleviate the misery is dick about on your phone or eat the pain away. Now that could one day land you in hot water. You might get fined for eating Maoams on a Megabus or do time for a Double Decker on the District line. The only thing that would make public transport worse would be making eye contact compulsory.
So many of these ideas are from the 'punish the whole class' style of patrician thinking. We all remember collective punishments from our school days. It didn't change anything, the naughty kid still stabbed you with a compass, but then everybody had to miss the first 15 minutes of Grange Hill.
Essentially, when teachers fail miserably in their role as educators to the message-resistant, they opt for heavy-handed group reprisals. Similarly, the government adverts to control obesity have been as weak as a supply teacher with a stupid surname. They've centred on a bizarre plasticine family plodding around to the sound of gentle calorific advice. They look like a 'No carbs before Marbs' episode of Morph.
The truth is that governments are caught between wanting to fire out a strong message on obesity while simultaneously being terrified of causing offence. But if you are going to do public-information campaigns they have to be ominous. Remember the advert for AIDS? It was so powerful that I asked my mum if I needed to get tested. I was 11. I started wearing condoms just to go swimming. I don't care for authoritarian state control, but there's something more honest about scaring the shit out of people rather than spaffing public money on forgettable messages.
I've also wondered this week about the visceral reaction to Extinction Rebellion. I'm one of those who can't resist a light-hearted dig here and there, while grudgingly respecting their willingness to be arrested (at least it exceeds the limp commitment of most modern liberal protest).
Maybe the annoyance runs deeper. After all, it's yet another group of people telling you what to do – in this case, to stop flying and stop eating meat. It might be that this lot have some reasonable points, but the manner of the protests and the unerring white noise of other organisations telling you what to say, eat and where to travel all blends into one. The only defence is either to get angry or take the piss.
And maybe it runs deeper still. Extinction Rebellion, Greta, Dame Sally, Meghan Markle – all of these people have caché and influence without a specific mandate. The biggest ever political mandate this country ever delivered is still stymied, maybe one day to be squashed entirely. Meanwhile, the police tiptoe around sleeping protesters at Smithfield. They even made sure their 'kettling' technique was solar-powered.
One day a mainstream political party may cotton on to the fact that many British people hate being told what to do and want as few layers of government as possible. Crazy idea, but – beyond the 'Allo 'Allo!-style rantings of Leave.EU – it might have been a big part of the Brexit vote.
There are so many people with a natural libertarian streak. It's frankly bizarre this audience isn't served. If I did ever get into politics I'd start my own movement, the Stay Out of My Fucking Business Party. Who's with me?
Geoff Norcott is a stand-up comedian. He is touring Taking Liberties until November this year. Get tickets here. Follow him on Twitter: @GeoffNorcott
Picture by: Getty.
To enquire about republishing spiked's content, a right to reply or to request a correction, please contact the managing editor, Viv Regan.