Poland and the rise of 'red and blue' politics
Addressing voters' cultural and economic anxieties is a winning combination.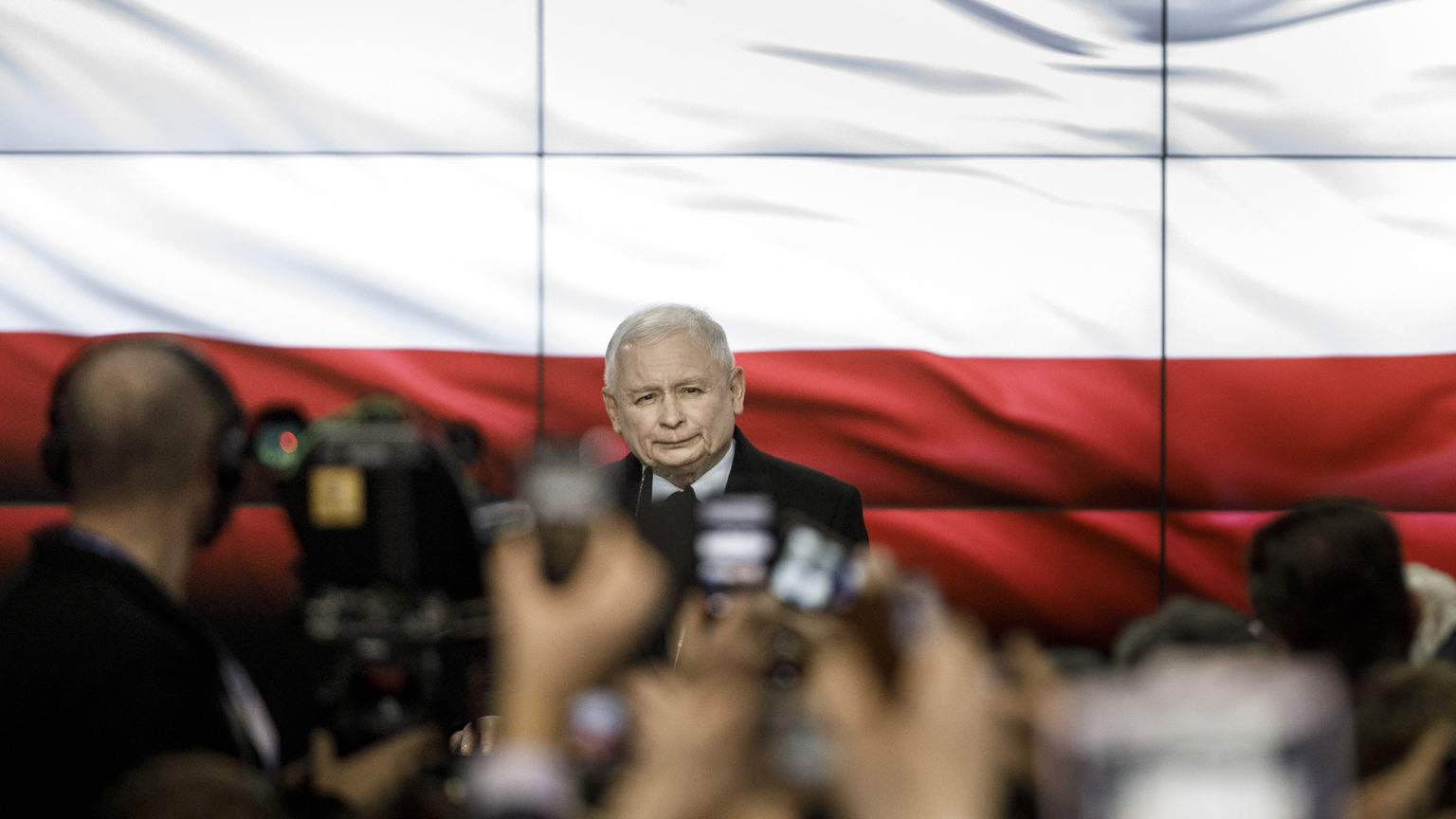 The victory of the Law and Justice (PiS) party in the Polish parliamentary elections this week raises an important question: are we seeing the emergence of a new politics in Europe?
Law and Justice's robust brand of 'red and blue' politics – social-democratic economics combined with socio-cultural conservatism – has gone down a treat with the Polish electorate. It carried 36 of the country's 41 parliamentary constituencies and won a handsome 43.6 per cent of the popular vote. Civic Coalition, the PiS's more pro-European and socially liberal main rival, only won five constituencies – and this included a razor-thin 0.6 percentage-point victory over PiS in the north-western city of Szczecin.
Perhaps unsurprisingly, free-market, cosmopolitan Europhiles have reacted to the result in rather hysterical fashion. How dare the Polish people not vote for the pro-European option on offer and pledge their support to a socially liberal 'internationalist Poland'? That voters instead opted in great numbers for a mix of soft Euroscepticism, left-inspired economics and right-wing traditionalism seemed to bemuse many onlookers.
There is a recognition within the EU of the need for a common political culture to sustain the 'European project'. This drives recent efforts to generate cross-country support for a 'European Way of Life'. But ruling parties across Europe, whether they be France's En Marche or Hungary's Fidesz, have sharply different views on what a 'European Way of Life' should entail. It is unrealistic to seek to bring a wide range of national political cultures under a broader, uniform, European-level social framework.
And these efforts are by no means appreciated in the 'Visegrád' member states of Eastern and Central Europe. Indeed, they are increasingly seen as an EU intrusion into national-conservative culture.
Meanwhile, many voters in Eastern and Central European countries are fully aware of the unsatisfactory integration outcomes among migrants of Turkish Muslim origin in countries like Germany, and the spate of terrorist incidents there involving refugees from unstable Muslim-majority countries.
Law and Justice, like other parties in the region, offers a robust rejection of the EU's refugee burden-sharing proposals and talks about preserving Poland's European and Christian heritage. It is no surprise that this resonates with the Polish public.
While it is important to recognise variations depending on national context, 'red and blue' politics has also made its mark in other European countries such as Denmark, where the Social Democrats won the General Election back in June.
Under the charismatic leadership of Mette Frederiksen, the Danish Social Democrats are seeking to create a national culture based on shared identity, common purpose and mutual obligations. The party has also adopted a mature approach to public concerns over immigration and social cohesion. The Danish premier has openly criticised problematic attitudes within her Danish Muslim communities – including a lack of respect for Denmark's judicial system and embedded forms of patriarchal coercion.
But at the same time, Frederiksen often demonstrates her more classical social-democratic credentials by discussing the negative aspects of free-market globalism, such as heightened economic inequality and the erosion of workers' rights.
Perhaps the political developments in countries such as Denmark and Poland offer a guide for the UK's current PM Boris Johnson, who is keen to woo pro-Brexit voters in Labour's traditional heartlands as he looks for a future parliamentary majority.
He is looking to offset inevitable losses in middle-class Remainia by making gains in working-class Brexitland. But the Conservatives will only be able to make inroads in Brexit-voting communities in the Midlands, northern England and parts of Wales through carving out a dynamic 'red and blue' politics for the UK.
The Tory party may well find it easy to find common 'cultural' ground with patriotic, communitarian voters, with its plans to overhaul the immigration system and take a tougher stance on crime. It is also currently opposed to the controversial 'Islamophobia' definition produced by the All-Party Parliamentary Group on British Muslims, which essentially represents a blasphemy law through the back door.
But in order to win over pro-Brexit voters in Labour's Leave-voting heartlands, the Tories will also have to adopt a more critical view of the market, take on a more caring attitude towards public services, and flesh out ambitious infrastructure projects that are specifically designed to regenerate ailing 'left behind' towns. It cannot only engage with cultural anxieties linked to immigration and multiculturalism; it must also understand the economic anxieties associated with market capitalism.
One thing is for certain – the David Cameron 'Notting Hill set' blend of social liberalism and fiscal conservatism appears to be dead in the water. The way forward for Boris Johnson and his Conservative Party is clear – a 'red and blue' politics which seeks to bind together the home nations.
Whether the Conservatives are willing to undergo this process of fundamental reinvention remains to be seen.
Rakib Ehsan is a spiked columnist and a research fellow at the Henry Jackson Society. Follow him on twitter: @rakibehsan
Picture by: Getty Images.
To enquire about republishing spiked's content, a right to reply or to request a correction, please contact the managing editor, Viv Regan.