Remoaners are losing their grip on reality
Their latest conspiracy theory is that Dominic Cummings is a Russian spy.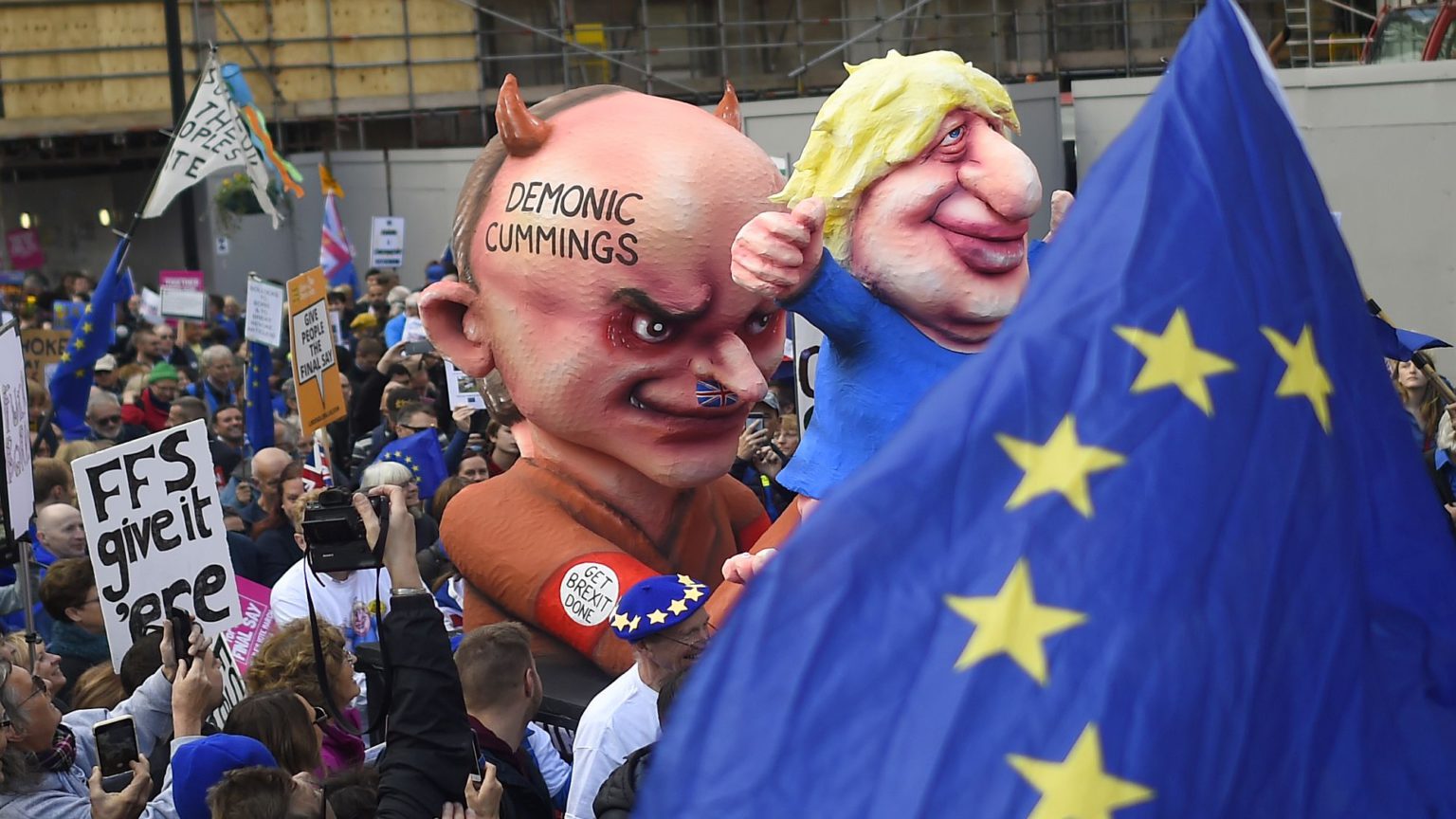 The plot thickens.
It was reported in The Sunday Times last weekend that from 1994 to 1997, Dominic Cummings, then fresh out of Oxford University, spent three years in Russia. Is it a coincidence that 20 years later he was campaign director for the official pro-Brexit campaign group, Vote Leave? Is it by mere chance that he is now special adviser to UK prime minister Boris Johnson, and still pushing for Brexit?
Many Remoaners think not, it seems. To them it is just further proof of what they think they have always known. That is, that the whole Brexit catastrophe, like Donald Trump's Manchurian presidency, is part of a Russian conspiracy. They really do want to believe that. They want to believe, in this instance, that Cummings is part of some sort of Russia-backed, dark-money-funded plot to topple the liberal-democratic order. Just as they want to believe that Trump, with an alleged pee-party video in a Kremlin safe as leverage, is in thrall to Big Bad Putin.
Just listen to them: shadow foreign secretary Emily Thornberry has already written a letter to Dominic Raab, the UK foreign secretary, demanding to know if Cummings has been properly vetted by the UK security services. Citing the unspecified concerns of 'an official-level whistleblower', she has also asked to know the purpose of his three-year period of work in 1990s Russia, and his relationships with members of the group Conservative Friends of Russia (CFR). 'Is Dominic Cummings a Russian Spy?', tweeted shadow trolling minister David Lammy.
The Russian conspiracy doesn't stop at Cummings, either. It goes all the way to the top, apparently. After The Sunday Times' (non-)revelations, the Guardian reported that someone called Sergey Nalobin, the son of a former top KGB agent, instigated CFR in 2012, in an attempt to 'infiltrate the Conservatives'. The Guardian tells us that Nalobin, such is his evil event-organising genius, went so far as to call Johnson 'our good friend', and even hosted Cummings and fellow Vote Leave bigwig Matthew Elliott at CFR's launch party. And guess where Nalobin now lives? In Moscow, in an apartment bloc known as 'FSB house', so chock full is it with employees of the Kremlin's spy agency. Coincidence? You join the dots.
In fact, don't bother. CFR was a pretty unsuccessful diplomatic venture, even at the time. It gained notoriety almost as soon as it launched, after it tweeted a picture of Labour MP Chris Bryant in his Y-fronts. In response, CFR's honorary president and ex-Tory minister Sir Malcolm Rifkind resigned, and was followed out of the door by several other Tory MPs. As infiltration ventures go, it lacked a certain stealth. No wonder Moscow dragged Nalobin back to the high security of FSB house.
Ah, but if Russian interference hasn't helped Cummings and Johnson, why is the government holding off on publishing the parliamentary report, from the intelligence and security committee, on the threat Russia poses to the UK? What have Johnson and Cummings got to hide?
Not much, if Buzzfeed News is to be believed. As it reported on Friday:
'The UK's intelligence agencies have found no evidence that the Russian state interfered in the outcome of the Brexit referendum and the 2017 General Election, according to two sources with direct knowledge of the findings in an as-yet-unpublished report from parliament's intelligence and security committee. One of the sources told BuzzFeed News the finding was categorical.'
In fact, beyond innuendo and giant speculative leaps, the proof that Russia somehow played a pivotal role in the Brexit vote is yet to be found. Yes, Remainiac conspiracists do always find grains of something like truth. It is true that Cummings spent the mid-1990s in Russia. It is true that Cummings attended the launch party of CFR. And it is true that Vote Leave was found to have broken electoral law on campaign spending (as, in fact, was the Remain campaign). But to then suggest that these are all visible moments of a hidden Russian plot takes a rather demented leap of faith.
But then that is precisely what conspiracy theorists do. They believe in their truth, so they leap, again and again and again. They draw causal lines between dots, attribute world-shaping agency to individuals, and see nefarious intent everywhere. They believe the truth of the conspiracy is out there, and they have just got to find it. And so they seek out that which confirms their belief, and disregard that which does not – usually as the work of their enemies.
Not that they are really interested in the truth. No, the Remainiac determination to reduce the Brexit vote to a conspiracy theory is, above all, a political act – an act of political propaganda. Its function is to delegitimise the 2016 referendum result, to chuck enough suspicion at it in the hope that some of that suspicion starts to stick.
It's a desperate and dangerous attempt to deprive Brexit voters of authorship. An attempt to turn a popular accomplishment into no more than a shadowy plot. A con-trick. A masterclass in multimillion-dollar, data-driven electoral manipulation.
The best retort to all this insulting conspiracist nonsense, thrown up on a near-daily basis now, is to re-affirm Brexit the best way we can on 12 December.
Tim Black is a spiked columnist.
Picture by: Getty
To enquire about republishing spiked's content, a right to reply or to request a correction, please contact the managing editor, Viv Regan.