The Brexit Party steps aside
Farage's decision will wound the Remainer alliance, but it could wound him too.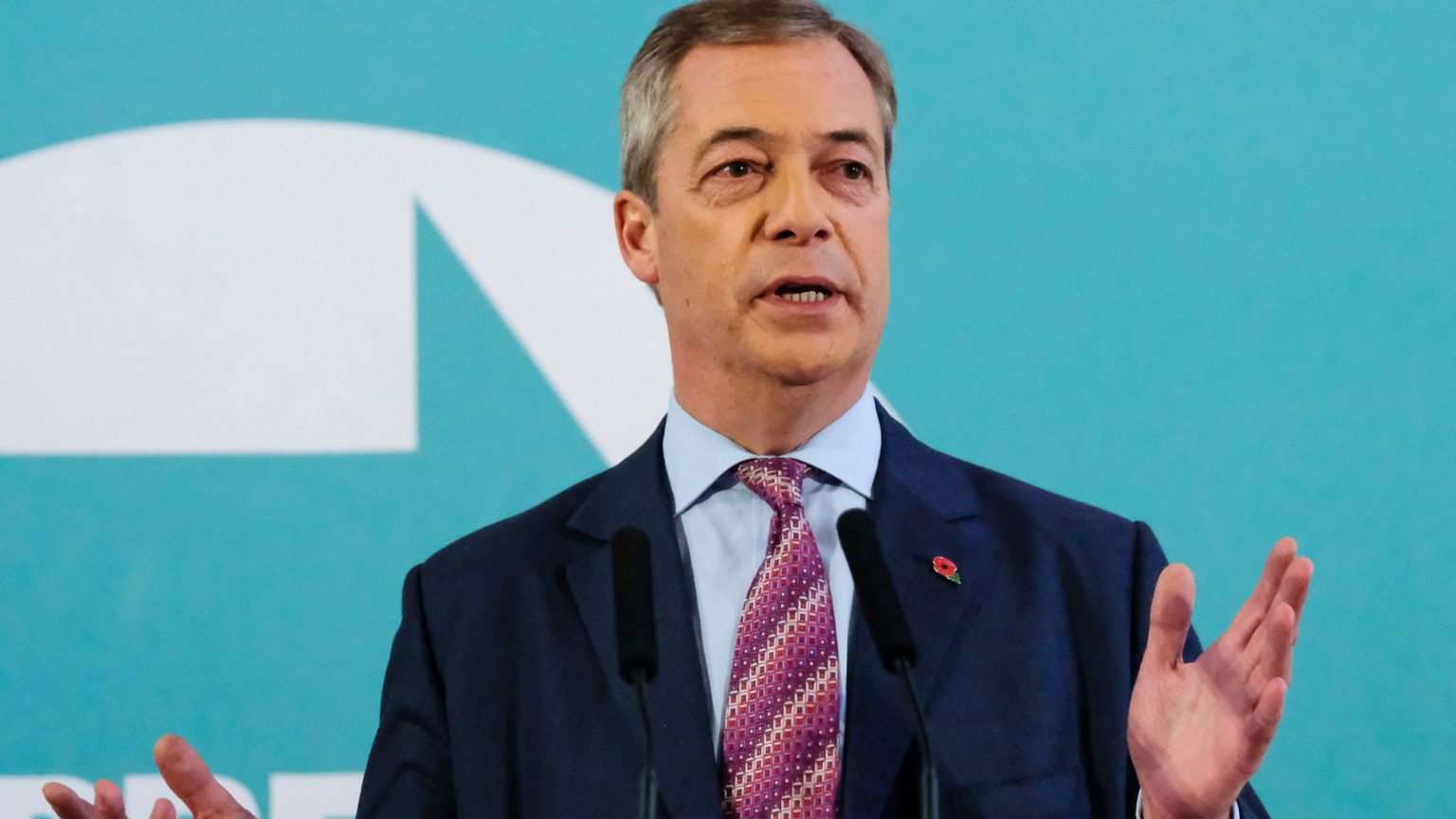 Make no mistake: this General Election is a Brexit election. Any politician who says otherwise (hello, Corbynistas) is being wilfully disingenuous. From the Liberal Democrats' utterly illiberal and undemocratic rallying cry of 'Stop Brexit', to Labour's promise to hold a second referendum and in the process make null and void the millions of votes cast in the first referendum, to the Tories's drab, managerial slogan of 'Get Brexit Done', the political class is well aware that the defiant, destabilising Brexit revolt remains the big issue, and arguably the only issue, in British public life. And voters are aware of this too.
And now, into this mix, into this Brexit Election, comes the news that the Brexit Party is standing down its candidates in more than 300 constituencies. This could be a game-changer.
Nigel Farage has said that the BP is withdrawing its candidates from all constituencies that were won by the Tories in 2017 – 317 seats in total. He says he's doing this to prevent the much talked-about and fretted-over split in the Brexit vote and to lessen the chances of there being another Remainer parliament that would hold a second referendum.
The news has been welcomed by Tory bigwigs and others. But Farage's decision is not uncomplicatedly good. Many Leavers who were worried about the splitting of the Brexit vote will be breathing a sigh of relief. But this move is also humiliating for the Brexit Party. This party has spent weeks insisting that it stands for real Brexit against Boris Johnson's sellout BRINO (Brexit In Name Only) and saying it will stand across the country because principles count for more than pragmatism. Having now backtracked on this, it can't be surprised if people ask: 'What happened to those principles, then?'
But in the round, outside of the narrow concern of the Brexit Party's own reputation, this decision is interesting, and it could be beneficial to what some of us consider to be the key task of this election: isolating the highly anti-democratic Remainer wing of the establishment.
In spiked's view, the aim of voters who care about democracy, who care deeply about that hard-won liberty that gives ordinary people power and influence over our rulers, should be to give a thoroughly bloody nose to the Remainer elites who have spent three-and-a-half years defying the people's will and insulting the largest electoral bloc in British history.
With their contempt for our democratic rights, and their censorious instinct to demonise Brexit as a fascist-like scourge, these people are a menace to public life and to the founding principles of modern democracy. Sidelining them by filling parliament with Leavers – whether those Leavers are Tories, Labourites, Brexit Party candidates or independents – is the most urgent business for democrats right now.
The BP's decision could help to facilitate this urgent business. It makes it that bit more likely that parliament will have a healthy intake of politicians who grate, whether wittingly or unwittingly, against the reactionary Remainer elite and the profound threat it poses to our democratic freedom. Other questions, such as what to do about Boris's BRINO and how to put pressure on the government to secure a full exit from the EU, can come after we have shifted parliament from being a bastion of Remainer elitism towards something more heavily pro-Leave and hopefully pro-democracy.
The BP's decision doesn't solve every problem, of course. One question is whether the Tories will reciprocate and withdraw candidates from Labour seats where the BP has a good chance of picking up votes. There are reports of a non-aggression pact between the BP and the Tories in these areas. But if the Tories are serious about Brexit, they will stand back and give free rein to a BP candidate against Labour, which, let us not forget, is promising to void the referendum result by forcing us to vote again. (However, if the Labour candidate is Eurosceptic, like Dennis Skinner, or a pro-democracy Remainer, like Caroline Flint, then voting for those candidates is preferable to voting for the BP candidate.)
In response to the BP's decision, the pro-Remainer elites have demonstrated just how out of touch they are with public sentiment and with the Brexit spirit. They are screaming about this pact being proof that a 'hard right' Boris / Farage / Trump alliance wants to force a Hard Brexit on the UK and sell off our country, including the NHS, to the highest bidder.
First of all, it is a bit rich for those who campaign day and night for the UK to continue surrendering its sovereignty to the EU to accuse other people of wanting to sell off the nation. And secondly they are, unfortunately, wrong that pact proves that 'Hard Brexit' – or what some of us prefer to call Brexit – is now a real possibility.
That's the key point about the BP's softening of its approach to Boris and his Withdrawal Treaty and the Tories' role in bringing this shift about: it confirms that actually there is no party, and this includes the Brexit Party, that fully represents the democratic desire for Brexit and for radical change in political life. It confirms what many of us suspected: that achieving Brexit and democratic reform will have to be fought for long after the election, and will have to be fought for by new, bottom-up groups and movements whose only interest is in boosting the democratic rights of the British people.
So in this election, let's teach the Remainer elite a lesson. And after the election, let's teach the supposed Brexit-supporting political class a lesson, too. We democrats have our work cut out for us.
To enquire about republishing spiked's content, a right to reply or to request a correction, please contact the managing editor, Viv Regan.