When wokeness goes wrong
What was Plaid Cymru thinking putting a woman in a niqab in its election broadcast?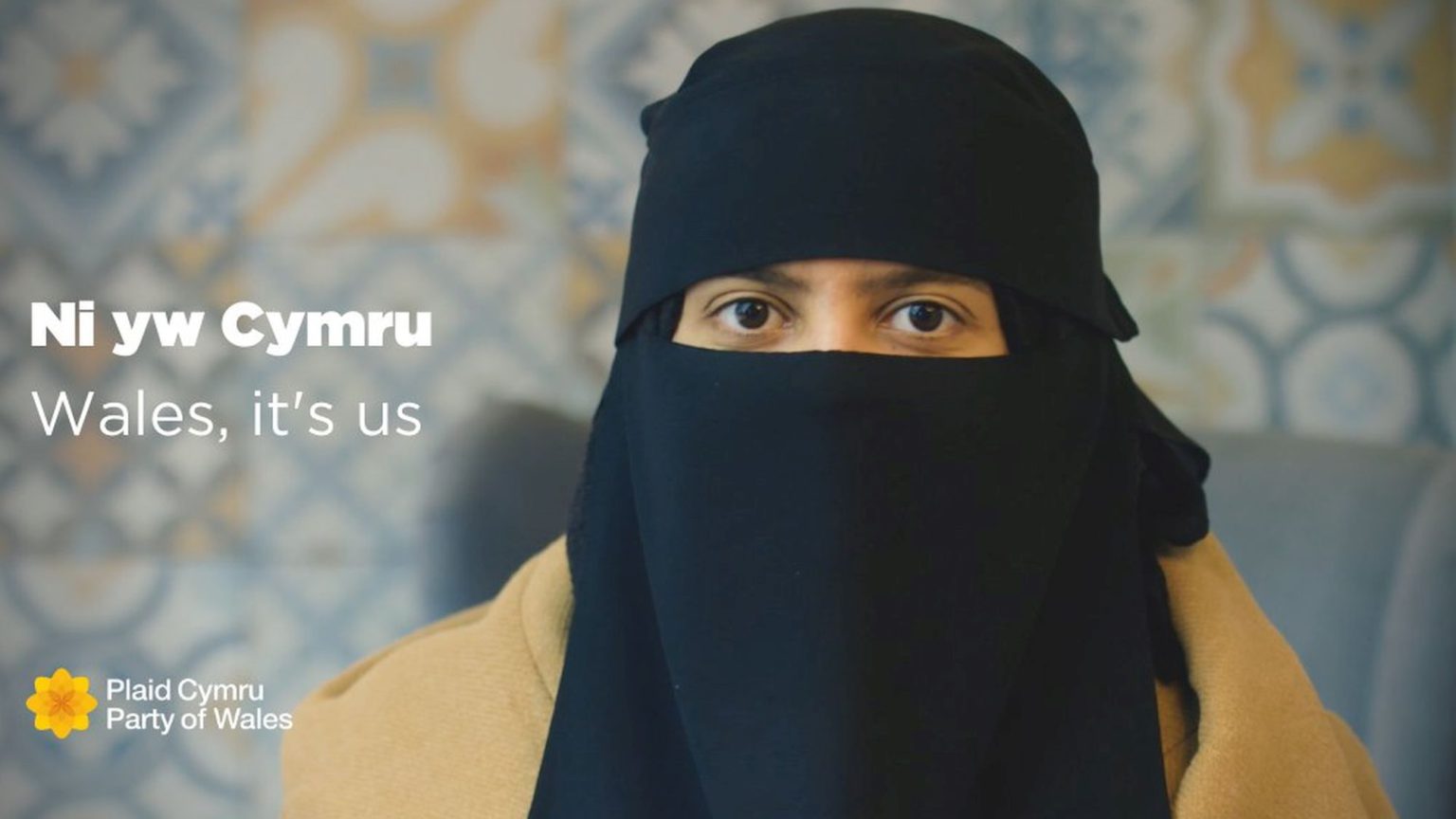 Sometimes wokeness goes wrong. Ask Plaid Cymru. The Welsh nationalist party went in for a bit of PC preening last week by featuring a woman in a niqab in its election broadcast. The woman, her face entirely obscured by a forbidding black cloth, as is the Islamist fashion, is seen next to the slogan, 'Wales, it's us'. Catchy! Clearly the inclusion of the niqab-wearer was not about attracting the all-important niqab-wearing vote in Wales. How many women in Wales wear this archaic religious garment? No, Plaid was saying something about itself. Look how virtuous we are. Look how inclusive we are. We aren't Islamophobic like you people. That was the message here.
But it backfired. Badly. Plaid warned social-media users not to subject its niqab-wearing member to racist abuse. It turned out she's the one who has been throwing around racist insults. The woman behind the misogynistic veil is Plaid member Sahar Al-Faifi and she has previously said anti-Semitic things online. Yes, another supposedly 'progressive' party swept up in a Jew-hatred storm. In 2017 Ms Al-Faifi suggested that the London Bridge terror attack was carried out by 'pro-Zionists' – essentially an anti-Semitic conspiracy theory. She has expressed her hope that Israel 'would disappear'. She has also cheered Hamas.
Plaid has now suspended her and said it does not tolerate anti-Semitism. But there's a broader question here about supposedly progressive parties flirting with hardline Muslims. To wear the niqab is a very particular thing. It is a showy and determined expression of religious faith. It is essentially an Islamist act, one which says: 'I live by a fundamentally different moral code to the rest of you, one which involves the extreme act of obscuring women's faces in public.' I support the right of women to wear the niqab – France's burka ban is illiberal and counterproductive – but I also support the right of people to criticise the niqab as a fundamentally anti-social garment, a knowing snub to the openness and secularism of British society.
Plaid Cymru should have thought very carefully before including a woman in a niqab in an election broadcast and poster. To cover one's face in public runs counter to the open, engaging spirit of democratic life. It shuts people out, and shuts discussion down, rather than engaging in free, visible debate. Of course, women in niqabs must have the exact same right as everyone else to join parties, support parties and vote for parties. But as an image, the blacked-out face of a woman, the alleged obscenity of a woman's face and hair which must apparently be hidden from view to please God, is not conducive to the post-religious value of democratic equality and democratic engagement.
Plaid thought it could be woke by including a woman in a niqab in its election material. But it overlooked that there is nothing woke, nothing progressive, about women hiding their faces in public. That is backward and atomising. We should tolerate it, in the name of liberty, but it is not something we should celebrate. Why archaic Islamic practices are seen as somehow positive by contemporary 'progressives' is one of the great mysteries of politics today.
To enquire about republishing spiked's content, a right to reply or to request a correction, please contact the managing editor, Viv Regan.