Labour's housing promise is hot air
A million new homes over a decade? It's not nearly enough.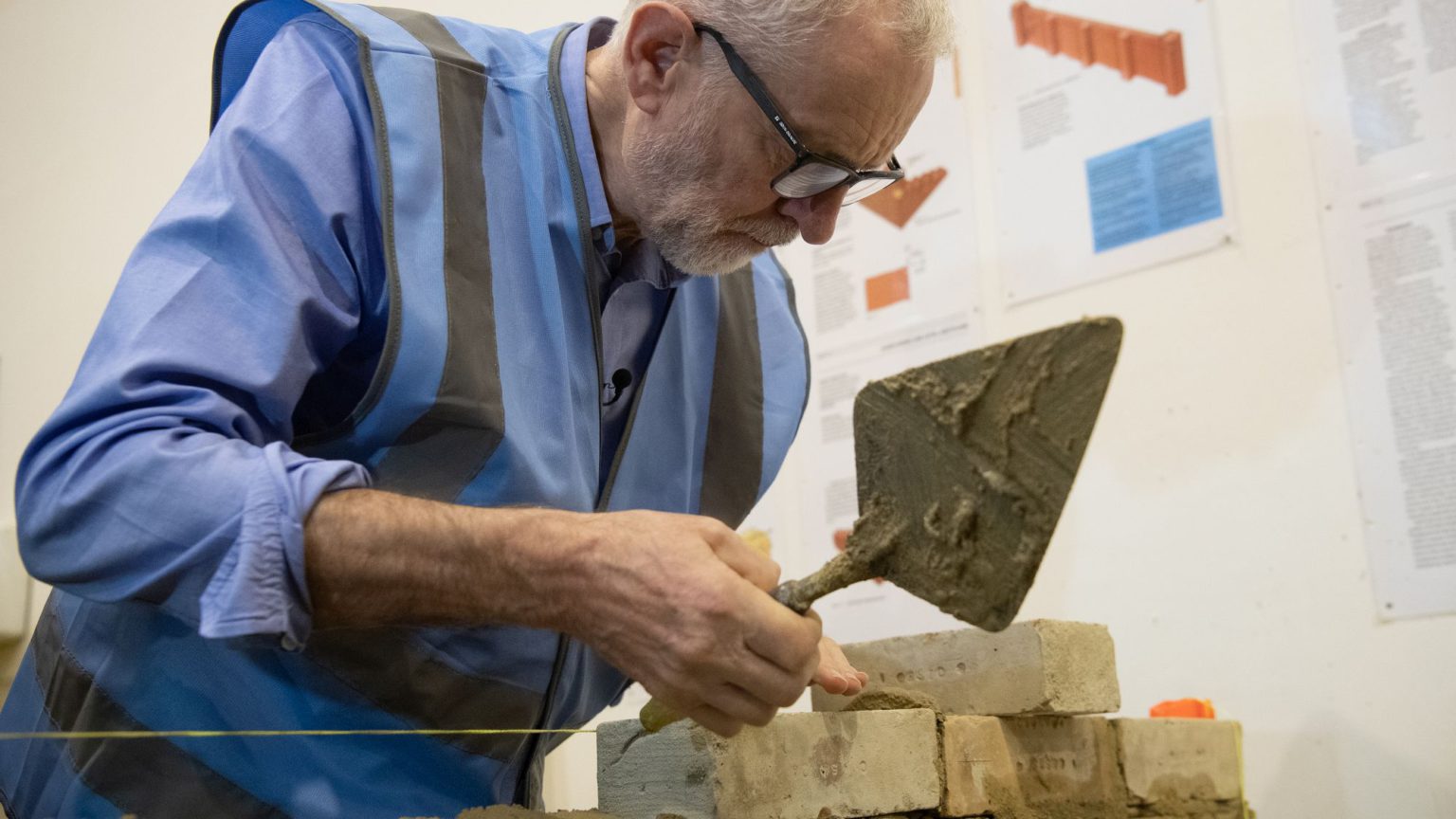 We should be grateful that the Labour Party now accepts there is a housing crisis. Throughout the 13 years of Labour rule from 1997 to 2010, the left-wing view was that mass house-building was just capitalist hyper-exploitation that would help no-one and destroy the countryside.
House-building collapsed in the 21st century because it was government policy to restrict it. The adoption of the 'Urban Renaissance' report of 1999 committed the Labour government to restrict development to brownfield sites and defend the so-called green belt – large swathes of land around towns and cities where planning laws withhold development rights. The green belt makes up just over 12 per cent of all land in England.
Furthermore, local authorities were able to impose financial obligations on development to fund local amenities under Section 106 of the Town and Country Planning Act 1990, introduced by the Conservatives. The net effect of this hostile environment was predictable. Indeed, it was predicted here on spiked: the number of new houses built fell below the number needed to replace our dilapidated housing stock. A growing population was chasing fewer homes.
As long as cheap credit was available, the restricted supply meant ever higher prices. But after the 2008 crash, it has meant more homelessness, too. Hidden homelessness is on the rise, and there has also been a growth in actual rough sleeping.
Labour's new manifesto makes an eye-catching promise to build more than a million homes over a decade. As with all Labour's policies, it has been greeted with some scepticism. After all, Labour is willing to promise the earth to get people to stop thinking about its Brexit betrayal. But even looking at the policy in its own terms it is clear that it is not anything like enough.
The shortfall in new homes built over the past 20 years is much more than one million. The proposed building of 100,000 homes a year would not be enough to replace the existing housing stock (which, at 23million dwellings, and assuming a natural life span of 100 years, would require the building of more than 200,000 new homes a year). The UK's population has grown by eight million over the past 20 years, so that there are now 27.2million households that need accommodation.
The means to build the new homes raises some doubts, too. First, Labour has decided not to lift the restrictions on building represented by the green belt. This is bizarre. The cost of building a home in Britain is around £90,000 but the average house price is £234,000. The difference is not hard to understand if you know that land with planning permission can be up to one hundred times the price of land without planning permission.
Labour's policy is to penalise private developers who hold on to land without building on it. But it is the government itself that is stopping land from being developed by withholding planning permission. Government could release land for development at the stroke of a pen, allowing the conversion of surplus land into new building sites.
As well as holding on to the limits to new development on the green belt, Labour promises to end the conversion of office blocks to homes, which it complains sidesteps 'planning permission'. So far from getting new homes built, Labour is setting out to put even more limits on the number of new dwellings coming on to the market.
Having resisted the demands for new house-building for decades, the left today has moderated its position to say that it does favour new house-building, as long as it is council house-building. Labour's manifesto is pointedly hostile to developers and landlords but it raises the prospect of state house-building – council housing – as the better alternative.
This is dogmatic. Right now, there is no significant state house-building sector. In Wales, where Labour has been in power since devolution in 1999, the total number of council houses built last year was 59 (as Andrew Neil reminded Labour's John McDonnell recently). The management of social housing was largely handed over to housing associations in the 1980s, and councils closed their direct works departments. The new units that are built today are almost all built by private construction companies.
Labour's promise to build 100,000 council houses a year is couched with the qualification, 'by the end of the parliament'. This is to say that even Labour thinks it would take a fairly long time to create a state house-building sector. That means that the 'one million houses' target might not be met until the end of a third Labour parliament. One could reasonably suspect that the promise to meet today's housing need in 15 years' time is really just kicking the ball into the long grass. Labour's commitment to capping private rents also shows that it does not believe that it will build enough new homes to drive down housing costs any time in the foreseeable future.
The myth that only council housing could be the answer to the housing shortage betrays Labour's real thinking. Their instinct is that people should not be allowed to buy or rent homes, and that builders should not be allowed to build homes outside of government control. Labour's ideologues hold on to a rose-tinted view of council housing as a happy, lost Arcadia. Pro-Corbyn journalist Dawn Foster, talking on Novara Media, said, 'You would move into your council house and you would know that you and your children would be secure and you would be happier'. 'Lynsey Hanley is very good on this', Foster added.
Lynsey Hanley's book Estates, a reflection on postwar council housing beginning with her own experiences of Birmingham, reads a little differently than Foster remembers: 'It's not socialism: it's a kind of ghettoisation. It's a clean, wide-open prison for those who find they had little choice.'
Council housing was always oppressive in its management, and mean in its provision. To be allocated council housing was to be marked off as part of a problem population and treated as such. Housing allocation has always reflected the prejudices of its day. In the 1970s, Tower Hamlets' Labour council steadfastly restricted the better flats to white families while segregating those few Asian families who made their way up the waiting list. Council tenants were later made guinea pigs for New Labour's Anti-Social Behaviour Order (ASBO) laws. No doubt the prejudices of a Labour government in 2019 would be different from the Labour government of 1976, but nobody with any experience of Labour in power could doubt that housing allocation would be used as a lever of social and political control.
The question of who builds the homes we need ought not be approached dogmatically. If local authorities build homes, that is better than not building. But in the first place, the best thing that the government can do to promote new house-building is to lift the artificial restrictions on house-building, including the rules on planning and the protection of the green belt. Labour's policy raises a distant promise of the former but fails to address the latter.
James Heartfield wrote Let's Build: Why We Need Five New Million Homes in the Next Ten Years in 2006 (and handed Jeremy Corbyn a copy in 2011). His latest book is The Blood-Stained Poppy, written with Kevin Rooney.
To enquire about republishing spiked's content, a right to reply or to request a correction, please contact the managing editor, Viv Regan.